23rd Birthday Captions For Instagram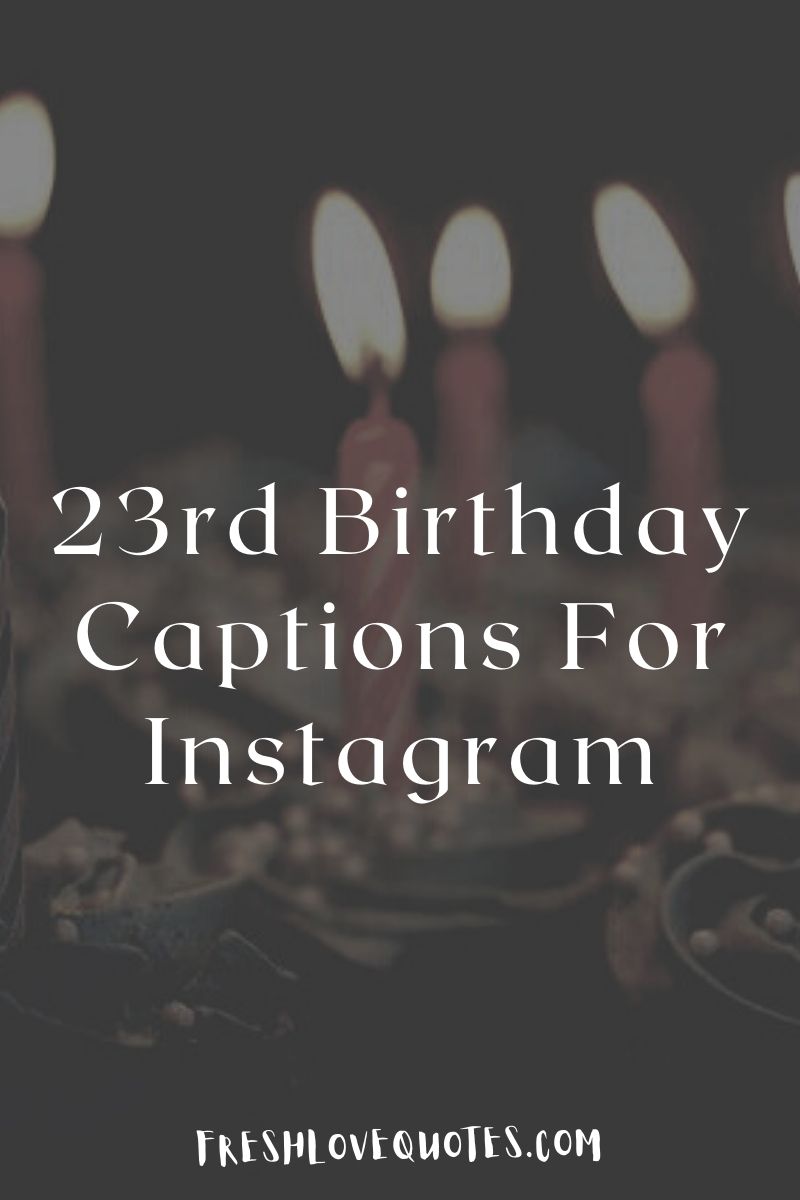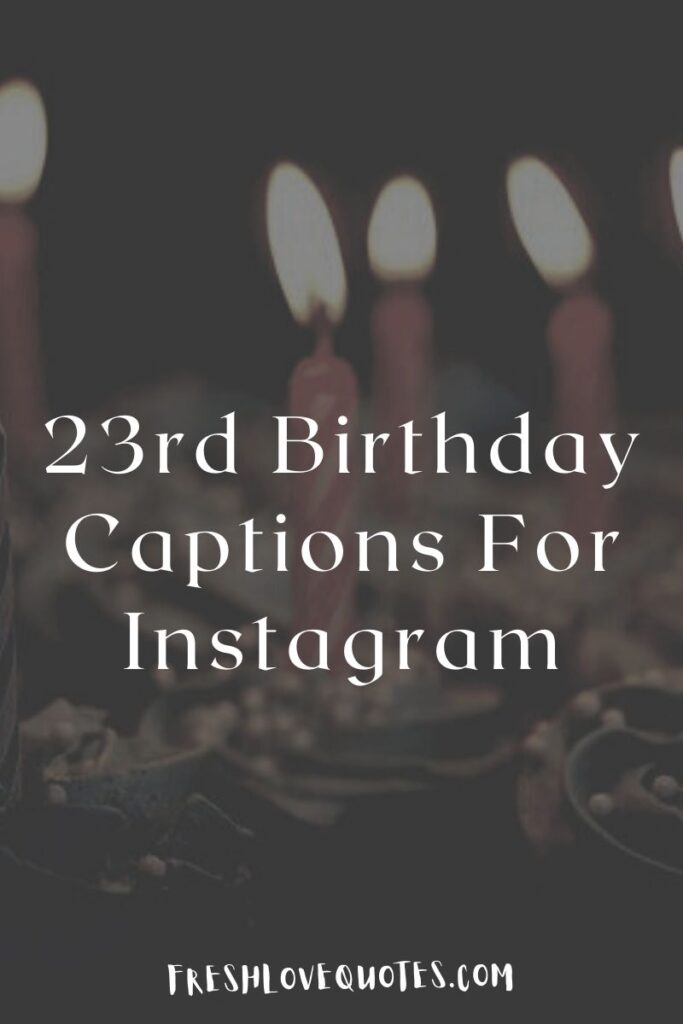 The best Instagram captions are also the funniest Instagram captions, and there's no reason why your 23rd birthday shouldn't be marked with some laughter. Your friends, family, and anyone else who sees your hilarious birthday caption will feel lucky to have you in their lives because the best 23rd birthday captions for Instagram always come from the heart!
Related: 70+ Best Funny Art Puns and Jokes
23 looks good and pretty on you.
A simple celebration, a gathering of friend, here's wishing you great happiness and a joy that never ends.
Age and glasses of wine should never be counted.
Age is merely the number of years the world has been enjoying you.
Be in love with your life, every minute of it.
Birthdays are good for me, The more I have, the longer I live.
Birthdays are incomplete without the ones who love and care for you.
Birthdays are nature's way of telling you to eat more cake.
Blessed to see another year.
Cake is my happy place.
Can't wait to do this again with you all.
Cheers to a day as special as me.
Come on Barbie, let's go party.
Don't worry about your age, you will be older next year, Happy birthday.
Eating my cake and wearing it, too.
Forgive, forget and love each and every past memory, it's your 23rd birthday, have a great birthday and have fun.
Girls just want some fun.
Go shawty, it's your birthday.
Gonna party like hell cause it's my birthday.
Growing old is mandatory, but growing up is optional.
Happy birthday, dear self.
Hold on to your inner child as you grow older.
How could someone not be excited, after all, it is your birthday.
How fortunate you are that I am wishing you on your birthday.
I Just wanted to say a massive thank you for all the lovely birthday wishes.
I am happy that you are born today, otherwise, I would have never met you as my friend.
I can't wait to blow my candles out.
Related: 80+ Best Inspiring Kind Heart Quotes
I didn't choose this birthday, this birthday chose me.
I found my birthday crown.
I have a whole birthday party in my camera roll.
I hope I grow old enough to frighten babies with my looks.
I hope the birthday cake is as sweet as me.
I know that the only way you shall go is the one with success in the end, have a great day dear.
I know what I'm doing for my birthday next year.
Funny 23rd Captions for Instagram
I miss that cake the most.
I want to speak thousand words on your birthday but all I managed to say is where is the party.
I will stay this age until further notice.
It takes courage to be yourself.
It's my party and I'll cry if I want to.
It's not the years that count, it's the memories you make over these years.
It's our first birthday together, I gift you my remaining life on this special day.
It's your birthday you don't have to do anything.
I'm happy to report that my inner child is still ageless.
I'm just a whole year more incredible.
I'm just a whole year more incredibler.
I'm just here for the birthday cake.
I'm really too young to be feelin' this old.
I'm so freakin' happy you were born.
I've always been a birthday queen.
I've decided that I won't age anymore.
Just pretending this was my birthday party this year.
Keep calm and celebrate on.
Keep calm because I'm the birthday girl.
Let no one else ruin this day for you because you deserve happiness, you deserve it all, love.
Life should not only be lived, it should be celebrated.
Look at how many beautiful reasons to be happy.
Make it pop, like pink champagne.
Making my years count instead of counting the years.
May God shower you with blessings today and always, Happy birthday wishes to my friend.
May the fork be with you, Let's eat cake.
May the fork be with you.
23rd birthday Captions for boyfriend
Related: 200 Best Trio Friends Instagram Captions for You
May this 23rd birthday be filled with wonderful surprises that can never be forgotten by you. Happy Birthday.
May your birthday be more fun and magical than a unicorn farting glittery hearts.
Move over coffee, today is a day for champagne.
Nothing can stop me this year.
Oh, everyone, it's my birthday, Time to pay attention to me.
Old enough to know better but still young enough to get away with it.
Old enough to know better, young enough to get away with it.
Partied then and now.
Party pants are always in style.
Partying my way back into this memory.
Smile today it's your birthday, also please take a bath at least today.
So, this is what 23 looks like, ugh, but still happy birthday to me.
Surround yourself with people who are more excited for your birthday than you are.
Tell em that it's my birthday.
Thanks to filters, I always look one year younger.
The day my friend was born, even god said oops.
The only thing I'm feeling is 23 beers.
The thing is I love birthday celebrations.
They say it's your birthday, we're gonna have a good time.
This day is the day when you got a life, Happy perception day, I regret I am wishing about 9 months late, Happy 23rd birthday.
This is my year of dreams coming true.
23rd birthday Captions for best friend
Time to drink champagne and stand on tables.
Today is the oldest you've ever been and the youngest you'll ever be again.
Today, we celebrate me.
Turn my birthday into a lifestyle.
Turning my ***** mode on cause it's my day.
We age not by years, but by stories.
We don't need a guest list, Everybody's invited.
We gonna party like it's your birthday.
Well, at least I am not as old as I will be next year! Happy birthday to me.
When the candles cost more than the cake, it's time to realize you're getting old.
Who said getting old meant looking old.
Wishing on candles and chasing my dreams.
Would it really be my birthday if I didn't take a selfie?
You are the youngest 23 year old I know.
You have always been the source of happiness in this family of ours and we all love you for it.
You understand me like nobody else, I have a sibling in you, my friend, Happy birthday to my best friend.
You're never too old to be young.
have a whole birthday party in my camera roll.