Best Instagram Captions for Girls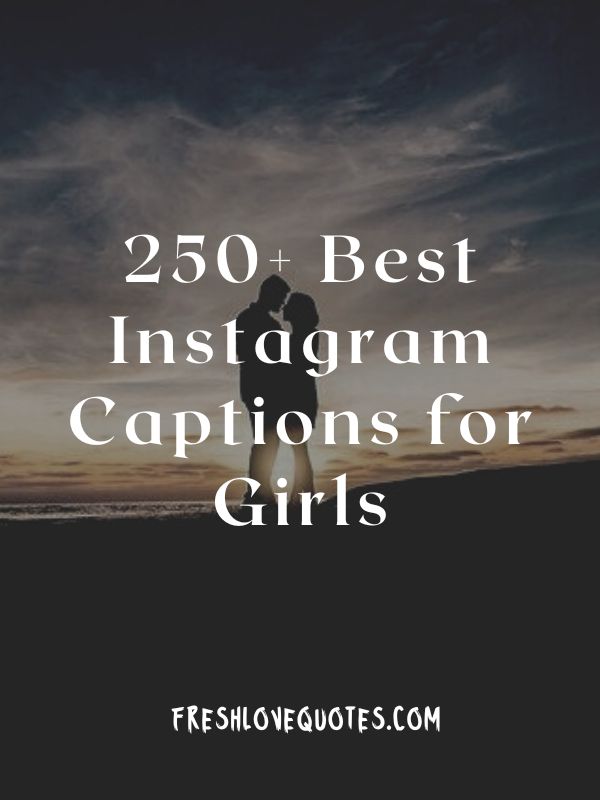 Do you like to post your images with the best captions on Instagram? Here is an awesome list of the best Instagram captions for girls that you can use with your images. This list is a collection of 250+ captions for girls that helps you get more likes and followers on Instagram and other social media networks. Keep checking our blog for more such Instagram Captions.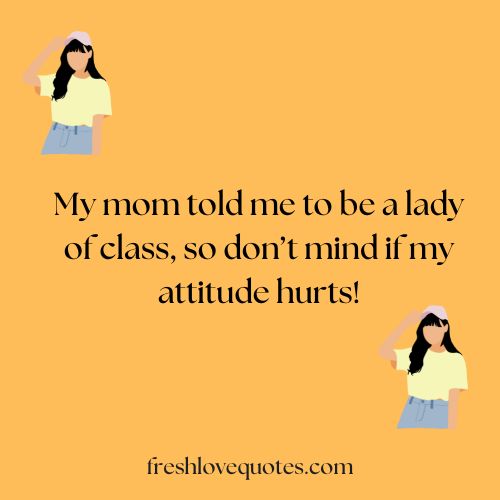 I'm no beauty queen, I'm just beautiful me.
She's like that story in a book that makes your eyes dream.
She believed. She could, so She did.
I collect smiles, and then I give them away.
There's a girl out there with love in her eyes and flowers in her hair.
Spark will ignite.
Grace always conquers..!
Once a queen, always a queen.
Some girls are just born with glitter in their veins.
I'm shining like fireworks over your sad empty town.
It's all about the glow.
I'm beautiful because God makes no mistakes.
I'm too lil butter on too much bread.I'm too many thoughts in too lil head…
My mom told me to be a lady of class, so don't mind if my attitude hurts!
When nothing better to do just pout and pout again because being lame is my game.
Be a beautiful cupcake in a world full of muffins.
Little girl with dreams become a woman with vision.
I pretend I am a princess, so that I can try and behave like one.
Attitude Instagram Captions For Girls
Attitude Instagram Captions For Girls
A girl who deserves everything does not ask for too much.
A little black dress is one of the girl's best friends.
Best friends are people you can do anything and nothing with and still have the best time.
A woman will look good if she feels good about herself; that is confidence.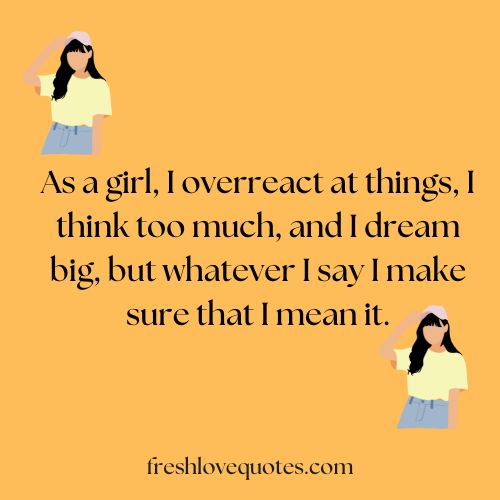 As a girl, I overreact at things, I think too much, and I dream big, but whatever I say I make sure that I mean it.
Girly and flirty to edgy and chic.
Good girls go to heaven, bad girls go everywhere.
Never underestimate me; I have standards higher than your heels.
Single girls are just being reserved by God for the best.
Women keep in mind; admire someone else's beauty but don't question the beauty that you have.
Women listen half, understand quarter but can tell double that is how powerful their ability of communication is.
I'm a humble person, really. I'm actually much greater than I think I am.
Attitude is like a wristwatch. Every watch shows a different time than others and everyone thinks his watch is showing the right time.
Don't get my personality and my attitude twisted, because my personality is me, and my attitude depends on you!
Change 'ONE DAY' into 'TODAY
When life gives you lemons, make lemonade
No, I'm not feeling violent, I'm feeling creative with weapons.
Why chase you when I'm the catch.
A negative attitude is nine times more powerful than a positive attitude.
Don't change so people will like you. Be yourself and the right people will love the real you.
I don't have an attitude problem, you have a perception problem.
A man who is a master of patience is a master of everything else.
My Life. My Rules. & My Attitude
I haven't changed. I grew up. Maybe you should give it a try sometime.
What good are wings without the courage to fly?
I can't change my personality. I'll always smile, but I'll be more focused.
I am not perfect but I am a limited edition.
Cute Girl Captions for Instagram
Excellence is not a skill, it's an attitude.
My style is what "I like" not what "Others like"
I may be fat, but you're ugly. And I can lose weight!
Fire is the test of gold; adversity, of strong men.
I know I'm lucky that I'm so cute.
Some days start better than others when I see you, sweety.
Truth is, I'm crazy for makeup.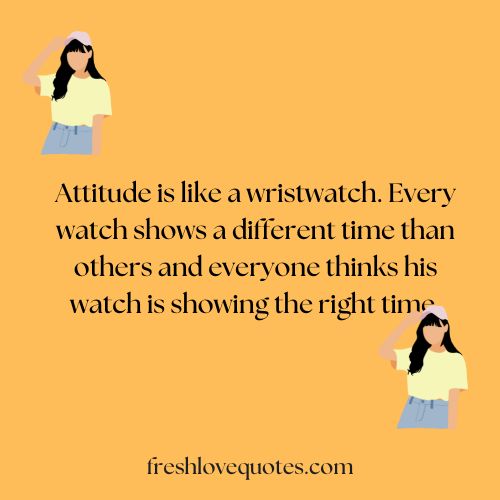 Sometimes life can surprise you with a happy coincidence.
One does not simply "Let it go".
Is Google a boy or a girl?
It's so beautiful when a girl smiles.
Confidence level: Selfie with no filter.
I wish my life had background music so I could understand what the hell is going on.
Live in the sunshine where you belong.
Sprinkling kindness everywhere I go.
If you don't follow your heart, you might spend the rest of your life wishing you had.
Your dream doesn't have an expiration date.
50% savage, 50% sweetheart.
A balanced diet is chocolate in both hands.
Be Inspired, But Don't Copy.
Be your kind of Beautiful.
Best. Selfie. Ever.
Choose Yourself.
Cold Days, Warm Hearts.
Confidence level: Selfie with no filter!
Curious & the Curiouser!
Depending on the story behind the photo.
Die with memories, not dreams.
Dream without fear, Love without Limits.
Escape the ordinary.
Feeling Fresh.
Gonna start a new day.
Great Day In The Sun.
Happily dressed in black.
I am ME. That is my power.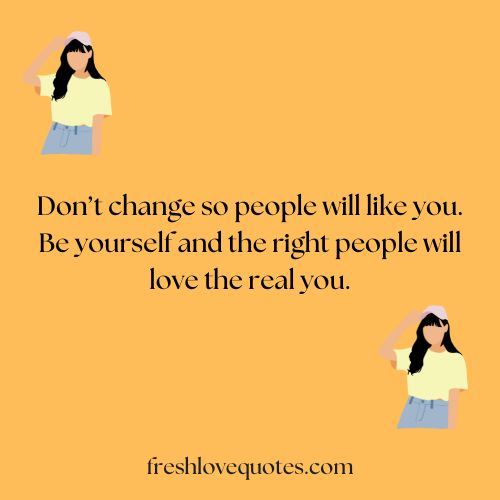 I belong deeply to myself.
I can show you the world.
I decided on the vibe.
I feel so alone without You.
I love a thing that makes you Smile.
I woke up like this.
I'm a wonder. A wonder of Wonders.
I'm everything you wish however can't have.
I'm not bad. I'm Just drawn that Way.
7 billion smiles and yours is my favourite.
A smile is a curve that sets everything straight.
A smile is happiness you will find right under your nose.
All people smile in the same language.
Every smile makes you a day younger.
Most smiles are started by another smile.
One smile can't change the world, but your smile changed mine.
Smile is the beauty of the soul.
Stay strong, make them wonder how you're still smiling.
Short Captions for Instagram for Girls
There is always a reason to smile. Find it.
I have fallen in love with the confidence that makeup brings in me.
Life is short, buy me a MAKEUP.
Life is too short to wear any boring clothes.
No matter how you're feeling: Go get up, Dress up, Show up and Never you dare to give up.
Surround yourself with makeup, not negativity.
The most attractive accessory a girl can have is CONFIDENCE & COURAGE
I Am The Material You Couldn't Handle Me Even If I Came With.
A Girl's Eyes Have Their Own Vocabulary.
No One Can Make You Feel Inferior Without Your Consent.
Be Yourself There Is No One Better.
Don't Forget To Fall In Love With Yourself First.
I Run On Coffee, Sarcasm, And Lipstick.
It's Better To Arrive Late Than To Arrive Ugly.
You Can't Pour From An Empty Cup. Take Care Of Yourself First.
Girly And Flirty To Edgy And Chic.
You Talk Bad About My Attitude Because You Don't Have One.
I Like My Coffee How I Like Myself: Bitter, Dark And Too Hot.
The World Is A Runway And I Am A Supermodel.
I Am A Flamingo In A Flock Of Pigeons.
Beauty Begins The Moment You Decided To Be Yourself.
I Am The Mixture Of A Cutie With A Mission And Hottie With An Ambition.
You Can Change The World Girl.
Cute Girls Can Never Be Overdressed.
I Suffer An Extreme Case Of Not Being Beyonce.
When Nothing Better To Do Just Pout And Pout Again Because Being Lame Is My Game.
I Don't Get Ready For Boys. I Deck Up To Stare At My Reflection On The Mirror.
Dress To Impress.
As If I'm On Fire From Within, The Moon Lives In The Lining Of My Skin.
I Know Looks Are Not Everything But I Have Them Just In Case.
Curls Run The World.
Time changes everyone.
I love to be alone.
Sometimes you have to stand alone just to make sure you still can.
Never lose your hope even if you are alone.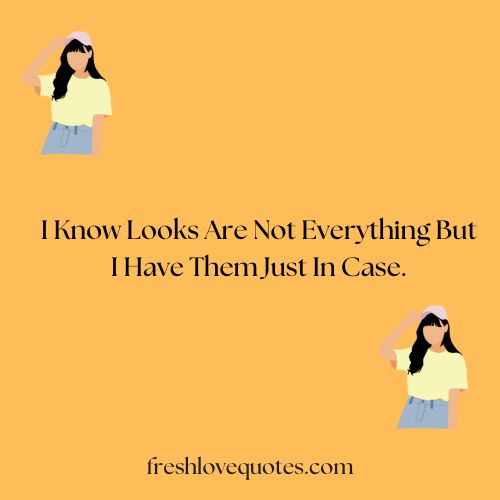 I need some time alone with myself.
Maybe I should learn not to get too attached.
Learn to be alone, not everyone will stay forever.
It's hard to forget someone that gave you so much to remember.
Happy Captions for Instagram for Girls
I restore myself when I'm alone.
I miss your smile but I miss my own more.
Emptiness feels so heavy.
A smiling girl is the CEO of her own world.
Be your own kind of beautiful.
Boys are like purses, cute, full of crap, and can always be replaced.
Do you hate me? I don't care.
Don't show me your attitude as you can't handle me.
Fake is a new trend and everyone seems to be in style.
I am cool but global warming made me hot.
Like flowers, every girl has her season to blossom.
Self-love is the greatest middle finger of all time.
The world has a red carpet for any girl who is determined.
There is a reason to live for the moment because tomorrow is just a promise.
There is a star high up for every girl, waiting for you to lift up your head.
When life throws a rock at you, throw back a brick.
You are magic, Don't ever apologize for the fire in you.
You are not gonna tell me who I am.
All I need is coffee & mascara.
Happy girls are the prettiest.
Whatever is good for your soul, do that.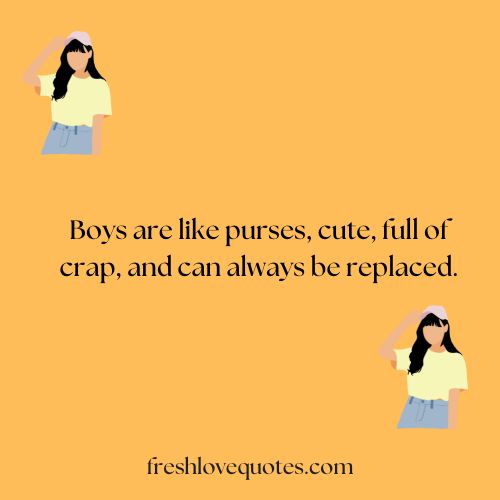 Hating me doesn't make you pretty.
Inner beauty needs no makeup.
Shopping is cheaper than therapy.
If you have eyes, look at me now.
No matter how you feel, get up, dress up, show up and never give up.
Catch flights, not feelings.
leave a little sparkle wherever you go.
God is really creative, I mean just look at me.
So many nail polishes, not enough fingers.
Happiness is a new lipstick.
Have courage and be kind.
Believe in pink.
Some days start better than others.
Today I will be as useless as the 'g' in lasagna.
Life is like a box of chocolates; sometimes you just dig out the good center parts and leave all the undesirable rest to waste.
There is no such thing as a perfect person, but someone's heart can have a perfect intention.
Throw s***** around like confetti.
Hella heart eyes for you.
Instagram Captions for Stylish Girls
Decluttering my life like Marie Kondo.
Life is simple. It's just not easy.
You can't live a full life on an empty stomach.
Get out there and live a little.
I'm not high maintenance, you're just low effort.
Whatever is good for your soul, do that.
The way you speak to yourself matters the most.
You can regret a lot of things but you'll never regret being kind.
Being happy never goes out of style.
A little contour and confidence.
Smile a little more, regret a little less.
Grow through what you go through.
I don't know where I'm going, but I'm on my way.
The happier you are, the prettier you will be.
Your happiness determines your looks. So cheer up.
Cute, isn't she?
Always wear a smile, it is the completion of your dressing.
I receive smiles and give it away freely.
Am a combination of cutie with a mission, and a hottie with an ambition.
You have a galaxy in your eyes and the whole universe in your heart.
There are so many smiles, and they began with you.
You silence pains with your smile.
Dear, you are sweeter than honey.
Whenever I see you smile, I tend to forget I had challenges.
Smile, Jesus loves you.
You are my favorite, always.
Your looks calms my troubled soul.
Your smile gives me an air of encouragement.
You are free to call us friends, but we are more like sisters.
Beauty is power, smile is its sword.
You are your own priority.
We hope you have enjoyed reading all the captions for Girls. Don't forget to use these captions with your pictures of you on Instagram and other social media networks. We are looking forward to seeing you again on our blog. Thanks for reading.