Best Boat Captions for Instagram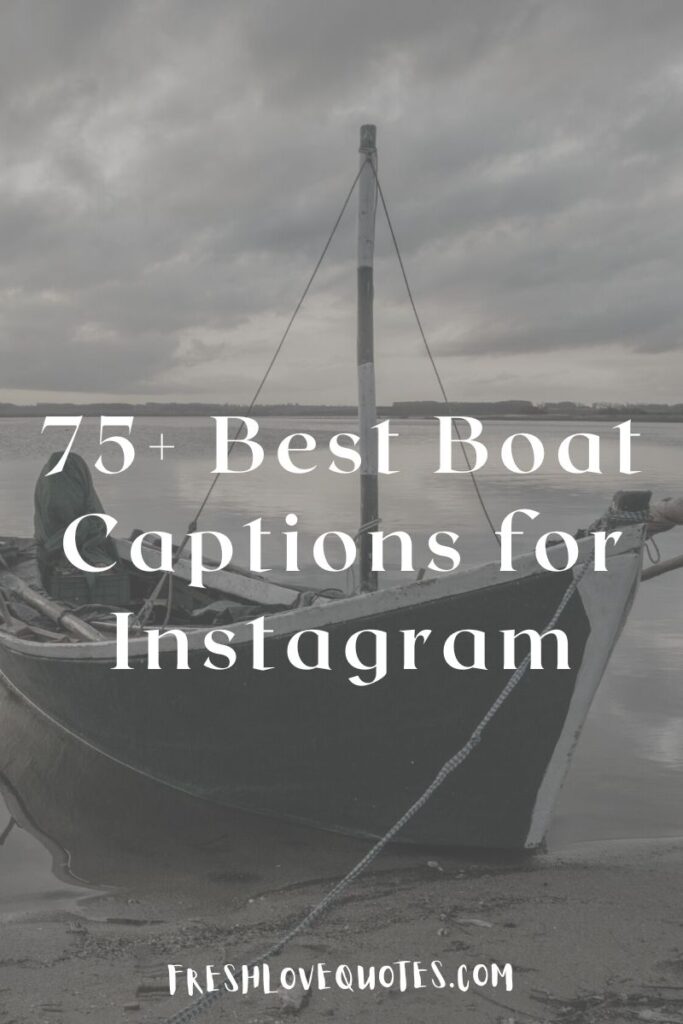 You've spent hours working on the perfect Instagram photo of your boat cruising on the lake with your friends, but you still can't find the right caption to go with it. Don't let this happen to you! Follow our tips below to get inspired and make your feed look absolutely stunning! Here are 75+ best boat captions for Instagram.
Related: 65+ Hilarious and Cute Snapchat Captions for Your Girlfriend
A smooth sea never made a skillful sailor.
Advice from the lake: Take time to reflect.
Ahoy, matey.
Always take the sea-nic route.
Always yachts of fun with this crew.
Back that raft up.
Be an anchor in a world of waves.
Boat hair, don't care.
Come sail away with me.
Decided to let my dreams set sail.
Decks, docks, and flip-flops.
Eat. Sleep. Boat. Repeat.
Escaping all that ordinary that's back on the shore.
Find your flow, and row, row, row.
Forever in need of some vitamin sea.
Giving in to the pier pressure.
Good vibes happen on high tides.
Having yachts of fun with you.
Home is wherever the anchor drops.
I lake you a lot!
Lake Boat Instagram Captions for Couples
I like big boats and I cannot lie.
I pull up in yachts so big that they try to hit me with boat fines.
I ship this.
It's a bikini kind of life.
It's a-boat time we got to the lake.
It's aboat time we all made it out on the water.
It's lake o'clock somewhere!
I'm on lake time.
I'm sorry, but this boat is knot for sail.
Keep calm and boat on.
Lake mode activated.
Lakeaholic.
Leaving worries in our wake.
Let's get nauti.
Let's just cruise and see where the waves go.
Let's sail away into forever.
Instagram Captions for boat in river
Related: 55+ Best Flirty Cowboy Pick Up Lines for Your Crush
Life is at ease with a lake breeze.
Life is better where it's wetter.
Limnophile (adj.): lover of lakes.
Literally sailing into the sunset.
Live. Lake. Love.
Long weekends and living the boat life.
May your anchor be tight, your cork be loose, your rum be spiced, and your compass be true.
Mermaid to be in the sea.
Messy buns and boat days.
My milkshake brings all the buoys to the yard.
Never enough vitamin sea puns to last me through the summer.
Not salty about this situation.
Ocean air, salty hair.
Oh buoy, we're not ready for summer to be over, yet.
Paradise found.
Sea ya later.
Shopping is fun and all, but this is my favorite kind of sail.
Some grow roots, but I put down anchors far into the sea.
Some would say that I'm an aqua-holic.
Staying hydrated by always being on the sea.
Summertime spritz on the sea.
Sunshine on my mind.
Take time to coast.
Thanks for being my anchor.
Thanks for making sure we don't sink.
The lake is calling. I must go.
The ocean is everything I want to be — beautiful, mysterious, wild, and free.
The tans will fade, but the memories will last forever.
The water may be salty, but this is the sweetest life.
There's nothing quite like the sound of your sails flapping in the wind and the waves underneath you.
This summer will knot be too bad if it means I can spend all of my time on the water.
This weekend was knot too bad.
Water you looking at?
We can't direct the winds, but we can direct the sails.
We're gonna need a bigger boat.
Related: 75+ Best Jeep Captions for Instagram
Insta Boat Captions for Instagram
Related: 100+ Best Gym Captions for Instagram to Help You Stay Motivated
What happens on the yacht stays on the yacht.
Whatever floats your boat.
What's up, dock?
Where there's a will, there's a wave.
Worry less, paddle more.
Yacht crew.
Yeah, buoy!
You can't be crabby when you're on a boat.
You keep me from getting lost at sea.
You, me, and the sea.