Best Car Selfie Captions for Instagram 2022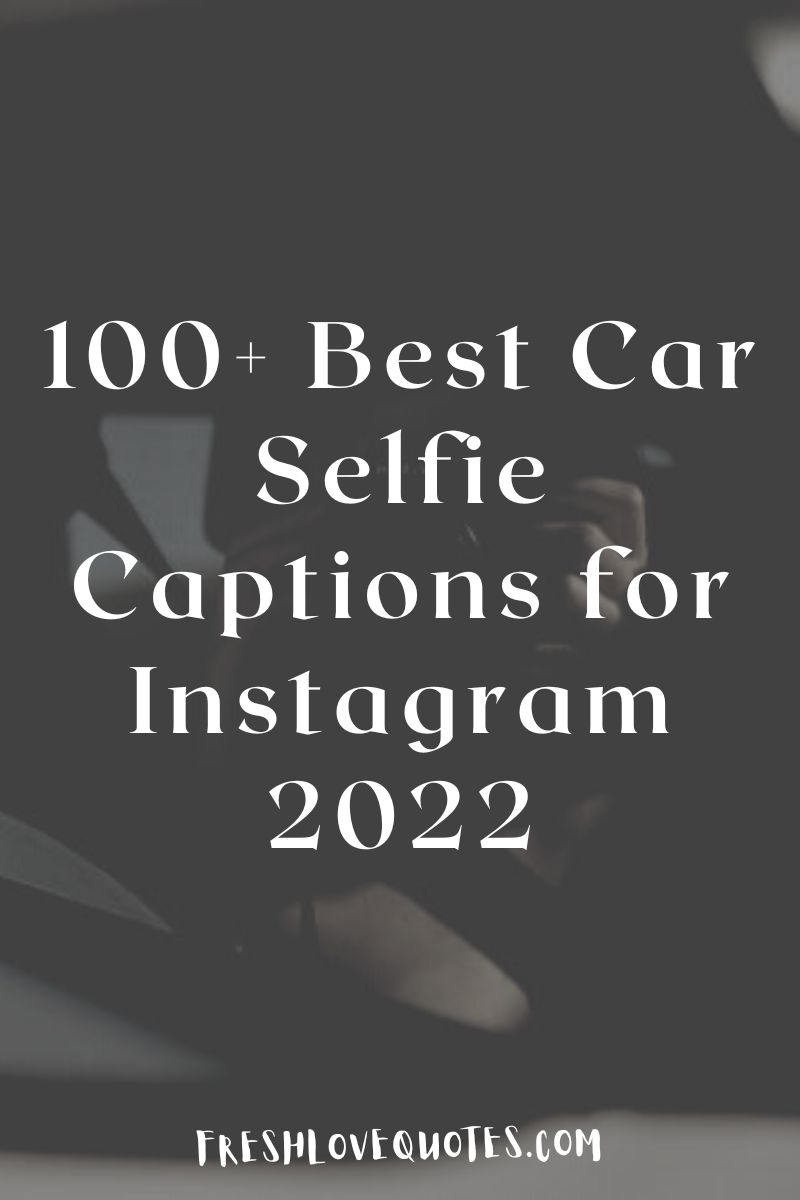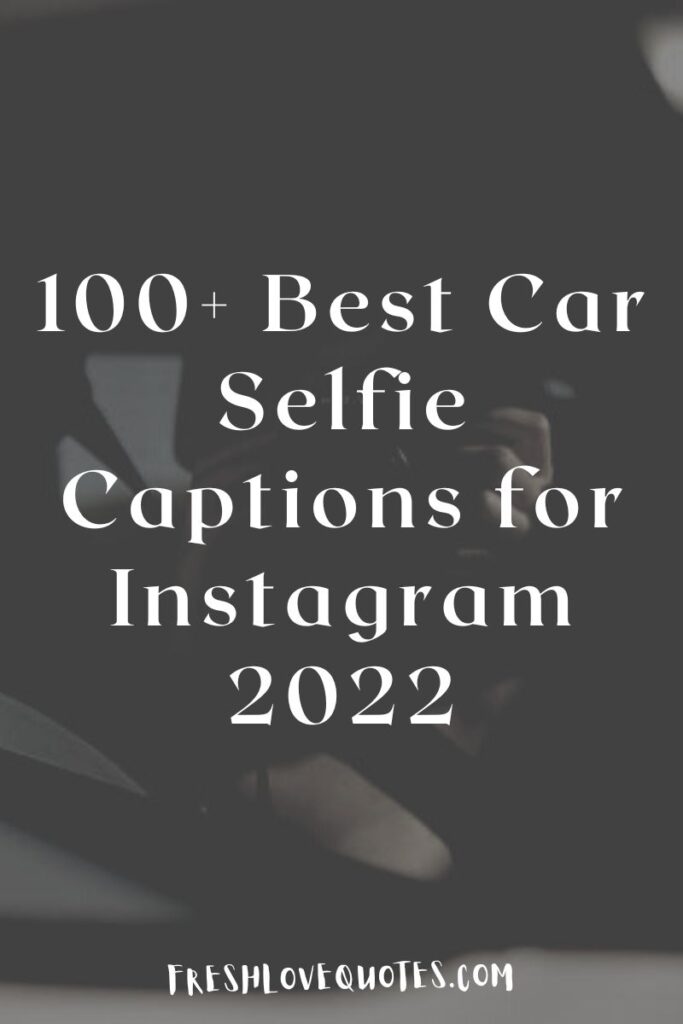 Recently, it seems like everyone and their grandmother has become obsessed with taking selfies in their cars! This trend isn't going away anytime soon, and if you take car selfies on Instagram, you may want to spice up your next photo with some creative captions. Check out these awesome car selfie captions for Instagram to help you get started!
A Man's most expensive hobby.
A blind man walks into a bar… And a chair… and a table.
A dream without ambition is like a car without gas… you're not going anywhere.
A man loves his girlfriend for a month, wife for a year and his car forever.
A new car might not change your life, but it changes your attitude.
Absolutely in love with our new wheels.
All of those cars were once just a dream in somebody's head. Peter Gabriel
And at the end of the day, your feet should be dirty, your hair messy and your eyes sparkling.
As ridiculously expensive as it is, I'm absolutely obsessed with my new whip.
Beat the odds, do numbers and remain humble.
Better buckle up, buttercup!
Born to lose, built to win.
Buying your dream car surely adds enjoyment and fulfillment to your life.
Buying your first new car makes you feel like royalty.
Car is for any person and every purpose.
Car is not a life-changer, but definitely an attitude builder.
Related: 300+ Best Swimming Pool Instagram Captions 2022
Do hard work in silence and let your new car make some noise.
Don't dream it, drive it.
Don't tell people your plans, show them your results.
Eat, sleep, drift, repeat
Eat, sleep, drift, repeat.
Electric cars are not going to take the market by storm, but it's going to be a gradual improvement. Carlos Ghosn
Every day may not be good, but there is something good about driving a car every day.
Everything in life is somewhere else, and you get there in a car.
Fast cars like Porsches and Ferraris – they are things of beauty. Rod Stewart
Feel the car, drive it, and then show it.
Finding paradise wherever I go.
Happiness is the smell of a new car.
Here today, gone tomorrow.
Funny Car selfie captions for Instagram
I couldn't find the sports car of my dreams, so I built it myself. Ferdinand Porsche.
I don't always surf the internet, but when I do, eyebrows!
I don't pray for love, I just pray for cars.
I don't pray for things, I work for that thing which I want.
I haven't done this in a while so excuse me.
I just got a new car. I just need to put it together. They're easier to steal piece by piece.
I know I'm lucky that I'm so cute.
I might be in a lac but I ain't lackin', this is my new car.
I see it, I like it, I want it, I got it. Ready to start a new adventure with my new car.
I tried to be normal once in my life, the worst two minutes of my life.
If you know me, you know how excited I'm about my newest addition to the garage.
Impressive and beautiful my new ( —Put your car name ).
In the end, we only regret the chances we didn't take.
It doesn't matter where you're going, it's who you have beside you.
It is not just four wheels and engines it's home.
It's good when you follow your dreams, It's better when you drive your dream.
It's not about the car you drive, It's about the way you drive it.
Just grab a friend and take a ride together upon the open road.
Keep calm and drive on.
Let's travel where the wifi is weak.
Life is too short to drive boring cars.
Look what finally arrived at my house today ….. and I will admit, it was worth the wait for the one I wanted.
Men love women but even more, than that men love cars.
My baby has arrived.
My first big-kid purchase.
My first childhood dream came true….. Finally, I have my own brand new car.
My perfume? Oh no, I've just been sitting in my new car!
Never follow your dreams… Control your dreams…!!!
No one buys this for you, you have to earn it.
Not much has changed with the new owner, but it starts looking so good.
Short Captions for car selfies
Nothing behind me, everything ahead of me, as is ever so on the road.
Nothing worth having comes easy.
Oh darling, let's be adventurers.
Older cars tend to drive like older cars. That is not for me.
Onions make me sad. A lot of people don't realize that.
Real men don't take selfies.
Rise up take courage and do it.
Related: 190+ Best My Wife My Angel Captions For Instagram
Roads were made for journeys, not destinations.
Self-driving cars are the natural extension of active safety and obviously something we should do.
Seriously can't believe she's mine.
So, you're on Instagram? You must be an amazing photographer.
Some things new are good too, especially the new car smell.
Start your engine and speed on over.
Stronger the horsepower harder the pull.
That car was perfect, this cheered me up.
That new car smell ❤️❤️.
The First adult milestone.
The New addition to the collection.
The car has become the carapace, the protective and aggressive shell, of urban and suburban man. Marshall McLuhan
The cars we drive says a lot about us.
The law of attraction is a real thing, I can't tell how long I've been imagining myself driving this beautiful car, and finally, dreams come true
The mountains are calling and I must go.
The tans will fade, but the memories will last forever.
The way I drive, the way I handle a car is an expression of my inner feelings.
There may be no excuse for laziness, but I'm still looking.
There's a lot of stress… but once you get in the car, all that goes out the window.
Car Selfie captions for Instagram for girl
This beautiful car and finally dreams come true.
This happened today, so much hard work and it's paid off.
Time to hit the road.
To attract a girl, I wear a perfume called " New car interior ".
Related: 66 Best Skateboarding Pick Up Lines For Skaters
To me, from me, happy new car day !!
Treat yo self!
Unleashing the beast.
We aren't addicted to oil, but our cars are.
We dream of colors borrowed from the sea.
We have nothing to lose, and a world to see.
When nothing goes right, go left instead!
Words can't describe my love for this car.
Yesterday, I changed my WiFi password to "Hackitifyoucan"; today, someone changed it to "challenge accepted".
You see me rollin' they hatin'
shift to success mode.
Related: 150+ Best Dream Quotes Captions For Instagram
work hard, stay humble and make things happen.
"Don't be jealous guys, there are soo many showrooms you can also purchase it from there."
"If you can't take care of your car then don't buy it."