Best Doing Me Quotes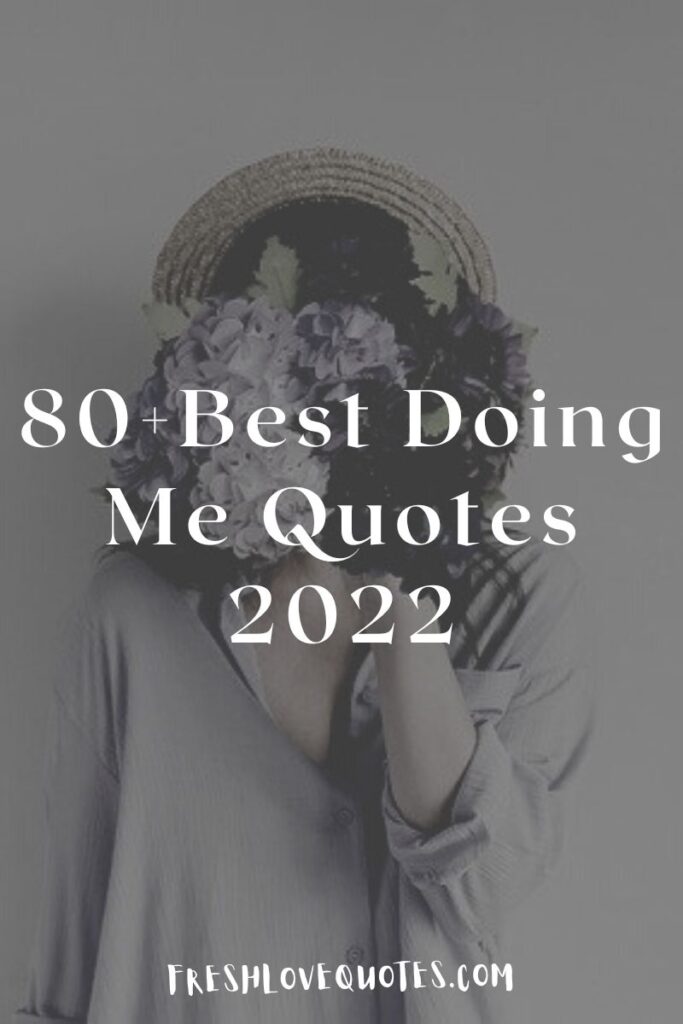 What are the best Doing Me quotes for this new year? The only question that remains is how you're going to put your Doing Me quotes into action! Don't worry, we've got some ideas on how to do just that!
Ain't no other like me.
All eyes on me…
And now I'll do what's best for me.
Anyone can do my job, but no one can be me.
Aspire to inspire before we expire.
At the end of the day I'm a good woman. I'm not perfect by any means but my intentions are good, my heart is pure and I love hard with everything I've got and because of those things. I'm worth it. Always have been and always will be.
At the stage of my life if it doesn't make me money, make me better, make me happy. I don't make time for it.
Being happy. Being me.
Being me, doing me, for me.
Current vibe: Doing me. Restoring myself. Reinventing myself. Early bedtime. Tea. Lots of water. Working out. Working hard. Eating healthy. Saying no to people. Bubble baths. Staying in. Being present. Shifting gears. Staying focused. Feeling incredible.
Dear God if today I lose my hope please remind me that your plans are better than my dream.
Do be good and I'll do better. Do me bad and I won't even do you worse, enjoy my absence though.
Do it for the people who want to see you fail.
Do me a favor, don't sugar coat anything and tell me the truth no matter how raw and blunt it is.
Do me a favor, smile.
Related: 50+ Best Clever Pick Up Lines For Him Or Her 2022
Do your best today. Time is point of no return.
Don't be mad cuz I'm doing me better than you doing you. – Donald Glover
Don't live your life trying to prove to someone what they lost out on. Live for you, freely and purely life works itself out.. always.
Finally here, Imma star with the timing. My swagger is chill and my flow is reclining. – Drake
From now on, I'm not doing anything I don't want to do! The world owes me happiness, fulfillment and success… I'm just here to cash in. – Bill Watterson
Powerful doing me quotes for success
Get on my level, then say something.
He left when she started to keep herself in the first place.
I ain't for everybody.
I always say Imma do them like they do me but it's not even in my heart to be like that.
I am doing things that are true to me. The only thing I have a problem with is being labeled. – Johnny Depp
I am thankful for all those who said no to me. It's because of them I'm doing it myself.
I do what a thing called what I want.
I don't care about losing people that don't wanna be in my life anymore. I've lost people that meant the world to me and I'm still doing just fine.
I don't dislike my haters, they dislike me I'm doing nothing wrong I'm just being me.
I don't know what I'm going but I'm ****** well gonna do it! – Geri Halliwell
I don't know what other people are doing – I just know about me. – Thelonious Monk
I have no desire to compete with any one of you people. You do you, and I'll do me. Keep it at that level.
I like doing a challenging class because it makes me more brave in life. My perception of hardships is now completely different. I'm not whining and moaning inside as much. – Ione Skye
I make a living doing what I love doing, and it's what brings me joy. – Tom Cochrane
I may not be perfect but at least I'm not fake.
I need everything in this life. Do you think it's too much? Don't think so. Everything is you.
I need to stop doing things for people who wouldn't do things for me.
I never cared but for one thing, and that is, simply to know that I am right before my Father in Heaven. If I am this moment, this day doing the things God requires of my hands, and precisely where my Father in Heaven wants me to be, I care no more about tomorrow than though it would never come. – Brigham Young
I will dare to just do what I do, be just what I am and dance whenever I do.
I will do it. Just watch me.
Related: 40+ Best When You Know You Know Quotes 2022
Deep doing me motivational quotes
If I respect myself and believe in what I'm doing, no one can touch me. – Fiona Apple
If you see me less, I'm doing more.
It seemed to me you could do anything in comics so I started doing my Things. – Harvey Pekar
It's just the three of us doing this job me myself and I. – Sonny Naclerio
It's not the imbalances of life that will get you down-it's doing meaningless things that aren't taking you where you want to go. – Danielle LaPorte
It's okay if you don't like me. Not everyone has a good taste.
It's time for me to do things I like so I will be happy, my wife will be happy, my friends will be happy. I just want to do something I'm proud of. It's time for me to change. I could sign with a company for 10 movies and I'm the king of video and so what? – Jean Claude Van Damme
I'm currently creating the woman that I want to be, excuse me while I become extremely selfish with myself, time, and energy.
I'm doing this for me. – Jessica Matthews
I'm going from doing all of the work to having to delegate the work – which is almost harder for me than doing the work myself. I'm a lousy delegator, but I'm learning. – Alton Brown
I'm just doing me, and to me, that's what got me this far. – Lil Uzi Vert
I'm just doing what my conscience asks me to do. – Chen Guangcheng
Related: 175+ Best Tennis Puns And Captions For Instagram 2022
I'm not mad at myself for giving my love to the wrong people, they probably needed it the most.
I'm not trying to prove anything, I'm just doing me. Motivate me, support me or get out of my way.
I'm tired of people thinking they're doing me favors. – Michael Thomas Ford
I'm too busy working on my own grass to notice if yours is greener.
I'm working on myself, for myself, by myself.
Just do me.
Leave me alone, I know what I'm doing.
Let me do my job, you do your!!
Live a life that would make you jealous.
Looking in the mirror and liking what I see.
Love the fact that no one really knows what I'm up to.
Love yourself first, and everything else falls in line. You really have to love yourself to get anything done in this world. – Lucille Ball
Never worried.
Now it's time to do something for me. – Chris Moyles
Once they see you doing better without them that's when they want you.
Right now, I've got the lead in what I'm doing. I'm in the best position. No one expects me to come in at number one, and I'm not concerned with it either. Let me come in at number , I'll be happy. – Wyclef Jean
Sitting next to you doing absolutely nothing, means absolutely everything to me.
Some people say I'm conscious, some say I'm a gangsta rapper – it's just me doing me. I'm stomping in my own lane. I'm doing what I do. – Nas
Short motivational doing me quotes
Stay gold.
Taking care of yourself is the best thing you can do.
Tell me I can't, then watch me work twice as hard to prove you wrong.
Tell me not to do something and I will do it twice and take pictures.
Related: 10 Best Life Changing Literature Excerpts You've Never Heard Of
The fact that people look at pictures so tiny on Instagram – people ask me about it popping on Instagram, but I didn't alter myself to be that. I didn't change for the screens, I've just been doing me. – Jeremy Scott
The idea of doing something that you've seen a thousand times before doesn't appeal to me. – Ryan Phillippe
The mountains whisper for me to wander; my soul hikes to the call.
The only thing I can do is act, but it's not something I even feel comfortable doing. It costs me a lot, because I'm a shy person, even if I don't look it. – Javier Bardem
This year I will do what makes me happy. This year I will live the life I want, because this is not a dress rehearsal.
To everything I've ever lost; Thank you for setting me free.
We know the voices in our heads aren't real, but sometimes their ideas are just too good to ignore.
What doesn't kill you makes you stronger. – Mario
Whatever is good for your soul do that.
When looking back doesn't interest you anymore, you're doing something right.
When people underestimate you, don't be down. Stand up and let them know that they're wrong.
Work is important to me. I want to do things for principle, not just for the sake of doing them. – Tracey Ullman
Writing is something doing alone. And I love spending time with it… – Redzel Romulo
You do you, I'll do me, and we won't do each other. Probably. – Markiplier
You wanna know what living life to the fullest actually is? It's waking up on a Monday morning with no complaints. It's know you always deserve to laugh. It's doing what feels right no matter what. It's doing what you want to, no matter how stupid you look. It's about being yourself, 'cause no one can tell you you're doing it wrong.