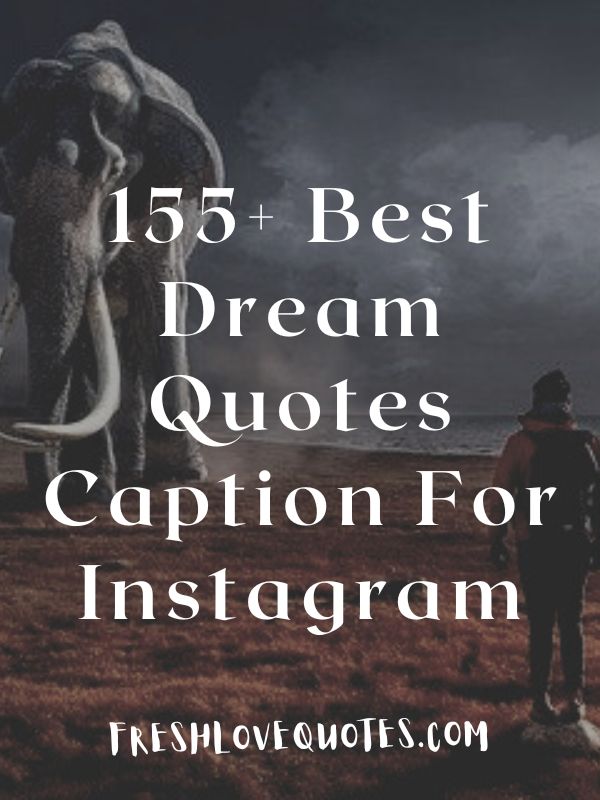 Are you looking for the best dream quotes captions for Instagram? This is the collection of the best dream quotes captions for Instagram. You can use these captions and quotes with your dream images on Instagram.
A bird sitting on a tree is never afraid of the branch beaking, because her trust is not on the branch but on its own wings. Always believe in yourself.– Anonymous
A dream doesn't become reality through magic; it takes sweat, determination, and hard work. – Colin Powell
A dream is a wish your heart makes. – Walt Disney
A dream is your creative vision for your life in the future. A goal is what specifically you intend to make happen. Dreams and goals should be just out of your present reach but not out of sight. Dreams and goals are coming attractions in your life.— Joseph Campbell
A dream you dream alone is only a dream. A dream you dream together is reality.-John Lennon
A dreamcatcher works, if your dream is to be gay.- Demetri Martin
Related: 50+ Happy Birthday Cousin Wishes With Images
A dreamer is one who can only find his way by moonlight, and his punishment is that he sees the dawn before the rest of the world.– Oscar Wilde
A great leader's courage to fulfill his vision comes from passion, not position.— John Maxwell
A journey of a thousand miles must begin with a single step.
Short Dream Quotes for Instagram
A man is not old until regrets take the place of dreams.– John Barrymore
A man's dreams are an index to his greatness.— Zadoc Rabinowitz
A year from now you may wish you had started today.
Alice laughed. 'There's no use trying,' she said. 'One can't believe impossible things.' 'I daresay you haven't had much practice,' said the Queen. 'When I was your age, I always did it half an hour a day. Why, sometimes, I've believed as many as six impossible things before breakfast.'— Lewis Carroll
All big things in this world are done by people who are naïve and have an idea that is obviously impossible.— Frank Richards
All men dream, but not equally. Those who dream by night in the dusty recesses of their minds, wake in the day to find that it was vanity: but the dreamers of the day are dangerous men, for they may act on their dreams with open eyes, to make them possible.-T.E. Lawrence
All of us failed to match our dreams of perfection. So I rate us on the basis of our splendid failure to do the impossible.— William Faulkner
All our dreams can come true if we have the courage to pursue them.-Walt Disney
All parents believe their children can do the impossible. They thought it the minute we were born, and no matter how hard we've tried to prove them wrong, they all think it about us now. And the really annoying thing is, they're probably right.— Cathy Guisewite
All successful people men and women are big dreamers. They imagine what their future could be, ideal in every respect, and then they work every day toward their distant vision, that goal or purpose.– Brian Tracy
Related: 75+ Best Beautiful Fairy Captions For Instagram
Always remember, you have within you the strength, the patience, and the passion to reach for the stars to change the world.
As soon as you start to pursue a dream, your life wakes up and everything has meaning. – Barbara Sher
Ask Yourself If What You're Doing Today Is Getting You Closer To Where You Want To Be Tomorrow.
Aspire not to have more, but to be more.
At the age of six I wanted to be a cook. At seven I wanted to be Napoleon. And my ambition has been growing steadily ever since. Salvador Dali
Build your dreams or someone else will hire you to build there
Come, get entwined in the dream catcher of my heart. ― Melody Lee
Do What You Have To Do Until You Can Do What You Want To Do.
Instagram Dream Quotes Captions
Do not dwell in the past, do not dream of the future, concentrate the mind on the present moment.
Do not follow where the path may lead. Go instead where there is no path and leave a trail.– Ralph Waldo Emerson
Do not spoil what you have by desiring what you have not; remember that what you now have was once among the things you only hoped for.– Epicurus
Do what you have to do until you can do what you want to do. -Unknown
Doing what you belive in, and going after your dreams will only result in success.
Don't Call It A Dream Call It A Plan.
Don't Tell People Your Dream. Show Them.
Don't let someone else catch your dreams. You be the dream catcher.
Don't watch the clock; do what it does. Keep going. Sam Levenson
Dream as if you'll live forever. Live as if you'll die today. – James Dean
Dream big or go home.
Dream big. Start small. But most of all start. Simon Sinek
Related: 100+ Best Earth Day Instagram Captions
Dream but dream for positive things.
Dream it, then make it happen. -Anonymus
Dream lofty dreams, and as you dream, so you shall become. Your vision is the promise of what you shall one day be; your ideal is the prophecy of what you shall at last unveil.-James Allen
Dream no small dreams for they have no power to move the hearts of men. — Johann Wolfgang Von Goethe
Dreamers have insight beyond what everyone else can see.
Dreaming is an act of pure imagination, attesting in all men a creative power, which if it were available in waking, would make every man a Dante or Shakespeare.-H.F. Hedge
Dreams are excursions into the limbo of things, a semi-deliverance from the human prison.-Henri Amiel
Dreams are illustrations… from the book your soul is writing about you.-Marsha Norman
Dreams are necessary to life. Anais Nin
Dreams are necessary. Like the air, without realizing it, I, you, and we all need dreams. The dreams that guide us on what we do today because today is the answer to our dreams the other day.
Dreams are not bound by constraints of the mortal world, such as time.
Dreams are renewable. No matter what our age or condition, there are still untapped possibilities within us and new beauty waiting to be born.-Dale Turner
Dreams are there to be followed.
Dreams come in a size too big so that we may grow into them. — Josie Bisse
Dreams come true.
Dreams don't work unless you do. John C. Maxwell
Dreams may act as a lens, through which we perceive life clearly.
Dreams shape the future. One of the dream catcher quotes on my list.
Each man should frame life so that at some future hour fact and his dreaming meet.
Ever tried. Ever failed. No matter. Try Again. Fail again. Fail better.– Samuel Beckett
Every great dream begins with a dreamer. Always remember, you have within you the strength, the patience, and the passion to reach for the stars to change the world.
Every morning you have two choices: continue to sleep with your dreams, or wake up and chase them. -Anonymus
Dream Quotes for Instagram
Fill your brain with giant dreams so it has no space for petty pursuits. – Robin Sharma
Follow your dreams, they know the way. Kobe Yamada
For once you have tasted flight you will walk the earth with your eyes turned skywards, for there you have been and there you will long to return. — Leonard da Vinci
Go to the direction with the confidence of your dreams but directions should be positive.
Hold fast to dreams, for if dreams die, life is a broken-winged bird that cannot fly.-Langston Hughes
Hope is a waking dream. Aristotle
Hope lies in dreams, in imagination, and in the courage of those who dare to make dreams into reality. Jonas Salk
I Want To See The World. Follow A Map To Its Edges…
Related: 100+ Best Funny Softball Captions And Puns For Instagram
I Would Rather Regret The Things I Have Done Than The Things I Have Not.
I don't dream at night, I dream all day; I dream for a living. -Steven Spielberg
I know you, I walked with you once upon a dream.
I like my dreams cause you are always in them and that is the only time I get to see you.
If You Don't Know Where You Want To Go, Then It Doesn't Matter Which Path You Take.
If You Haven't Found It Yet, Keep Looking.
If You Want Something You Never Had, You Have To Do Something You've Never Done.
If a little dreaming is dangerous, the cure for it is not to dream less but to dream more, to dream all the time. Marcel Proust
If you don't build your dream someone will hire you to help build theirs. -Tony Gaskins
If you don't have a dream, how are you going to make a dream come true?. -Oscar Hammerstein
If you have a big dream then you need to work hard with passion and perfection.
If your dreams don't scare you, they aren't big enough. Muhammad Ali
In dreams we enter a world that is entirely our own.
It Feels Good To Be Lost In The Right Direction.
It Is Never Too Late To Be What You Might Have Been.
It may be that those who do most, dream most. Stephen Butler Leacock
It's better to have an impossible dream than no dream at all. – Anonymous
It's difficult to follow your dream. It's a tragedy not to. – Ralph Marston
I'm a dreamcatcher you are my dream so let me catch you.
Just dreaming is not enough, you need to set a goal and strive to achieve the goal.
Keep away from people who try to belittle your ambitions. Small people always do that, but the really great make you feel that you, too, can become great.– Mark Twain
Keep your heart open to dreams. For as long as there's a dream, there is hope, and as long as there is hope, there is joy in living.-Unknown Author
Life is full of beauty. Notice it. Notice the bumble bee, the small child, and the smiling faces. Smell the rain, and feel the wind. Live your life to the fullest potential, and fight for your dreams.– Ashley Smith
Related: 175+ Best Apple Picking Captions For Instagram
Instagram Captions and Quotes on Dreams
Life is short, live bold! Be heard, be you, dream big, take risks, don't wait. – Misty Gibbs
Like success, failure is many things to many people. With positive mental attitude, failure is a learning experience, a rung on the ladder, and a plateau at which to get your thoughts in order to prepare to try again.– W. Clement Stone
Look at the sky. We are not alone. The whole universe is friendly to us and conspires only to give the best to those who dream and work."
Make it the focus of your life. – Maxime Lagacé
Man, alone, has the power to transform his thoughts into physical reality; man, alone, can dream and make his dreams come true.-Napoleon Hill
Never give up on what you really want to do. The person with big dreams is more powerful than one with all the facts. – Life's Little Instructions
Never let go of your dreams.
Related: 300+ Best Fairytale Captions For Instagram 2023
Never limit yourself because of others' limited imagination; never limit others because of your own limited imagination.– Mae Jemison
Never stop dreaming.
No dreamer is ever too small; no dream is ever too big. -Anonymus
No matter where you're from, your dreams are valid.– Lupita Nyong'o
Nobody Is Too Busy, It's Just A Matter Of Priorities.
Nothing happens unless first we dream. Carl Sandburg
One-day reality will be better than my dreams.
Only in our dreams we are free.
Our dreams prove that to imagine – to dream about things that have not happened – is among mankind's deepest needs. Milan Kundera
People are like stained-glass windows. They sparkle and shine when the sun is out, but when the darkness sets in their true beauty is revealed only if there is light from within.— Elisabeth Kübler-Ross
People think dreams aren't real just because they aren't made of matter, of particles. Dreams are real. But they are made of viewpoints, of images, of memories and puns and lost hopes.— Neil Gaiman
Perhaps the magic of dreams comes from within us.
Press forward. Do not stop, do not linger in your journey, but strive for the mark set before you. -George Whitefield
Reality is wrong. Dreams are for real.
So many of our dreams at first seem impossible, then they seem improbable, and then, when we summon the will, they soon become inevitable.
Start where you are. Use what you have. Do what you can.– Arthur Ashe
Stop Waiting For Friday, For Summer, For Someone To Fall In Love With You, For Life. Happiness Is Achieved When You Stop Waiting For It And Make The Most Of The Moment You Are In Now.
Success is when your dreams become a reality.
Attitude Dream Captions for Instagram
That which is dreamed can never be lost, can never be undreamed. – Neil Gaiman
That which the dream shows is the shadow of such wisdom as exists in man, even if during his waking state he may know nothing about it…. We do not know it because we are fooling away our time with outward and perishing things, and are asleep in regard to that which is real within ourself.-Paracelsus
That's why they call it the American Dream because you have to be asleep to believe it.
The Distance Between Your Dreams And Reality Is Call Action.
Related: 50+ Best Painting Pick Up Lines For Your Crush
The best way to make your dreams come true is to wake up. – Muhammad Ali
The future belongs to those who believe in the beauty of their dreams.-Eleanor Roosevelt
The only dreams that come true are the ones you chase, if you do nothing, you get nothing. Joseph Atser
The only thing that will stop you from fulfilling your dreams is you.– Tom Bradley
The smile that f*butters on a baby's lips when he sleeps – does anyone know where it was born? Yes, there is a rumor that a young pale beam of a crescent moon touched the edge of a vanishing autumn cloud, and there the smile was first born in the dream of a dew-washed morning.
There are some people who live in a dream world, and there are some who face reality; and then there are those who turn one into the other.– Douglas H. Everett
There is only one thing that makes a dream impossible to achieve: the fear of failure. Paulo Coelho
There is only one thing that makes a dream impossible to achieve: the fear of failure.-Paulo Coelho
They say if you dream a thing more than once, it's sure to come true.
This is one of a few dream big quotes that always make people smile.
Throw your dreams into space like a kite, and you do not know what it will bring back, a new life, a new friend, a new love, a new country.-Anais Nin
To Live Will Be An Awfully Big Adventure.
Today's dreams are tomorrow's future. So dream big and NEVER give up even when you think you should.
Try to achieve your dreams, stay strong, and never give up.
We need men who can dream of things that never were. John F. Kennedy
What is not started today is never finished tomorrow.– Johann Wolfgang von Goethe
What's the purpose of your dreams if you're just going to settle for less?
When we can't dream any longer we die. -Emma Goldman
Related: 50+ Best Pink Outfit Captions For Instagram
When you have a dream that you can't let go of, trust your instincts and pursue it. But remember: Real dreams take work, They take patience, and sometimes they require you to dig down very deep. Be sure you're willing to do that.-Harvey Mackay
When you stop having dreams and ideals — well, you might as well stop altogether.-Marian Anderson
Without a dream life is nothing.
Without dreams, there can be no courage. And without courage, there can be no action. Wim Wenders
Yes: I am a dreamer. For a dreamer is one who can only find his way by moonlight, and his punishment is that he sees the dawn before the rest of the world.-Oscar Wilde
You Can Never Cross The Ocean Unless You Have The Courage To Lose Sight Of The Shore.
You are never given a dream without also being given the power to make it come true. You will have to work for it, however. Richard Bach
You are never too old to set another goal or to dream a new dream.– C.S. Lewis
You be the dream catcher.
You can never cross the ocean unless you have the courage to lose sight of the shore.
You get one life. Make it count. Shane Parrish
Related: 90+ Best Instagram Captions For 33rd Birthday
You have to dream before your dreams can come true.
You just can't beat the person who never gives up. Babe Ruth
You need to dream about the things to achieve it.
You see things; and you say, 'Why?' But I dream things that never were; and I say, 'Why not?'– George Bernard Shaw
Your vision will become clear only when you look into your heart. Who looks outside, dreams. Who looks inside, awakens. Carl Jung
You'll stumble upon something you can't stop thinking about, something more important than anything else.
You're Never Too Young To Dream BIG!