Best Hey February Captions For Instagram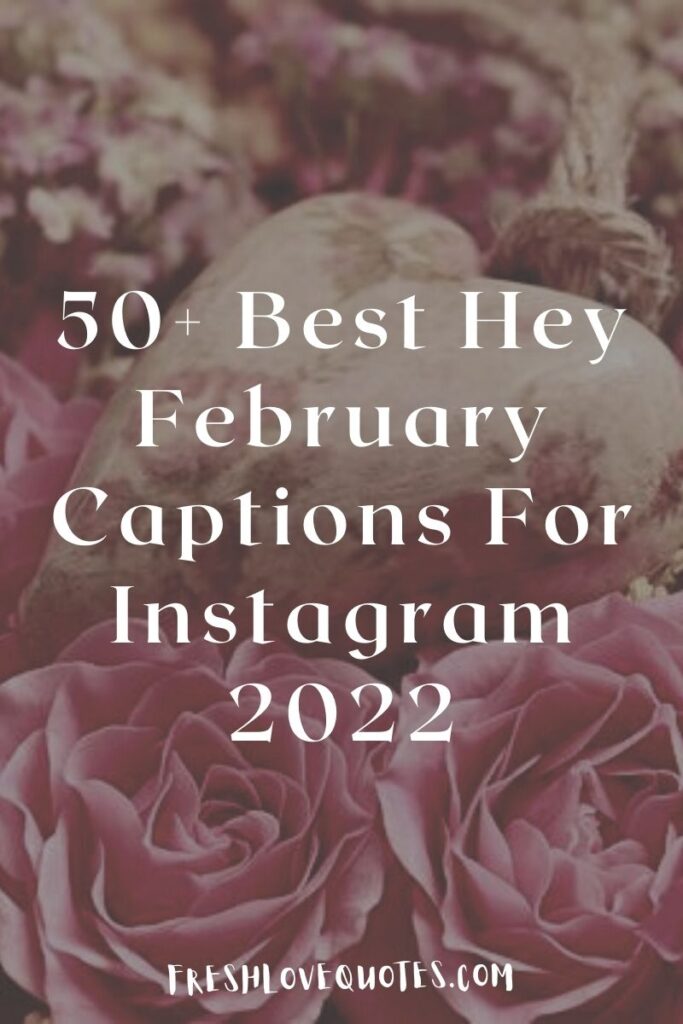 Looking for the best February captions for Instagram? Look no further! We've rounded up the best Hey February captions for all your Instagram needs.
A strange amazing day that comes only once every four years . . . A day of temporal tune up.
Cause it's February the twenty second.
Do not rely on February . . . The sun in this month begets a headache like an angel slapping you in the face.
Every leap year I like to jump. It's a good way to get my exercise in every four years.
February brings the rain, Thaws the frozen lake again.
February days are a marketing gimmick; love happens every day.
February is just plain malicious. It knows your defenses are down.
February is merely as long as is needed to pass the time until March.
February is short and very sweet.
February is the border between winter and spring.
February is the shortest month, so if you're having a miserable month, try to schedule it for February.
February is the uncertain month, neither black nor white but all shades between by turns. Nothing is sure.
February makes me kinda crazy a hundred miles to go to Kansas City. Will you still be callin' me your baby?
February the month of love?!! No wonder the shortest one in the calendar.
February, a form pale-vestured, wildly fair. One of the North Wind's daughters with icicles in her hair.
February, when the days of winter seem endless and no amount of wistful recollecting can bring back any air of summer.
February. Take ink and weep, write February as you're sobbing, while black Spring burns deep through the slush and throbbing.
February: Just Stay In
February—the month of love..?!! No wonder the shortest one in the calendar.
Hello, February
If you meet 29th February, think of something unique for it is the only day that defines a year as a leap year. It is the only day that makes February truly unique.
In February air. Please don't lose hold of me, out there.
In February there is everything to hope for and nothing to regret.
In February's dark we watched the stars. Explode until day break.
Hello February captions for Instagram
In the coldest February, as in every other month in every other year, the best thing to hold on to in this world is each other.
It takes three springs to make one leap year.
It's February again, we must get older, now, so please wake up.
Keep calm and welcome February.
Keep love in your heart. A life without it is like a sunless garden when flowers are dead.
Late February days; and now, at last, Might you have thought that winter's woe was past; So fair the sky was and so soft the air.
Let us always meet each other with smile, for the smile is the beginning of love.
Lost in a February song. Tell him it won't be long. 'Til he opens his eyes. Opens his eyes. Where is that simple day.
Love is composed of a single soul inhabiting two bodies.
Love is life. And if you miss love you miss life.
Love is not only something you feel, it is something you do.
Love is when the other person's happiness is more important than your happiness.
May you see love all around you this February.
On month till February, keep on holding on and I know it sure, and I know it sure.
One of the major dangers of being alone in February is the tendency to dwell on past relationships. Whether you're daydreaming about that 'one that got away,' or you're recalling the fairy tale date you went on last Valentine's Day, romanticizing the past isn't helpful – nor accurate.
Funny February Captions for Instagram
Please be good to me, February
Queens are born in February
Spread love wherever you go. Let no one ever come to you without leaving happier.
Sprinkling kindness this February!
Striving for progress, not perfection.
The February sunshine steeps your boughs and tints the buds and swells the leaves within.
The bitter winds in February were sometimes called the First East Winds, but the longing for spring somehow made them seem more piercing.
The day and time itself, late afternoon in early February, was there a moment of the year better suited for despair?'
The only bubble in the flat champagne of February is Valentine's Day. It was no accident that our ancestors pinned Valentine's Day on February's shirt: he or she lucky enough to have a lover in frigid, antsy February has cause for celebration, indeed.
The only thing we should scream into the world is love.
There is always in February some one day, at least, when one smells the yet distant, but surely coming summer.
This February, do more of what you love.
Though, February is short, it is filled with lots of love and sweet surprises.
To love abundantly is to live abundantly, and to love forever is to live forever.
While it is February one can taste the full joys of anticipation. Spring stands at the gate with her finger on the latch.
Why does February feel like one big Tuesday?
Without Valentine's Day, February would be well, January.