Best Proud of My Husband Quotes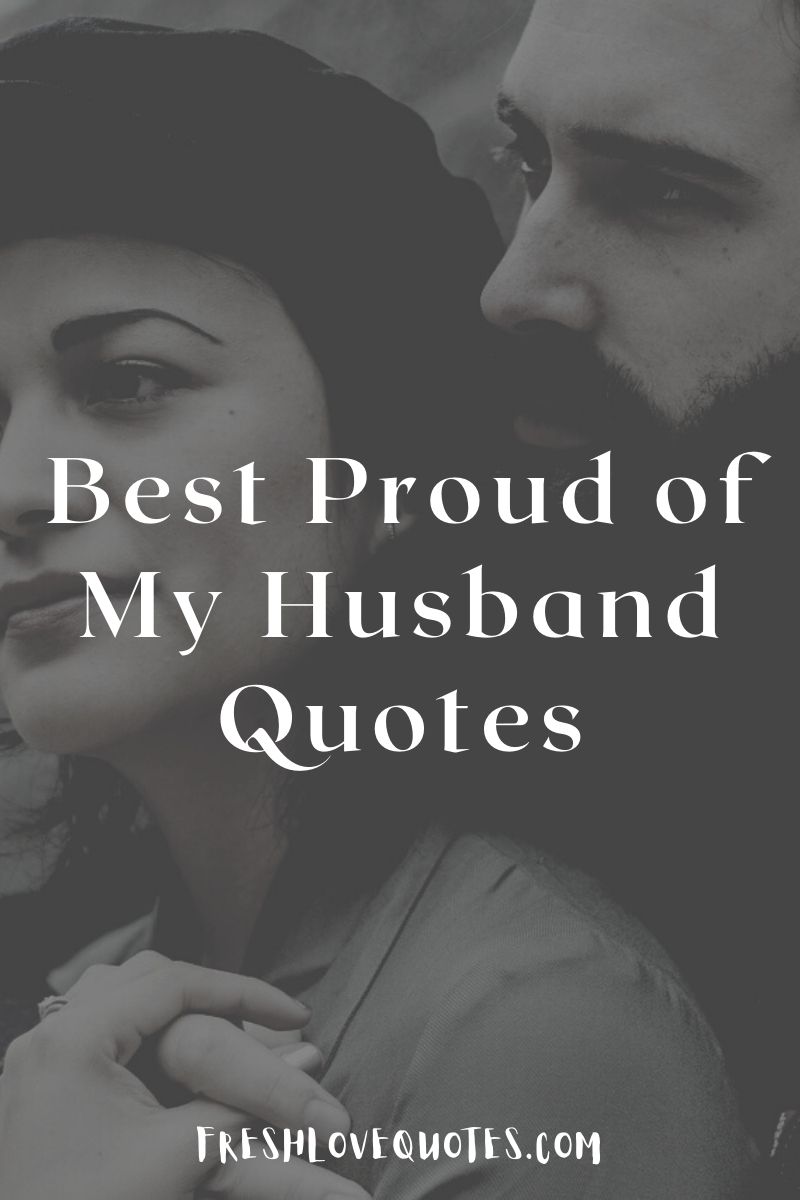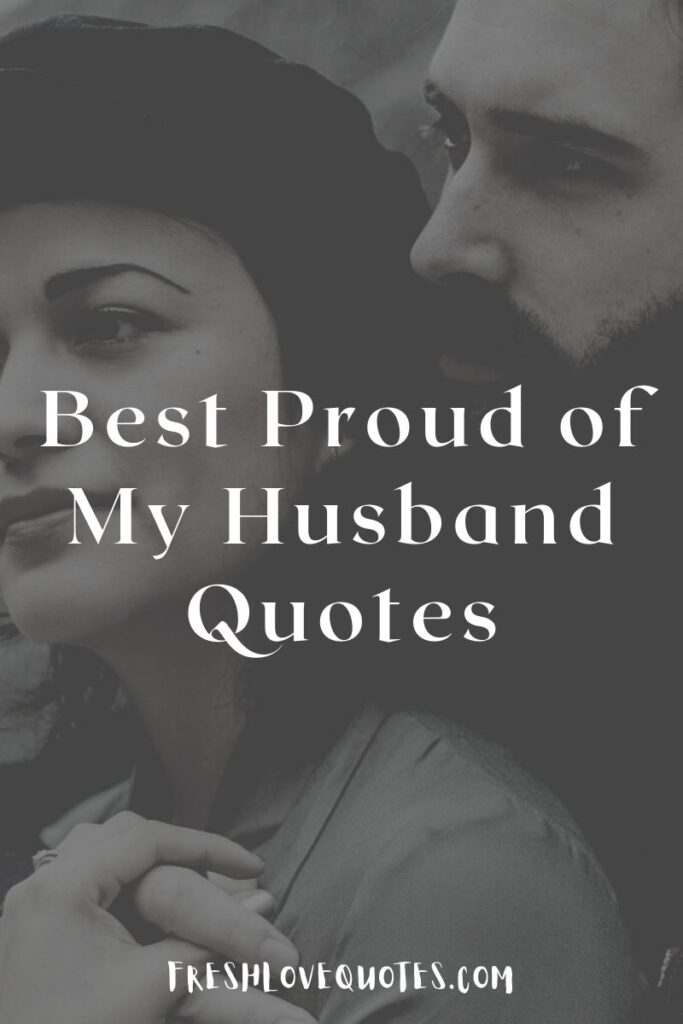 We have compiled over 110+ proud of my husband quotes in this post. Use these proud of my husband quotes to impress your hard-working husband.
A first love comes and goes, but the man I choose to spend the rest of my life with is someone I will lovingly have and hold for as long as we both shall live. I want to be your last, not your first.
A good wife is a reflection of a good husband. My friends envy me for being a happy and contented wife, and that won't be possible if not for you, my dear.
A lot of people say that marriage is a big responsibility. But thanks to you, because our marriage is a blessing.
All the riches, the fortune and the luxuries in this world compare nothing to the wealth of having you as my husband. I am proud of you dear!
A good husband wipes her tears, but a great Husband listens to the story of why she's crying.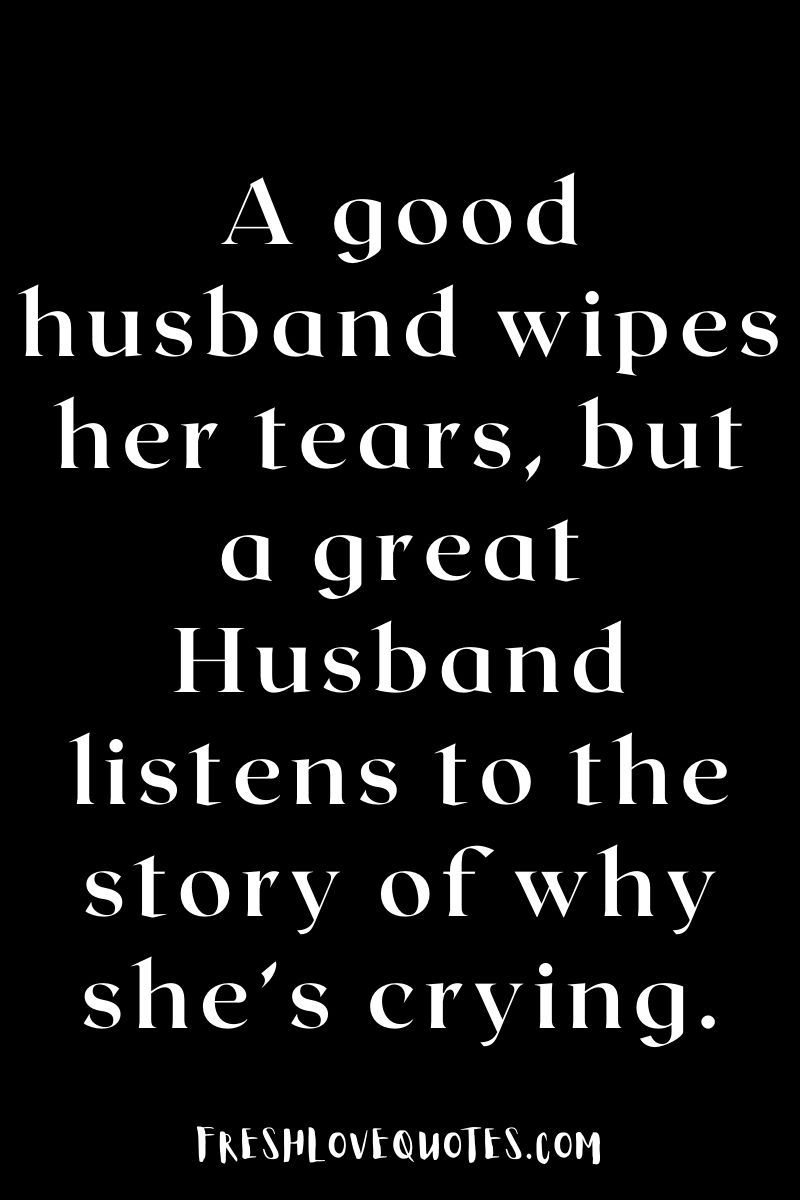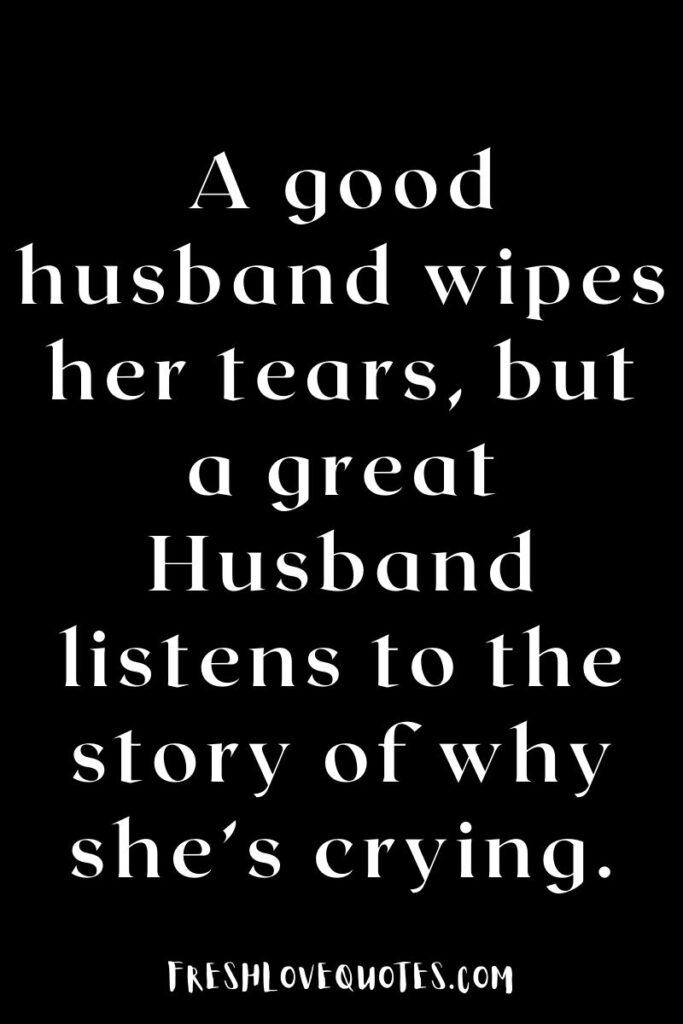 Any home can be a castle when the king and queen are in love.
Be with someone who is proud to have you.
By the way, I'm wearing the smile you gave me. Thank you for everything.
Choosing to spend the rest of my life with you is the wisest choice I have made in my life. You are my refuge, my comfort, and my happiness. There is nothing more I wanted in this life!
Dear Hubby, I would rather have bad times with you than good times with another person. I would rather stand beside you in a storm than be apart in good weather.
Dear Husband, I love living life with you and I will live life for loving you.
Dictionary is incomplete because it doesn't have a word which can describe how much I love you.
Do you know what the best thing about this world is? It is being your wife!
Every day is a grand day for me most particularly when I am with you.
Every day of my life is a blessing because it starts and ends with you.
Every day with my husband is another day in paradise.
Every girl hopes to have a perfect husband. But none of them know that the perfect one has already been taken – by me!
Every love story is beautiful, but ours is my favorite.
Every moment of my life is so special for me, because I have a wonderful, caring and truly special person by my side. I am so happy that you are my husband.
Every time I look at the keyboard, I see that U and I are always together.
Every single day that I spend being your wife, I realize how lucky I am to live such an amazing life.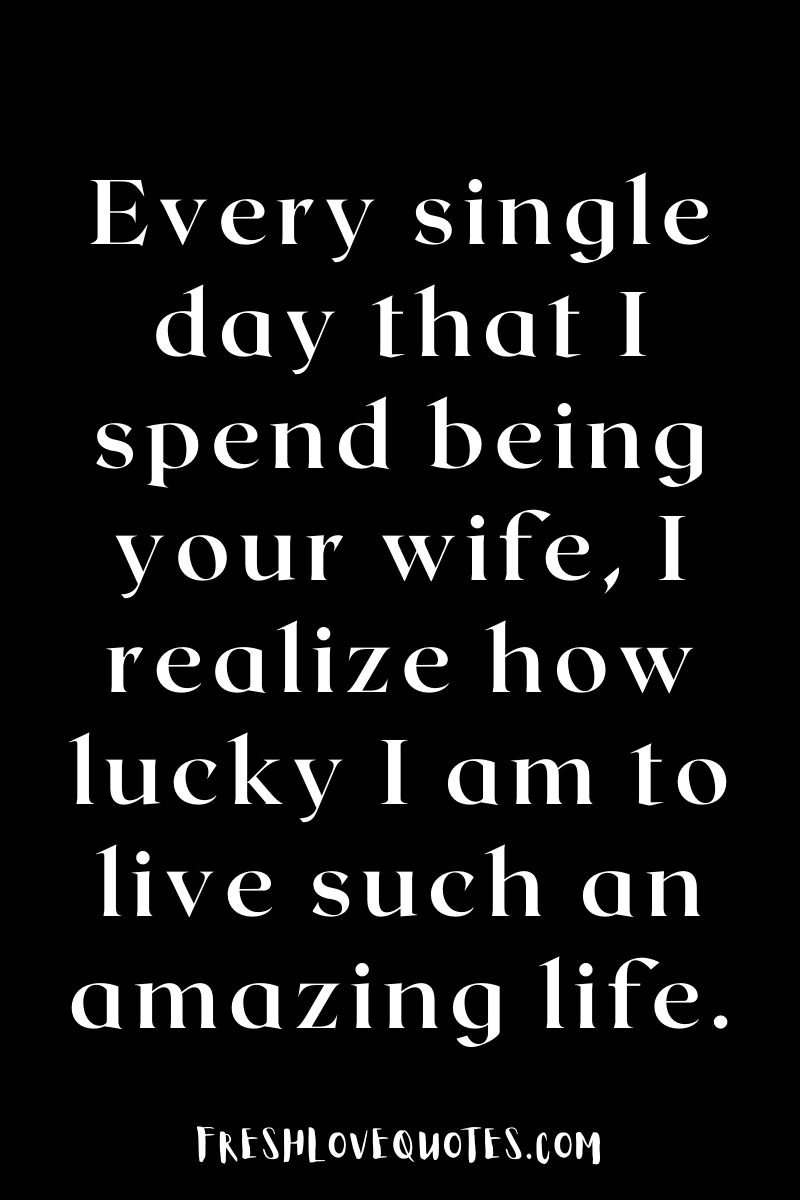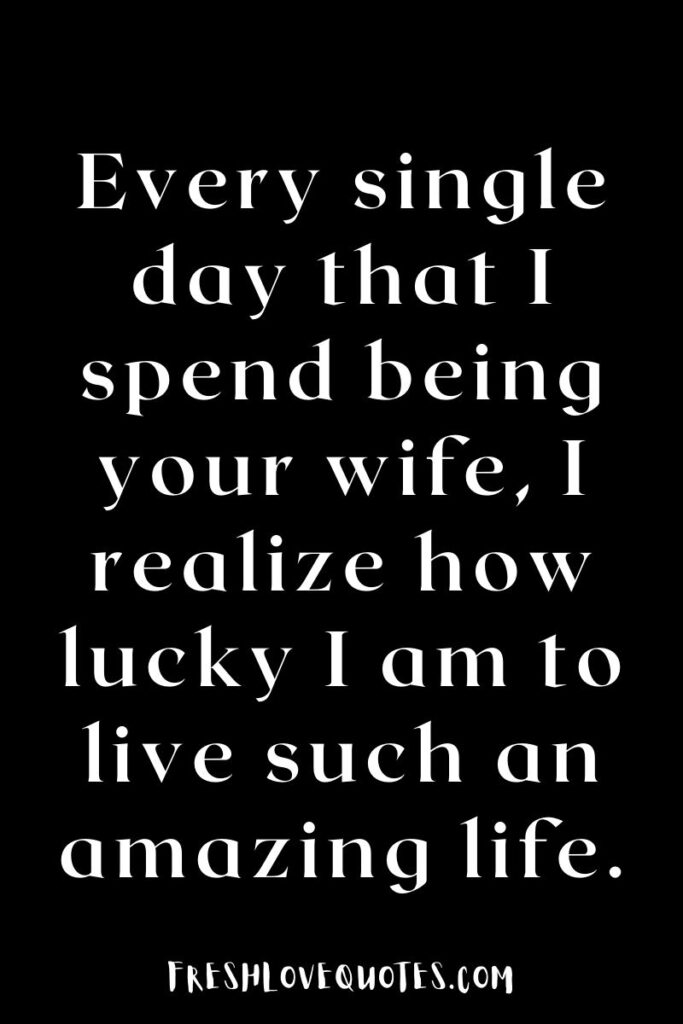 Everyone has a past, but only a few lucky ones like me have life partners who help heal the wounds of yesterday and give wings for a happier tomorrow.
From the moment our eyes first met, you have never left my heart. From the moment we said, I do, I promised I would always love you and never let go.
God sent him to me knowing that he would love me beyond reason.
I am a proud wife of an imperfect perfect husband. He is the only one in this world who can tolerate my madness.
I am absolutely positive that I have the best husband ever.
I am proud of every tiny thing you were doing for me with love.
I am proud of my husband because he never reminds me of my past sorrows.
I am proud of you because you have made my life more beautiful than Heaven. Thanks, darling.
I am ready to argue with anyone, who says that perfection does not exist because perfection is you.
I am so proud to call you my husband. I love you more with each passing day.
I am very proud to call you my friend, Happy to call you my lover and blessed to call you my Husband.
I am who I am because of you. We may have our challenges, our stumbles, and our disagreements, but as long as we are still together and love one another, nothing else matters.
I believe in you, so very PROUD of you. Don't ever give up, you can do it.
I didn't know that it was possible to fall in love over and over, deeper and deeper, with the same person every day. I am proud of you, honey.
I fly high in the sky when my husband calls me beautiful like it's my name..
Husband, when I lay my head on your chest, I listen to your heartbeat and the only thing I can hear is my life.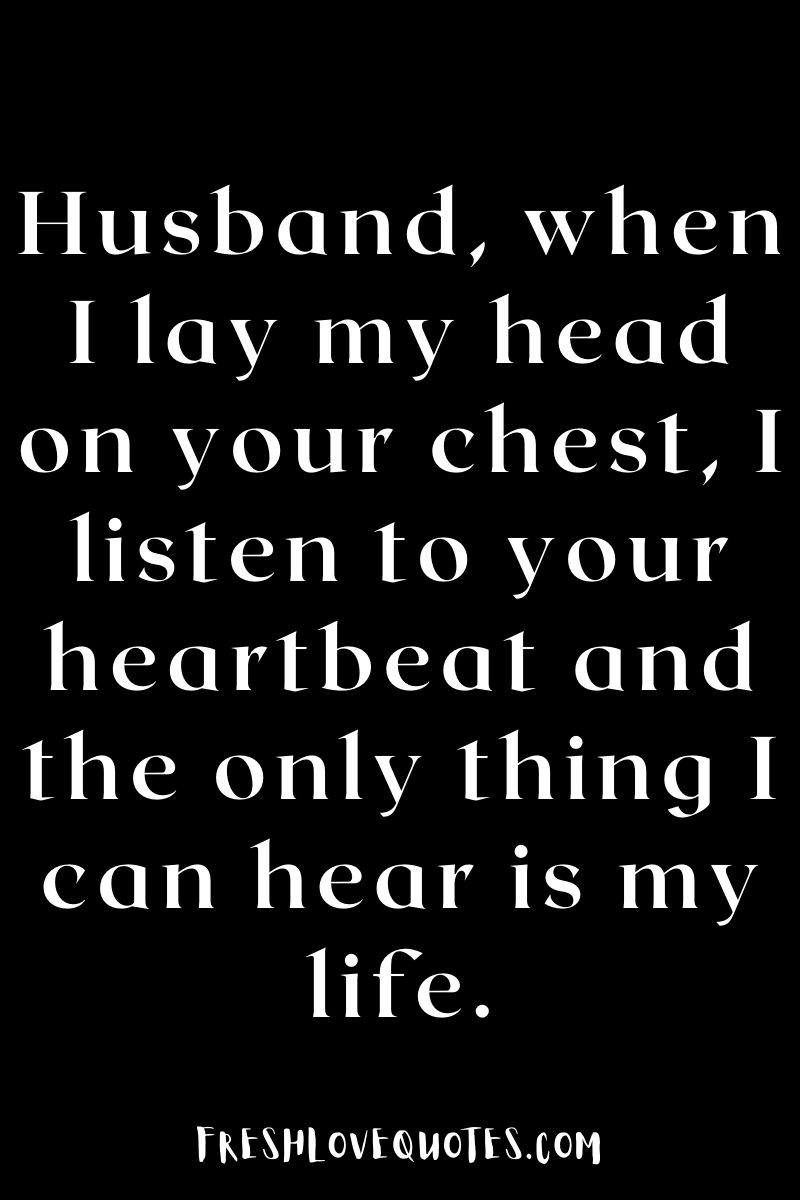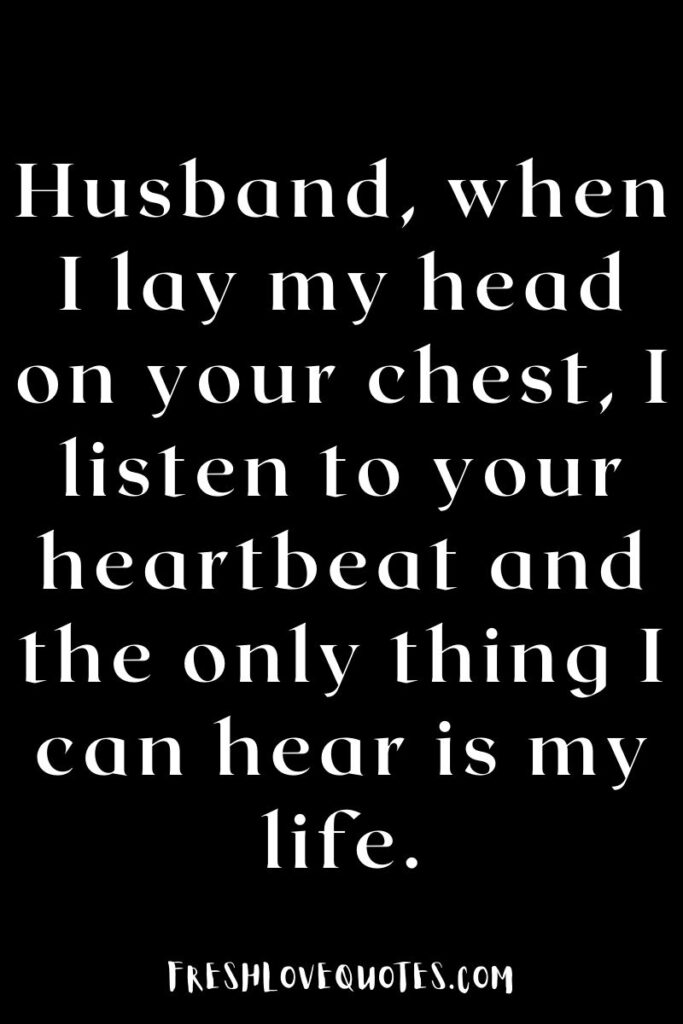 I fought you, you made up. I argued you, you agreed. I cried, you re*****ured. I loved you and you loved me back even more.
I have this strangest feeling that I might have loved you already before in our past lives. Some memories flash before my very eyes. As if it is history replicating itself.
I love being my Husband's wife and I am proud of it.
I love my husband. I believe in him, and I am proud of his accomplishments.
I love you as high as I can reach, as far as I can see, to infinity and beyond. From this day to our final days, you are mine and I am yours.
I wanna be the reason behind your smile, cause surely you're the reason behind mine. I feel proud of you.
I will never find words to explain that how much I love you. I am proud of you and just want to be with you the rest of my life.
If I had my life to live over again..next time I would find you sooner so that I could LOVE you longer.
If I would die tomorrow, I would die happy because I got an opportunity to live with an honest person like you.
I am proud of my Husband. B'coz of him, I laugh a little harder, cry a little less, and smile a lot more.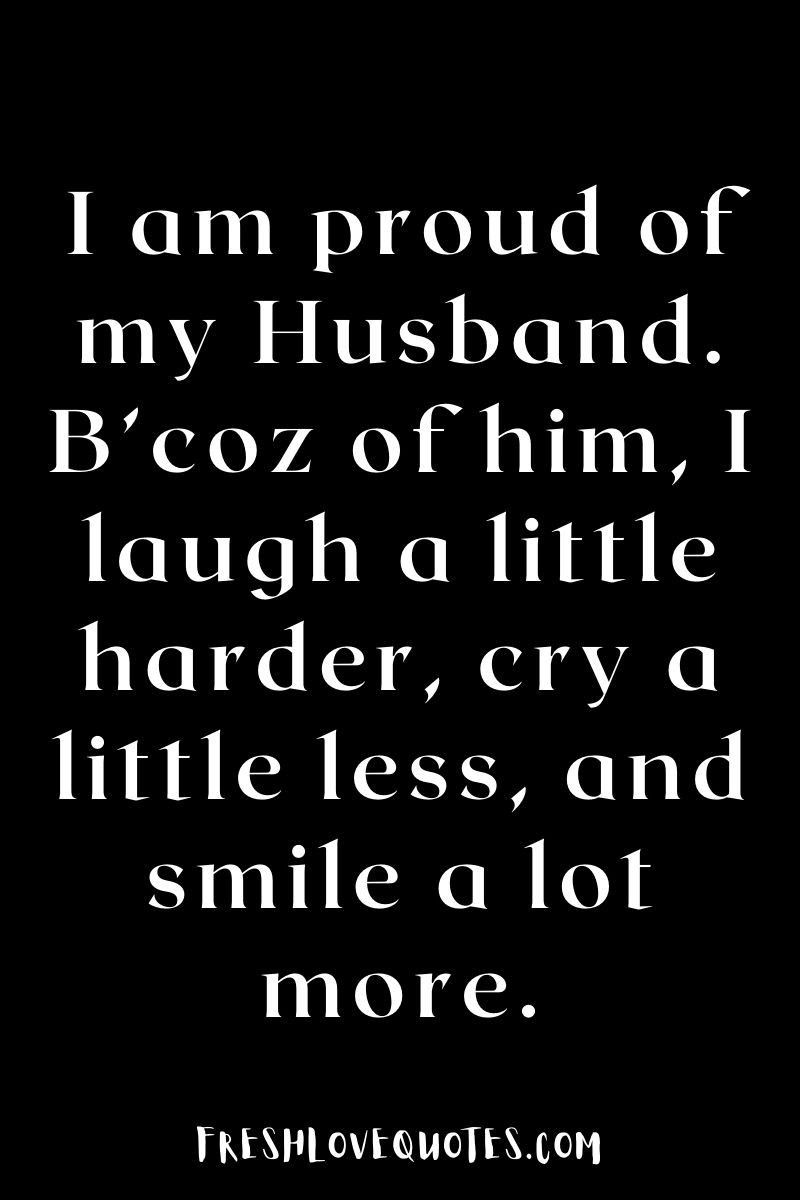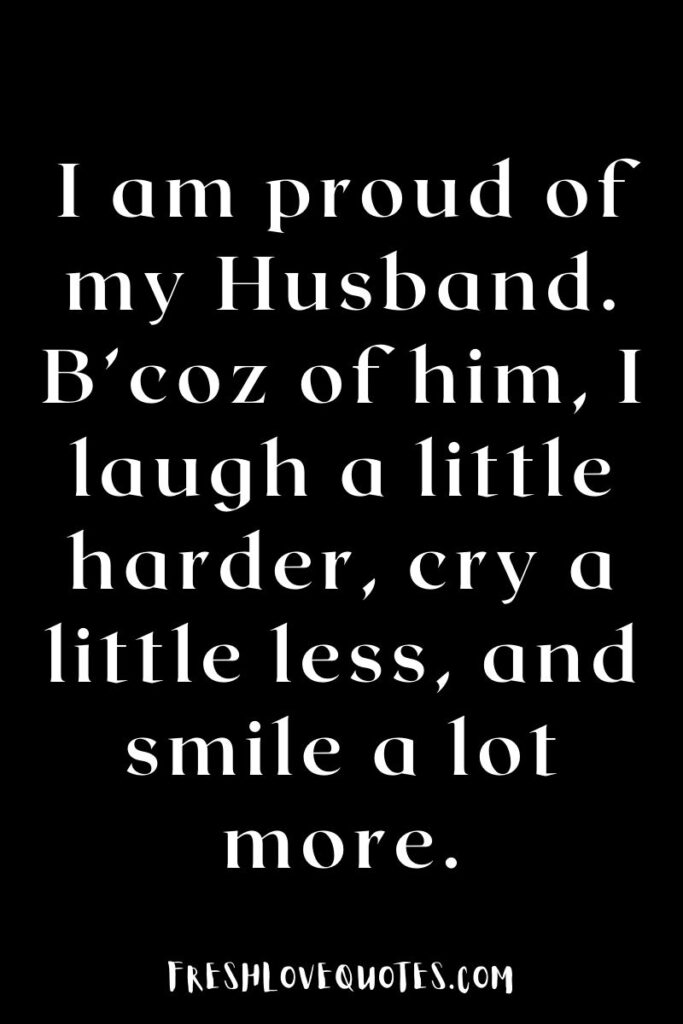 If every woman had a husband like you, all the divorce lawyers would be out of work.
If my life was a ship, you would be the anchor that holds me in place and the sails which take me on a beautiful journey.
If someone asked me to describe you in just 2 words, I'd say..Simply Amazing. I am proud of you.
If you live to be 100, I hope I live to be 100 minus 1 day, so I never have to live without you.
It was love at first sight. It was love at the hundredth sight and the thousandth sight too. True love is falling in love with the same person over and over again. You are my true love.
I'm a proud wife of a wonderful husband.
I'm so freaking PROUD of you. I need you to love me a little louder today.
Life is better with your best friend, that's why I Married mine!
Life isn't perfect but every second with you is.
Life without you would be like a broken pencil..pointless.
I am so proud of my husband. He is truly one of a kind. A real man. I'm blessed to have him.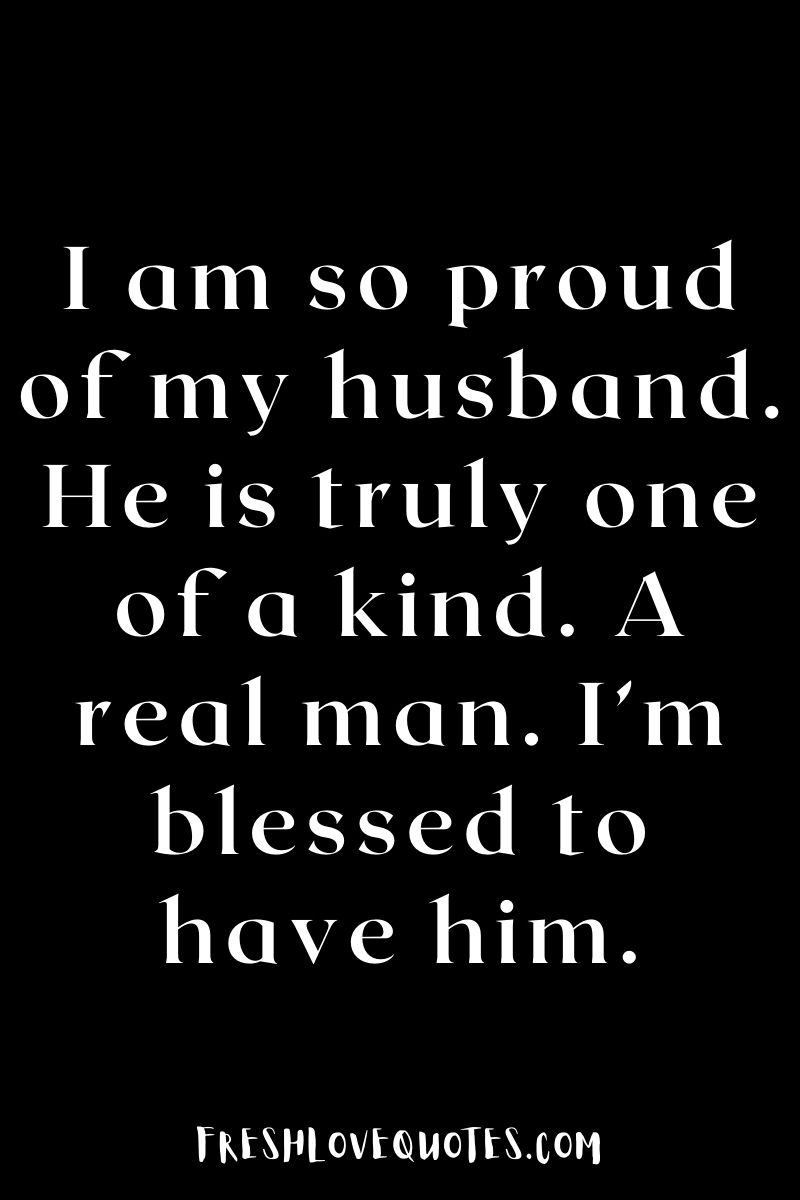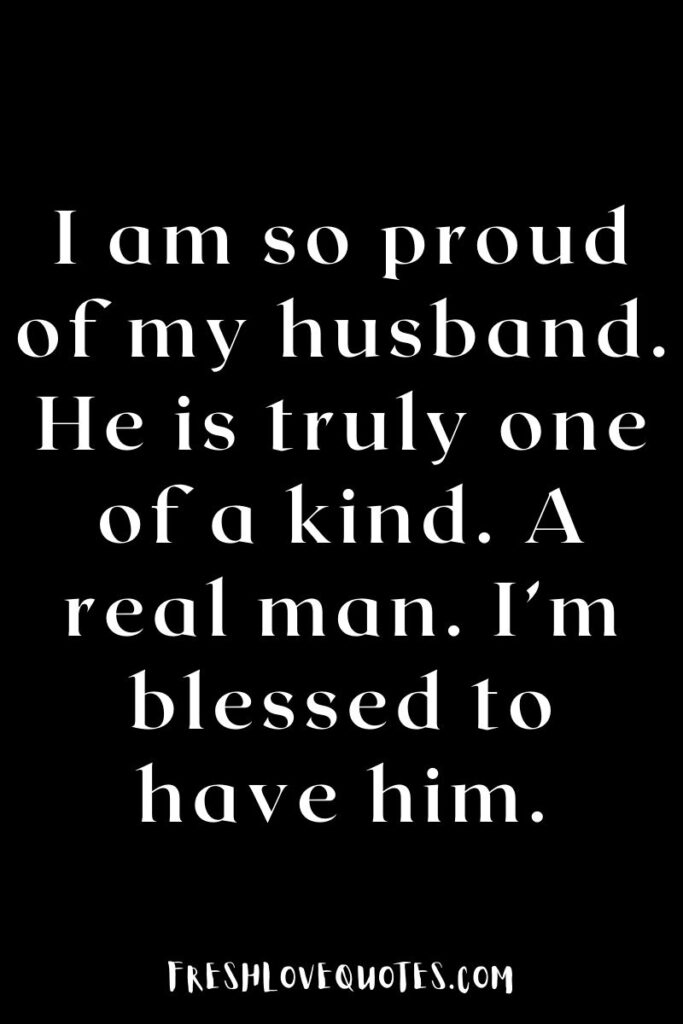 Monday morning blues have become colorful, boring weekends have turned fun, Xbox has become interesting, cooking has become romantic, and watching TV has become a lot cozier in the arms of a husband like you.
My Husband is..my best friend, my greatest support, my biggest comfort, my strongest motivation, my truest smile, my deepest love, my favorite, and my forever.
My heart is perfect because..you are inside.
My heart is where my husband is.
My hubby, we have achieved the highest level of love – friendship, I do not need anybody but you, you can replace for me the whole world, but no one will replace you; I am proud of everything you do.
My husband is one of my greatest blessings from god. His love is a gift that I open every day.
My husband is the most patient, kind, forgiving, compassionate, funny, sweet, adorable, handsome, protective and hard worker I have ever met in my life. I am so grateful that I have the privilege of being called his wife.
My husband is where my love story begins.
My husband may not be perfect but he is perfect for me.
I cannot possibly think of loving anyone else the way I love you. You are my life, I cannot imagine my life without you.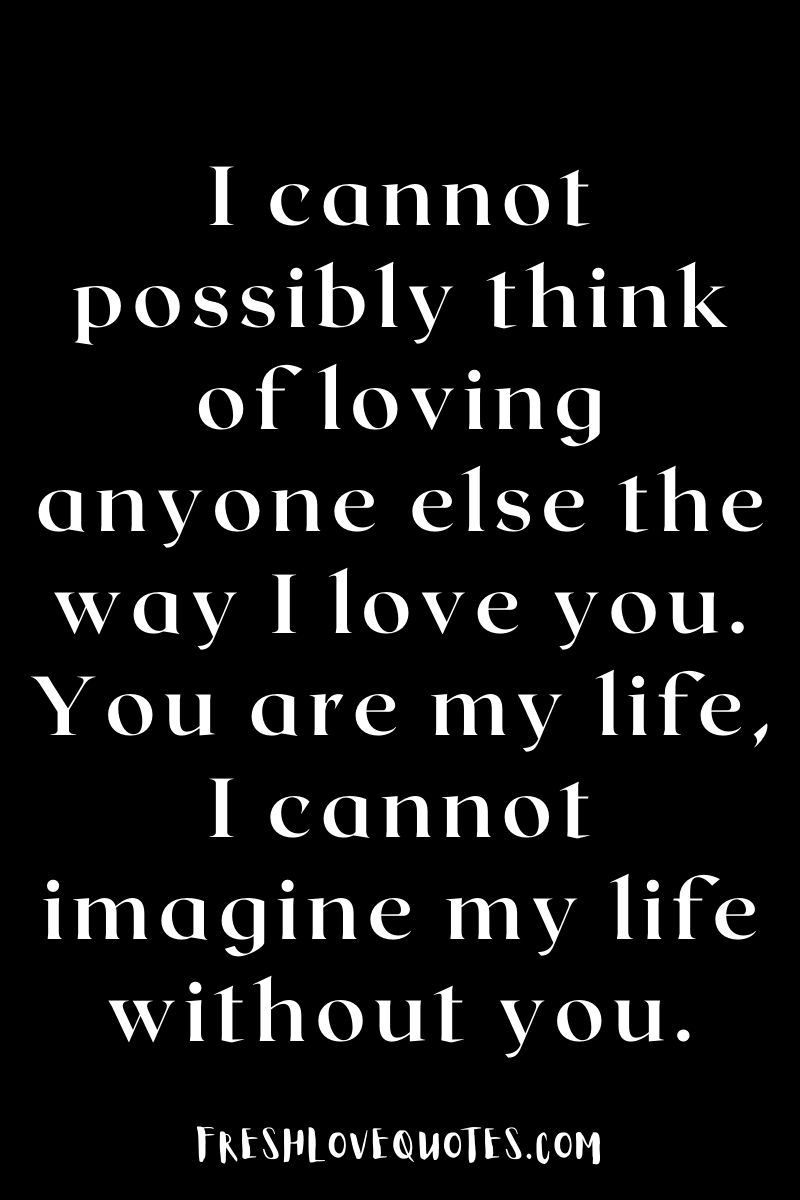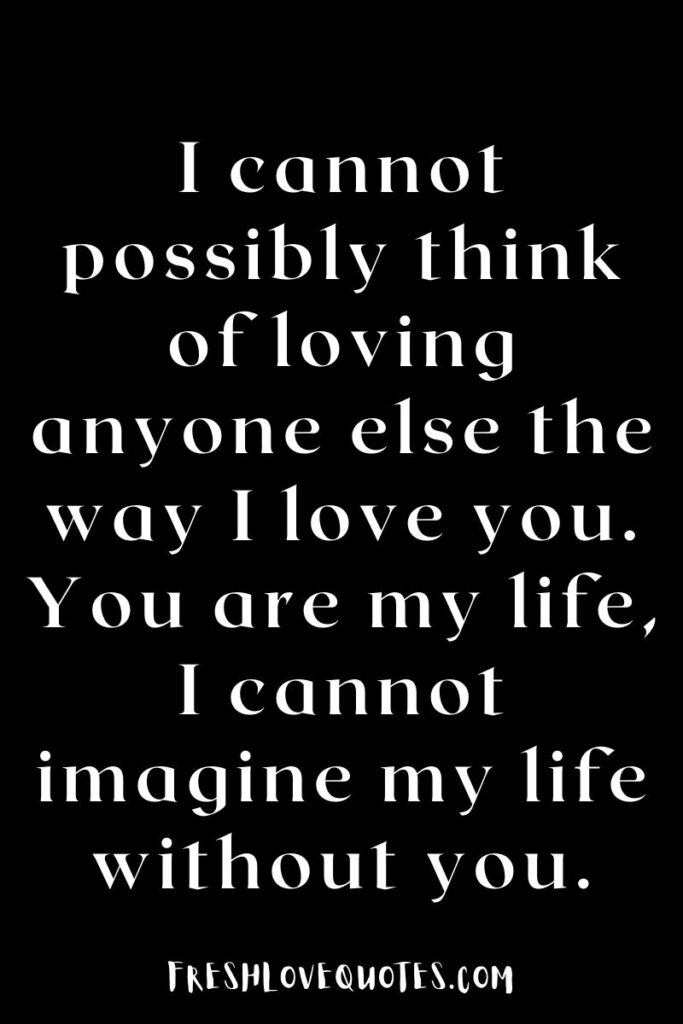 My husband's biggest flaws are 'He works too hard and 'He's too nice. I'm a proud wife!!
My love for my husband is a thought, an action, and a feeling at all times.
My love for you is a journey, starting at forever and ending at never.
My only nightmare is waking up in a world where you're not mine.
My only wish is that you could see yourself through my eyes. Only then could you realize just how much you mean to me and how much I love you. You are, and always will be, my everything.
My soul blooms when I remember the moment when I kissed a frog, and it turned into a handsome prince, you are the king of my heart, I am proud of you.
No matter how expensive the pillow is it could never be as comfortable as my Husband's shoulder.
Nothing says "home" like the arms of my husband.
One day I caught myself smiling for no reason, then I realized I was thinking of you.
Saying I love you, doesn't feel like enough, neither does showing it. So, I hope you can always feel it in your soul.
Some think falling in love is an accident, but I know I fell in love with you on purpose.
Spending my life with you can be discussed in only two words. Beautiful memories and priceless moments. That is all I need for a happy life.
Thank you, my love, for neither standing in front of me as a leader nor behind me as a supporter, but beside me as an equal and a lifelong companion.
Thanks for blending the right amount of FRIENDSHIP with LOVE, ROMANCE, and COMPANIONSHIP to create a beautiful potion called our MARRIAGE.
Thanks for taking the word WORRY out of my vocabulary and replacing it with HAPPINESS. I am so glad to have you my better half.
I did not marry a protector and a provider. I married my best friend, my most trusted confidant, and the man I love. You are all these things and more.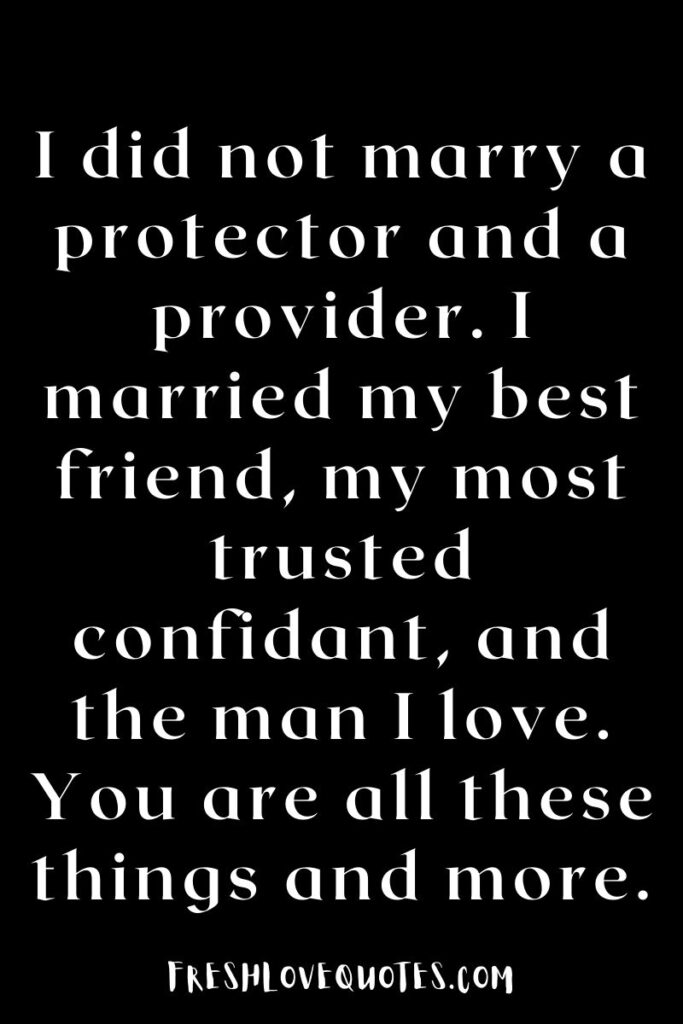 Thanks is not enough to balance out what you have done for me. I am proud to be your Wife. You are the best.
The few hours I spend with you are worth the thousand hours I spend without you.
The greatest achievement of my life was becoming your wife. I love you!
The key to building a strong relationship with your significant other means falling in love with them over and over again.
The most wonderful thing I decided to do was to share my Life & Heart with you sweet heart.
There are so many things my heart wants to say to you, all of which can be summed up in just three words – I love you.
There is a guy who stole my heart and he calls me his wife with love.
There is no display case big enough to display my love for my husband.
We may fight like cats and dogs, but we never really stay angry for too long. You such a precious find my husband.
What is known as romance and love in novels, is actually commitment and sacrifice in real life. Our story is a timeless and beautiful example, of what it takes to be husband and wife.
When I look in your eyes I see my life. I want to be your everything meaning yes your wife. No matter the situation, I'll stay by your side.
When I look into your eyes, I don't see a man I love despite his flaws and idiosyncrasies. I see a man I love because of them. You're my perfect wreck.
When a wife has a good husband it is easily seen in her face.
Without you, I would have been lost somewhere in the race of life.
Without you, I'm nothing. With you, I'm something. Together, we're everything.
Yes I do depend on a man. My husband and I are a team. He depends on me and I depend on him. We support each other. That's how marriage is supposed to work.
Yes, I was in love with my husband at first sight and still I am. We have the most solid relationship.
You are like a wonderful kaleidoscope – every time I look into your eyes, I see a beautiful, radiant, magical, perfect and colorful future. I love you.
You are my anchor, my safe harbor during a storm.
You are not just my husband. Your love is the ray that lights up my life and the water that quenches my soul's thirst.
You are so much better than the knights in shining armor I read about in fairy tales. You are more than words on a page; you are real and our love is real. You are special and you are mine alone to love and cherish.
You are the reason for my happiness, for my tears of joy, you have never distressed me, and once again I'm ready to tell you how much I love you, appreciate, and respect you. You are the best, and I am proud of you.
You are truly a blessing from God. Thank you for being my partner, husband, lover and friend.
You are truly a one-in-a-million husband and I couldn't feel more like I won the marriage lottery!
You don't complete me, because I am already complete within myself. That's not why I love you. I love you because we are far greater together than either one of us could ever be apart.
You fill the empty space in my heart. I am complete because of you.
You give me strength and courage to pursue my dreams, and you treat me like a queen. I am proud to have you as my husband. I love you.
You have never abandoned me even in the darkest hour. You have stayed strong and given me strength too. You are the best thing in my life. I am so lucky to have you as my husband.
You have no idea how I feel when you are around me. I look up to you as an ideal husband because you always support me in my difficult times.
You make me feel so proud of being in love with you.
You put your arms around me and I'm home.
You've made me laugh when I was sad, picked me up when I was down, and cheered me on through difficult journeys. I am eternally grateful to have such a special man in my life. I love you.
Your love gives me wings, I'm so proud and excited to be your wife.
Your spouse is a gift that you never stop unwrapping.
Your sweet voice can take away all my sadness. Your smile gives me hope. It's a magical feeling knowing that we are meant to be. It doesn't matter what took you so long to arrive in my life. I am so much blessed with the joy you brought to my life.
You're my favorite place to go to when my mind searches for peace.
Use these proud of my husband quotes to show how much you love him. Thanks for reading.