Best 21st Birthday Captions for Instagram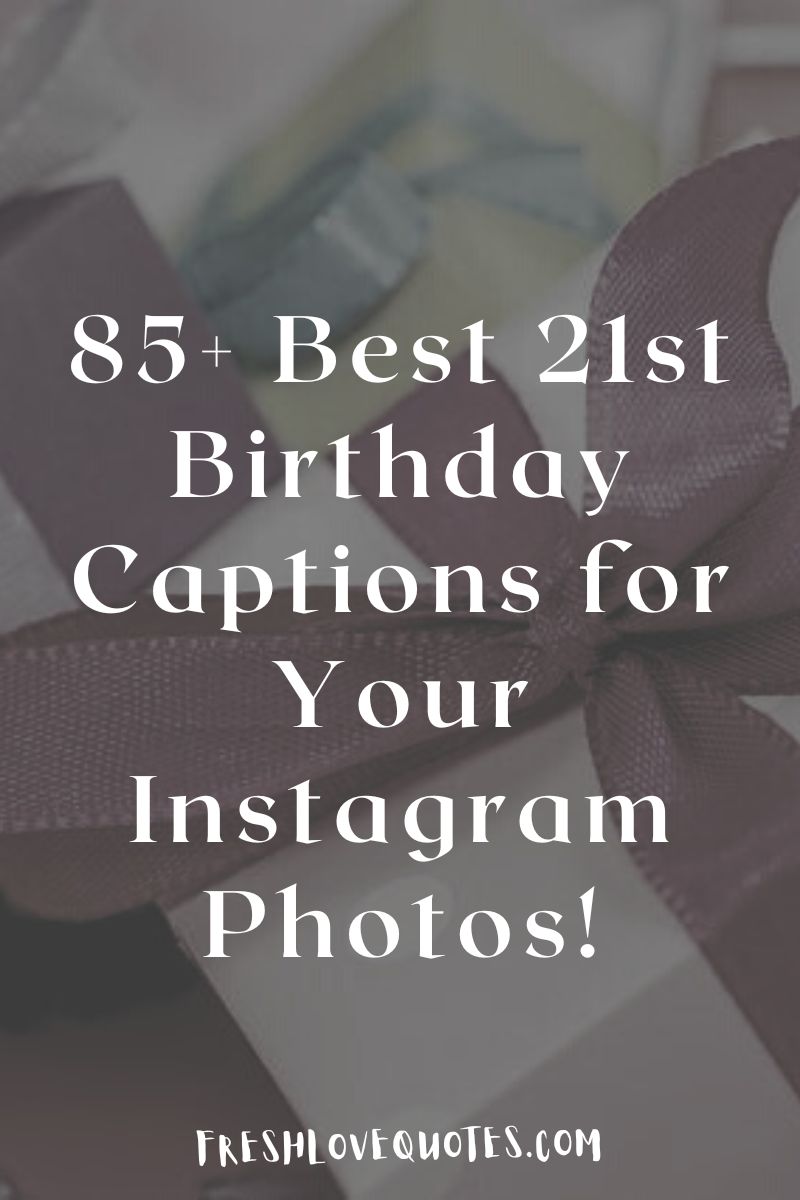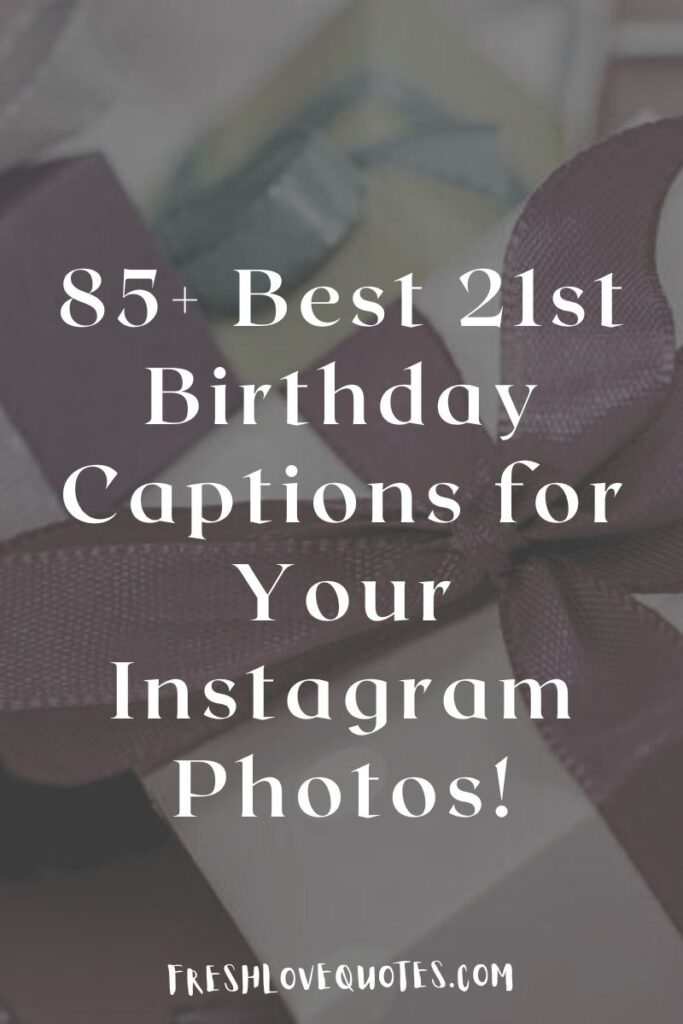 Everyone has his or her own opinion about what makes the best 21st birthday captions on Instagram, but what can you say in your birthday posts that will get the most likes? There are thousands of different opinions out there, and all of them are worth considering when it comes to selecting your 21st birthday captions for Instagram. Here are just some of the best captions you can use in your celebratory Instagram posts when you turn 21!
21 and legal proceed with caution.
21 and oh so fun.
21 is the age of responsibility. Give it a few months and you will be wondering why you were in such a hurry to get here.
21 looks pretty and good to me.
21st birthday is good beer, hot girls, party and police.
A whole day to celebrate.
At 21 everything is possible and tomorrow looks friendly
At 21 you're old enough to go to Vegas where you can lose all your money trying to hit on 20."-Melanie White
Being 21 is nothing to wine about.
Birthdays are just finger posts on the road of getting old.
Related: 145+ Hair Quotes Captions For Instagram That Will Make You Stop & Stare
Funny 21st birthday captions for yourself
Blessed to see another year <3
Born in ( put birth year), 21 years of being fabulous
Celebrating with my favorites.
Cheers and beers to my 21 years.
Cheers to 21 years.
Deal with it, because it's my birthday!
Eating my cake and wearing it, too.
Facebook has some exciting news today.
Finally 21 and legally able to do everything I've been doing since 16.
Finally 21, and legally able to do everything I've been doing since 15
Found my birthday crown.
Gifts are one way of telling that I remember your birthday.
Grateful for the people by my side for each birthday.
Growing old is mandatory, but growing up is optional." — Walt Disney
Happy 21st birthday I wish that nothing and no one take away that smile, which infects everyone around you! Be happy always.
Happy 21st birthday dear. May you always be happy, may it be greater than it already is & may your path be wonderful & smooth!
Happy Birthday to the man who makes my blood pressure rise. Love you always!
Happy birthday dear. You have been there in my life as a guiding light. Stay blessed.
Happy birthday to you, to the one who never lets a day pass gloomy. You are our party animal. Party hard today.
Hold on to your inner child as you grow older.
Hugs, kisses and lots of birthday wishes!
I always praise the skies for bringing you to me. Happy 21st birthday, my darling.
I am grateful that you are a part of my life. All the best on your birthday!
I can't help being cute, I was born this way.
I didn't get older, I leveled up.
I hope the birthday cake is as sweet as me.
I learned the meaning of true friendship from you. Happy birthday my friend. Always going to be there for you.
I want to gift you something special on your birthday, so I am gifting you myself.
I want to thank everyone for the special day, come and join me as I celebrate it.
I wish you that you grow young on every passing day.
I.D. love a drink, thanks!
It took 21 years to get this awesome
It took me '_' years to get this cute.
It's my birthday week! Yi****!
It's okay to show your excitement. You're 21 and that's worth the excitement. Have a fun-filled birthday.
It's your 21 birthday and its time to celebrate to the fullest
It's your birthday, it's your birthday! Party like it's your 21st birthday! Have fun.
I'm 21 now but age gives no guarantee on maturity
I'm going to eat my cake and wear it as well.
I'm not ever getting older.
I'm not getting older. I'm getting better.
I'm not old, I'm just getting prettier.
Related: 50+ Weird Captions For Instagram: How To Stand Out In A Crowded Feed
Unique Baddie 21st birthday captions
Keep Calm because a princess was born on this day.
Keep calm and celebrate on.
Keep calm, 'cause it's my birthday / I can't keep calm 'cause it's my birthday.
Live your life and forget your age.
My heart is so full.
Now that you're 21, nobody can tell you want to do unless of course, you're married."-Melanie White
On this day was a hottie born.
On this day, a queen was born.
One is never truly free until he/she has turned 21. Happy 21st birthday!
Party girl, cheers, celebration.
People come and go but true friends always stay. Happy birthday lad.
Start from the bottom now I am 21.
Staying sassy on my birthday.
Studies show that people who have the most birthdays live the longest.
Take risks and be brave. This is the time of your life to make the mistakes you'll regret later. Have a fantastic 21st birthday.
Thank you, Mom, for giving birth to this wonderful child.
Thanks for giving me great memories that will last a lifetime. Best wishes to you on your Birthday.
Thanks to everyone who took the time to wish me a Happy Birthday!
The party won't start until I walk in.
This is my year of dreams coming true.
Today, I just want to thank God for adding another year to my life.
Quarantine 21st Birthday Instagram Captions for Boyfriend
Related: 50+ Eid Captions For Instagram That Will Make Your Feed Stand Out
Turning 21 is nothing to wine about.
Turning 21 today.
Turning my birthday into a lifestyle.
Twenty-one is a super important milestone birthday event. It means you have less than 80 years to hit 100.
Wanna see my I.D.?
Well, guys, it's official. I'm Old lol
When a man is tired of life on his 21st birthday it indicates that he is rather tired of something in himself."- F. Scott Fitzgerald
Who said getting old meant looking old?
Wishing birthday to the person who is always young.
Wishing you love and happiness on your birthday.
Yes, I become 21.
You are the sister that I never had. I love you so much, bestie. Happy birthday!
You look as beautiful as ever on this wonderful occasion. I hope your 21st birthday brings you many amazing memories.
Your birthday is also mine to celebrate. Happy birthday, dear. Let us have fun together today.
keep calm and sweet 21 on.