Awesome Wednesday Instagram Captions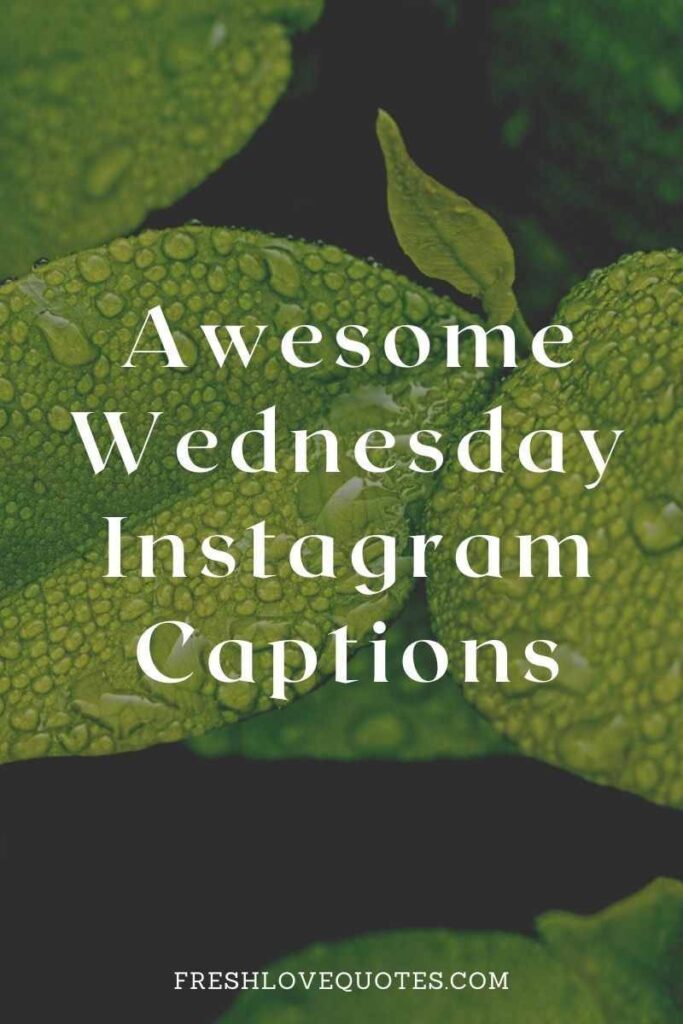 It's the middle of the week, and you've already got a lot on your plate? Then Wednesday Instagram captions should be the perfect time to celebrate oneself. You can take some unique photographs in places you've never thought of before. Take a picture on your walk home or in your backyard, for example, and add creative captions.
Wednesday shows you that you've already made it through a couple of days of your dreaded week. You should be grateful for that and give yourself some motivation to get through this week successfully. Let's take some time this Wednesday to jot down our thoughts and feelings and share them with others. If everything goes well, it might restore your calm and restore your energy.
Also read: 120+ Saturday Instagram Captions and Quotes
A friendly reminder that the weekend is almost here! 😉
A smooth sea never made a skilled mermaid😛
A little Wednesday Positivity to get you through the rest of your week!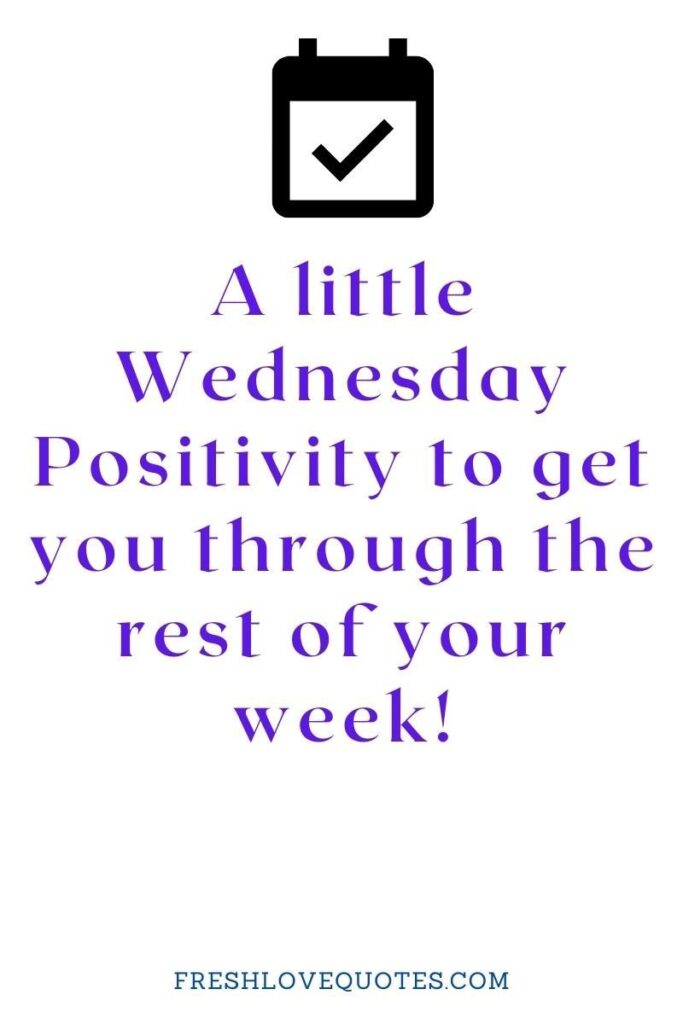 After Tuesday, even the week says W T F 🤷🏼‍♀️
All things are possible! Keep on believing.
Always remember where you come from and be proud of it. Because everybody starts from
the bottom, never forget that nor who helped you to be who you are.
Any day that you can stay in pajamas all day is a good day.
Balance is everything. It's important to find this within ourselves and within our
purpose in life. We can't have more of one than the other because soon enough we'll tip
the scales and have to re-calibrate.
Be a flamingo in a flock of pigeons.
Be a little naughty, it's Hump Day!
Be careful how you think; your life is shaped by your thoughts.
Be wise about how you use your time.
Be yourself, there's no one better🤗💖
Choose a job you love, and you will never have to work a day in your life.
Don't be afraid to try 💪🏻
Don't follow trends. Be yourself! Don't be the shadow of someone else.
Don't just set Goals, Achieve them.
Elephants love Wednesday, and so will you.
Also read: 120+ Best Mean and Insulting Pick Up Lines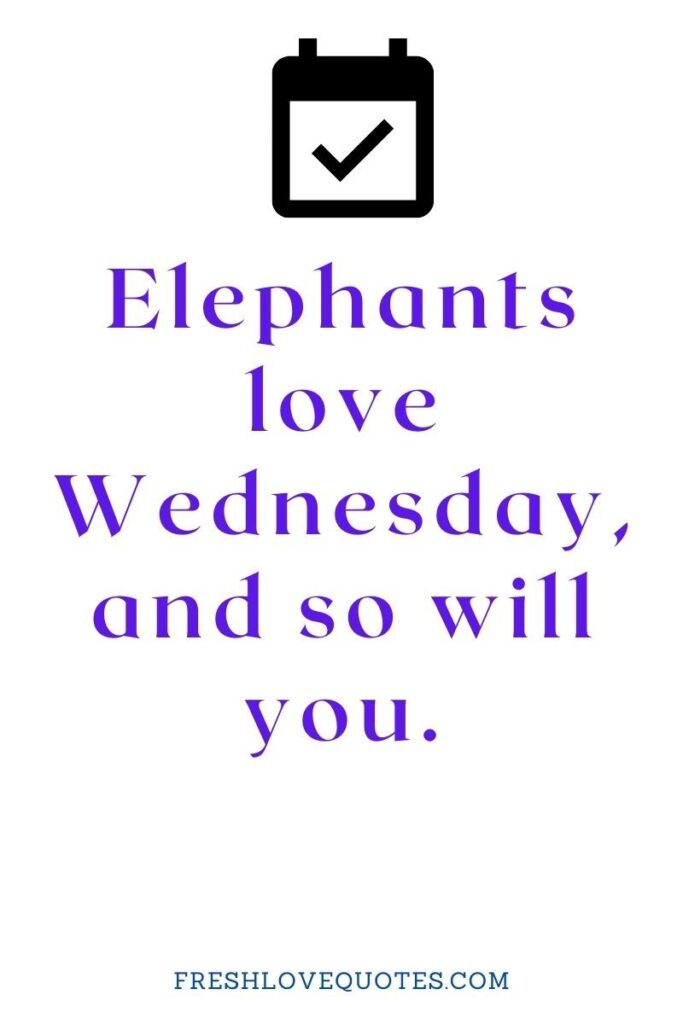 Don't underestimate me just because I wear pink.
Each morning is the open door to a new world – new vistas, new aims, new plans, new
things…Wednesday morning is no less.
Enjoy this journey called life.
Everything you need is already inside you.
Fall in love with taking care of yourself. Fall in love with the path of deep healing.
Fall in love with the best version of yourself but with patience, it's compassion and
respect for your own journey. 🍃💜
Focus on good thoughts and good things will happen. Happy Wednesday, stay positive,
think positive, do positive a very good morning.
Good Morning! Happy Wednesday!
Also read: 75 Romantic Night Quotes/Text to Send Your Lover
Happy Wednesday everyone 😊
Have a Wacky Wednesday! Don't forget to smile and laugh once in a while.
Have a great day, ****ps. Peace and blessings on your journey today. 😊
Help! Why is Wednesday spelled like that?
Happy Wednesday! Hope you all have a fantastic day. You are all enough for me 😊💜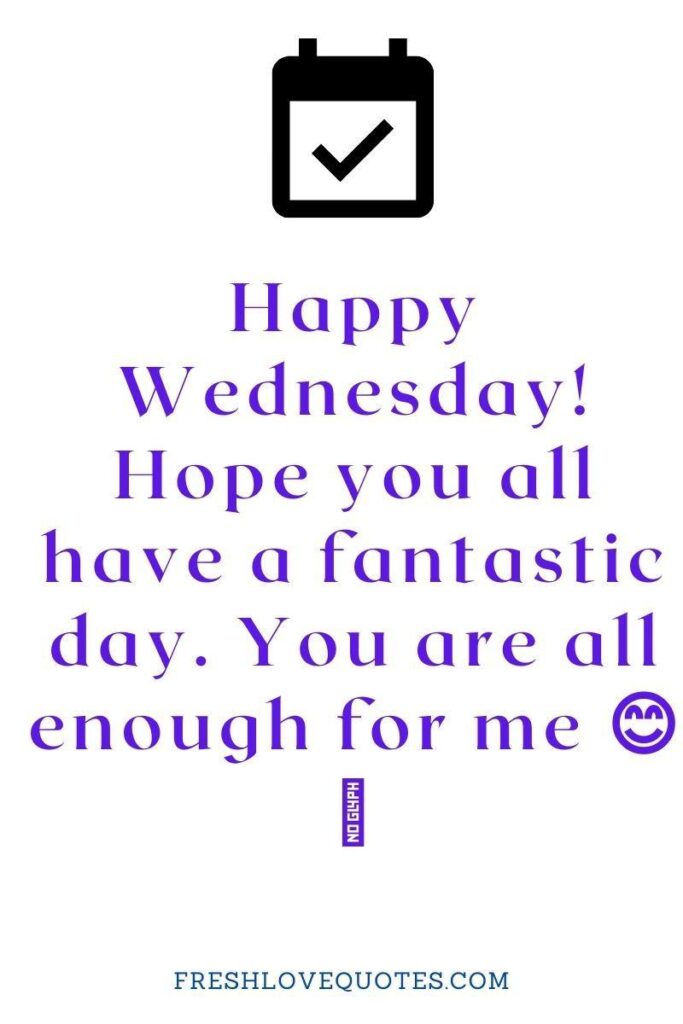 Hump Day Happiness.
I am who I am, your approval is not needed🤟
I can't stop being awesome, it's in my blood. 👑💋🤙
I have Wednesdays that feel like Mondays when I wish that they were Fridays.
I might look like I'm doing nothing…but in my head I'm quite busy!
I think we all have empathy. We may not have enough courage to display it. – Maya Angelou
If I love you Wednesday, What is that to you? I do not love you Thursday — so much is
true.
Inspiration is one thing and you can't control it, but hard work is what keeps the ship
moving. Keep up the good work.
It does not matter how slowly you go as long as you do not stop.
It doesn't matter what anyone else thinks of me because I know who I am, and I am ******
proud of it🙌
It is Wine
Wednesday!
It is a good day to have a good day.
It must be Wednesday; there goes that camel again.
It's Wednesday I'm breathing I'm healthy I'm truly blessed ❤❤
It's Wednesday! I know the middle of the workweek can seem dull at times, but just
remember that a little change in perspective and attitude can change your whole day! And
if nothing else, you can always smile at the fact that YOU ARE LOVED ❤️😁✌🏻
It's Wednesday! I'm breathing. I'm healthy. I'm truly blessed. I'm grateful for this day.
It's only Tuesday? Monday took so long I thought it was Wednesday!
I've found this new disease, it's called love. I know it is contagious because you gave
it to me.
Keep calm it's Hump Day!
Keep calm. It's only Wednesday. We still have 2 more days to go.
Keep going! You're halfway to the
weekend.
Know your worth. Know the difference between what you're getting and what you deserve.
Life is short, make every hair flip count.
Life would be easier if you could mark people as spam.
Make Wednesday your best day, each and every week. Have a smooth-running day.
May your Wednesday be simply wonderful.
Motivate, don't hate‼️
My life is far from perfect, but I'm happy with what I have and working hard to get
where I want to be.
My suite Wednesday – love working with my bestie
Never cry for that person who doesn't know the value of your tears.
Never let the smile in your heart disappear and live a happy life!
After Monday and Tuesday, even the calendar says W-T-F.
Also read: 90+ Best Good Night Messages For Him Long Distance 2022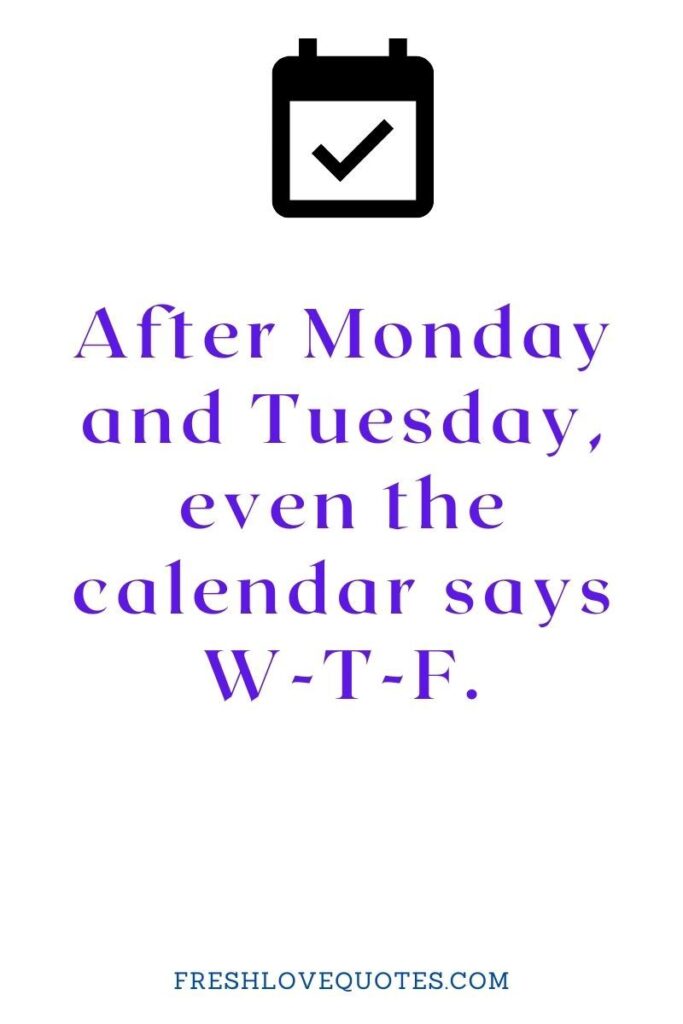 Nobody really cares if you are miserable, so you might as well be happy. – Cynthia Nelms
Nothing ruins a Friday like realizing it's Wednesday.
Nothing screws up your Friday more than realizing it's Wednesday.
On Wednesday, when the sky is blue, and I have nothing else to do, I sometimes wonder if
it's true. That who is what and what is who.
On Wednesdays we wear
pink.
Part of me is thinking 'Wow, it's Wednesday already', and the other part is thinking
'What do you mean, it's only Wednesday?!
Self-love is often underestimated, which is why love relationships are falling faster
than ever before. No one else can complete you. If you can't make yourself happy, no one
else can!
Smile, it destroys those who want to destroy you😉😊
Sometimes the responsibility is on us to do what is necessary to remove toxic, harmful
people from our life.
Stay strong. Make them wonder how you're still smiling. Happiness is enjoying the little
things in life.
Takes action to create change. The action takes place when desire meets knowledge.
The best of me is yet to come❤
The only way I can get through Wednesday is by avoiding people who call it Hump Day.
The secret of great style is to feel good in what you wear!!! Enjoy your Wednesday! 😊❣️💫
They didn't want it good, they wanted it Wednesday.
This is my 'It's only Wednesday' face.
This must be the Mondayest Wednesday ever.
To some, it's Hump Day. To us, it's Wednesday's getting its ***** kicked and Thursday just
asking Friday to switch places.
Today is Workout Wednesday. Make a change in your life by pushing your limits.
Today is gonna be your day! 🙂
Wacky Wednesday.
Wednesday Thought! Every new day is another chance to change your life.
Wednesday is Latin for "It's almost
Friday.
Wednesday is like the middle finger of the week.
Wednesday is the new Sunday. Have fun, get weird.
Wednesday means we're halfway through half-*****ing our work for the week.
Wednesday, halfway to the weekend.
Wednesday: Halfway to the weekend! Enjoy your day!
Wednesdays are like Mondays in the middle of the
week!
Wednesday—it's almost, sort of, kinda, close to, just about nearly the weekend.
Wednesday—not as depressing as Monday, but not as exciting as Friday.
Happy Wednesday! You are who you are; be happy with what you are called to do.
Also read: 90 Flirty Would You Rather Questions for Him or Her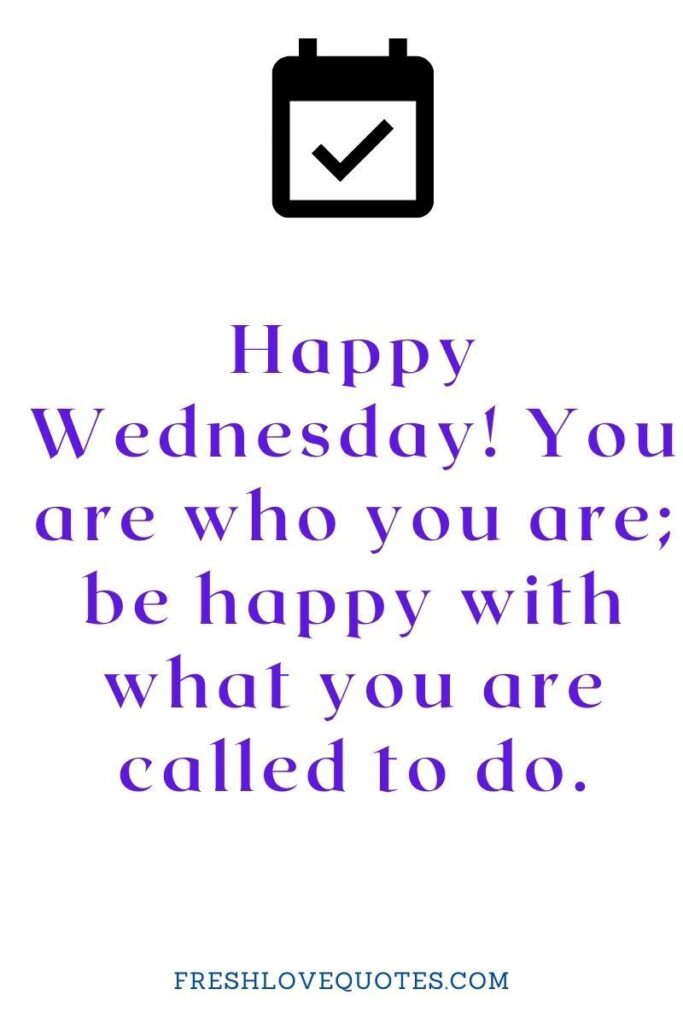 Wednesday's child is full of woe.
We've got enough negativity around us. From others outside or from self-doubts within.
Let's be blessed, focused, and grateful. Choose different to feel different.
Whatever is good for your soul do that.
Whatever you decide to do, make sure it makes you happy.
When a day that you happen to know is Wednesday starts off sounding like Sunday, there
is something seriously wrong somewhere.
When people refer to 'Back in the Day,' it was a Wednesday. Just a little fun fact for
you.
When things get worse, hold on. Don't give up! Better things are coming.
Who said Tacos are only for Tuesdays?
With practice comes mastery, with mastery comes knowledge, with knowledge comes
strength. What do you strive to become? Strive for something big, don't settle. Never
play small ball, think big, move big, it's time you get what you deserve. You have not,
because you ask not. As long as you think small others will treat you in that manner.
You are a big deal, see yourself as God does, whatever you do, Do It BIG!!!
Working on myself, by myself, for myself.
You are stronger than you think. That strength and commitment will drive you forward,
helping you reach your goals and helping others do the same. Keep going; you got this!
You can get everything you set your mind to. Never limit yourself!!! 🔥🔥🔥
"Help! Why is Wednesday spelled like that?" – Blake Shelton
"I think we all have empathy. We may not have enough courage to display it." – Maya
Angelou
"Nobody really cares if you are miserable, so you might as well be happy." – Cynthia Nelms
Thank you for reading all the awesome Wednesday Instagram captions.