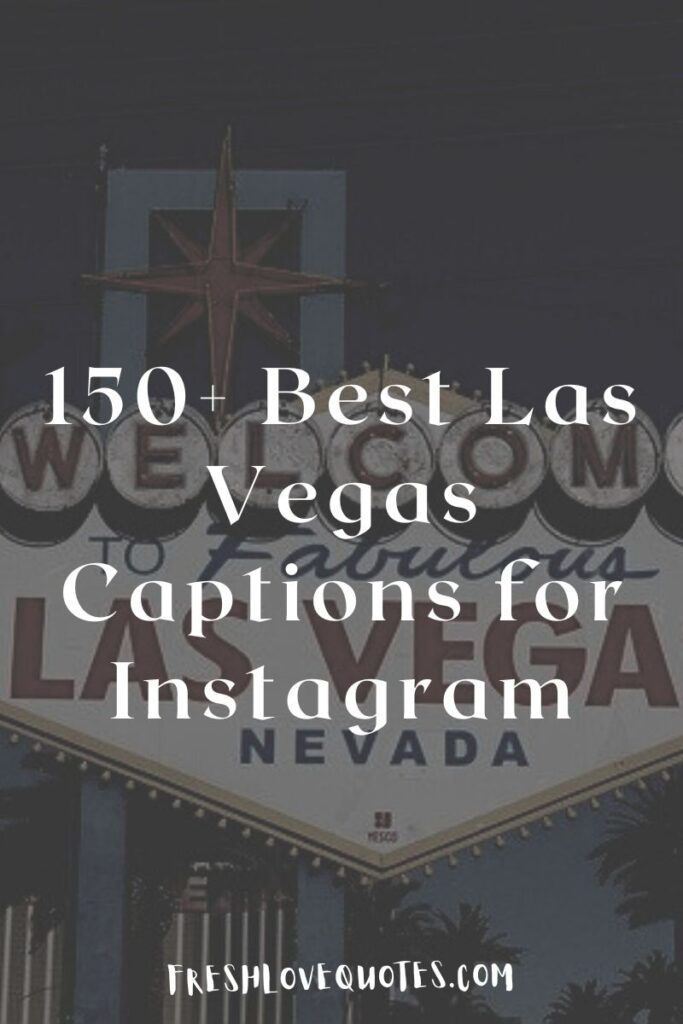 Las Vegas Captions For Instagram
When it comes to Las Vegas, there's always something fun to photograph and share on Instagram! Whether you're at the neon lights of the strip or in one of the many unique restaurants, hotels, and clubs around town, you'll want to take photos that are as fun as the city itself. In this post, we've collected some of our favorite Las Vegas captions for Instagram to use when posting your Vegas vacation photos on Instagram!
A little bit of this town goes a very long way.
As thick as the giant advertising billboards that ubiquitously package it, loading it with naive and comic symbols, crude, schematic messages, Las Vegas is a city of literal superficiality.
Beauty and the Bellagio.
City of lights, smiles, and memories.
Come on baby light my valley of fire.
Related: 55+ Best Hat Captions For Instagram Pictures
Cue the confetti and casino lights.
Desert rose.
Every experience I have had here is fun, and everyone is in a good mood; they are happy, and they let it go. I like that. It is refreshing to me.
Everyday is a good day for Vegas.
Everyone needs a little Las Vegas in their life.
Everyone was going to lose their money at some point. You may as well do so half drunk and at the mercy of a pretty smile.
Everything and anything you want to do – you can do it in Las Vegas.
Feelin' lucky in Las Vegas.
Follow the call of the disco ball.
Follow your heart, even if it takes you all the way to Las Vegas.
For a loser, Vegas is the meanest town on earth.
Friends who Vegas together are friends forever.
Going to Vegas and not gambling is like going to a restaurant and not eating.
Going, going, gondola!
Good girls go to Heaven, bad girls go to Vegas.
Goodbye reality, hello Vegas.
Hatred is not what Las Vegas is about. We will have zero tolerance for anyone who is intolerant.
Heading to Las Vegas, be back never.
Hey, we're in Vegas!
I apologize in advance for my behavior in Vegas.
I came, I saw, I fell in love with Las Vegas.
I can't keep calm, we are going to Vegas, baby!
I can't wait to be ashamed of what we do in Las Vegas.
Las Vegas Instagram captions for couples
I don't think anyone leaves Las Vegas rejuvenated, their skin shining, their bank accounts glowing. No one leaves Vegas, like, 'I didn't make one mistake. That felt great. Back to work. –Iliza Shlesinger
I got a ton of memories in Las Vegas I can't talk about!
I hate Disneyland. It primes our kids for Las Vegas.
I just love coming to Vegas. There is always a good energy here; the minute you get off the plane, it is happy.
I like the Eiffel Tower in Las Vegas more than the actual one.
I love Vegas so much. I'm thinking about moving there!
I love Vegas. God knows that I know how to find my way around the buffets in Las Vegas.
I love that town. No clocks. No locks. No restrictions.
I only ever play Vegas one night at a time. It's a hideous, gaudy place; it may not be the end of the world per se, but you can certainly see it from there. –Robin Williams
I saw the neon sign and it opened up my eyes.
I shouldn't be near Vegas and have money in my pocket.
I used to pretend that my Peugeot driving to the gym in the rain in Dublin was a Ferrari on the Vegas strip.
If you aim to leave Las Vegas with a small fortune, go there with a large one.
If you know how to live in Vegas you can have the best time.
Related: 200+ Best Cake Captions And Quotes For Instagram
In Las Vegas, everything takes place as if the absence of any sense of belonging to the environment entailed a hypertrophied sensitivity to details.
In Las Vegas, it's hard to decide which of the things you swore you'd never do again you're going to do first.
In Las Vegas, nothing ends very well.
In Vegas, I got into a long argument with the man at the roulette wheel over what I considered to be an odd number. –Steven Wright
In Vegas, it's not pre-drinking, it's brunch.
It is not economic development; it's about taking money out of the consumer economy and shipping it off to Las Vegas.
It's always nice to be paid to be in Las Vegas.
It's hard to imagine a bigger desert oasis than Las Vegas. –Cinnamon Stomberger
I'll be ready in a prosecco.
I'm always in paradise when I visit Las Vegas.
I'm in love with all the lights and sounds of Vegas!
I'm in love with the lights of Las Vegas.
I'm in no hurry to leave. Let's Mandalay our departure for a day or two.
I'm in the mood for a little #vegas tonight.
I'm in the mood to Vegas.
I'm in the mood to spend a weekend in Vegas.
I'm on a Vegas diet.
I'm so excited for this weekend! I can't wait to see my friends, eat a ton of food and dance the night away at Vegas.
I'm thinking about moving to Las Vegas and changing my name to "What happens in vegas, stays in vegas."
I've had some really, really wild fun nights in Vegas. I ended up on stage once with this band, The digital underground, doing the humpty dance. –Steven Wright
Just landed in Vegas and I'm already feeling like a winner.
Keep calm and go to Vegas.
Keep calm and play poker.
Las Vegas and the American Dream: two ideas intertwined like crossed fingers on a bloated corpse.
Las Vegas history, the real Las Vegas history, makes fops and fools of even the most sincere explorers. The city's story is riddled with blind alleys, dead ends, crazy twists, and outright fabrication. –John L. Smith
Las Vegas is a 24-hour city. It never stops. –Eli Roth
Las Vegas is a city built on hopes, dreams, and a little bit of crazy.
Las Vegas is a feast or famine kind of city.
Las Vegas is a place where you can see the lights and lose your mind.
Las Vegas is a resort whose two chief sources of income are seven and eleven.
High roller las vegas captions for Instagram
Las Vegas is a very strange place. It's a place of broken dreams.
Las Vegas is always a good time, but it's even better with friends!
Las Vegas is calling and I must go.
Las Vegas is just a great place to hang.
Related: 50+ Best Eid Captions For Instagram To Help You Stand Out 2022
Las Vegas is like being inside of trashy-fun snow globe. –Linette Lopez
Las Vegas is like that, a place that resonates in such a way that wouldn't know if the place is real.
Las Vegas is sort of like how God would do it if he had money. –Steve Wynn
Las Vegas is the best place to turn up the volume and have a good time.
Las Vegas is the boiling pot of entertainment.
Las Vegas is the entertainment capital of the world, where sleep is a mere inconvenience interrupting a continuous stream of fun and hedonism, and where everything is bigger, louder, flashier and trashier than anywhere else in the world.
Las Vegas is the most honest fake city in the world.
Las Vegas is the only place I know where money really talks. It says, "Goodbye."
Las Vegas is the only town in the world whose skyline is made up neither of buildings, like New York, nor of trees, like Wilbraham, Massachusetts, but signs.
Las Vegas looks the way you'd imagine heaven might look at night.
Las Vegas makes Reno seem like your friendly neighborhood grocery store.
Las Vegas state of mind.
Las Vegas without Wayne Newton is like Disneyland without Mickey Mouse.
Las Vegas you are the best.
Las Vegas – my favorite desert mirage. –Val Saintsbury
Las Vegas, Nevada: A city where oddities don't make you lame, but instead bring you riches and fortune and fame.
Las Vegas, the most expensive toilet in the world that still can't flush.
Las Vegas: A Savage Journey to the Heart of the American dream.
Las Vegas: all the amenities of a modern society in a habitat unfit to grow a tomato.
Let's make these kinds of nights last forever.
Life is good when you're in Las Vegas.
Life is good. I'm in Vegas with my friends, having a blast!
Life is more fun with games.
Man, I really like Vegas.
Many a man who goes to Las Vegas to get away from it all soon finds that Las Vegas gets it all away from him.
May the flop be with you.
Funny Vegas Instagram captions
Meanwhile, in Vegas.
No bad days found here.
No one thinks Las Vegas is real; it is illusion, but visitors willingly suspend disbelief and pretend. –Hal Rothman
Paradise is anywhere with pink skies and palm trees.
Ready. Set. Vegas.
Retirement is like a long vacation in Las Vegas. The goal is to enjoy it the fullest, but not so fully that you run out of money. –Jonathan Clements
See you soon, Las Vegas.
Seriously, why tour the world when all you have to do is visit Las Vegas and see all the highlights in one location?
Shiniest place on earth.
So much of Las Vegas falls under the heading "it has to be seen to be believed.
So, you know, if, if I wanted to get up and just play golf one day, I would just get up and play golf. If I wanted to go to Vegas, I would just get up and go to Vegas.
Sometimes I think I need to get crazy. Go to Vegas. –Chris Pine
The Skyfall's the limit.
The best thing about Vegas is that you can get married in a drive thru wedding chapel.
The magnificent seven magic mountains.
Related: 500+ Best Cute Nicknames For Girls
The night is on my side.
The only thing that can make a trip to Vegas better is if you go with your friends.
The people who say New York never sleeps must have never visited Las Vegas.
The shiniest mirage.
The thing I love about Vegas is there's something for any type of mood you're in and something for any kind of adventure you seek out.
There are no clocks in a Las Vegas gambling casino.
There is always a sneer in Las Vegas.
There's just no quiet in Vegas.
There's really only one constant in Las Vegas and that's change.
This is the life #vegas
Time to break out the party pants.
Vegas baby!
Vegas hair, don't care.
Vegas is a celebration.
Short Vegas Instagram captions
Vegas is always a good idea.
Vegas is everything that's right with America.
Vegas is like the worst, but I can't stop coming back for more!
Vegas is my therapy.
Vegas is purposefully constructed as a self-enclosed and isolated biosphere, sort of what a recreational colony built on the moon might be like.
Vegas is the answer no matter the question.
Vegas is the most extreme and allegorical of American settlements, bizarre and beautiful in its venality and in its devotion to immediate gratification.
Vegas is the perfect place to let loose and have a good time.
Vegas lights and beautiful nights.
Vegas means comedy, tragedy, happiness, and sadness all at the same time.
Vegas now vows later.
Vegas stole a pizza of my heart.
Vegas, here I come! Vegas, here I come!
Viva Las Vegas.
Wake me up when I'm in Las Vegas.
Welcome to Fabulous Las Vegas, Nevada.
Welcome to Fabulous Las Vegas.
We're coming for you Vegas.
We're not alcoholics. Alcoholics go to meetings. We're drunks. Drunks go to Vegas.
What happens in Vegas ends up all over the world news.
What happens in Vegas, I'm telling everyone.
What happens in Vegas, stays in Vegas.
While I was busy hating Vegas and hiding from Vegas, a funny thing happened. I grew to love Vegas. –J. R. Moehringer
You can't buy happiness, but you can go to Vegas and that's kind of the same thing.