Best Cheat Status and Cheat Quotes for Instagram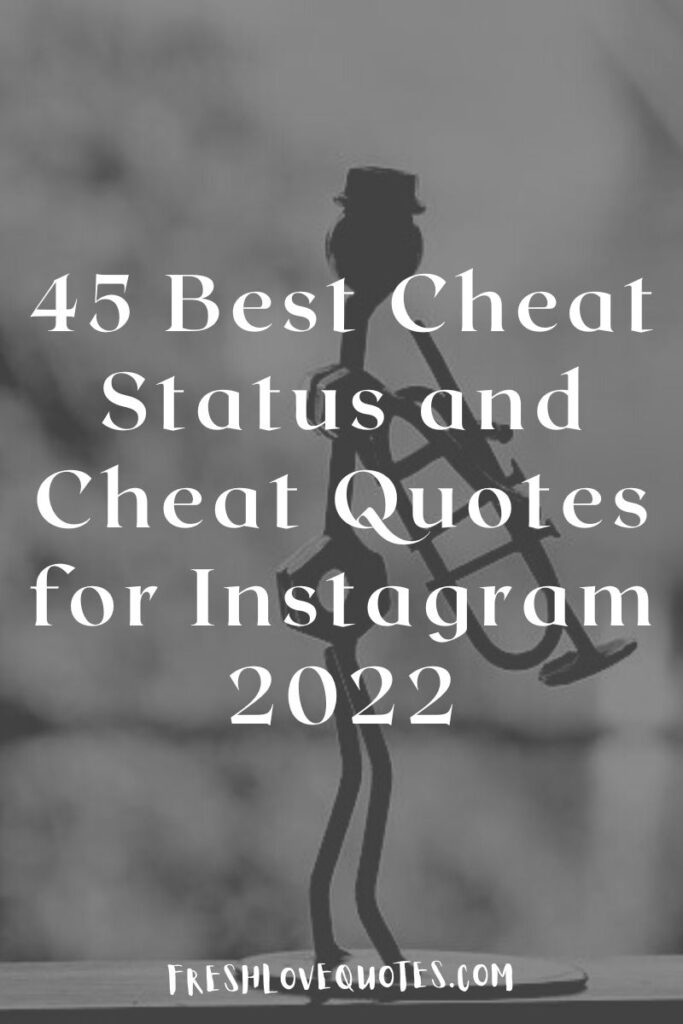 Status quotes and statuses are incredibly popular on social media, especially on sites like Instagram, Facebook, and Twitter. They allow people to express their feelings about a certain topic in an interesting, funny way that often gets shared by others as well. But there are certain cheat statuses and cheat quotes that are overused, even though there are thousands of other great options out there – here are 45 of the best cheat status and cheat quotes for Instagram to help you spice up your Instagram game.
A lie that saves a family is not a lie. To turn a lie into truth, all you need is a good heart.
Alphabets in "TEACHING" & "CHEATING" are common.. Those who try 2 'Cheat' u often 'Teach'…
Related: 20+ Best Unexpected Pregnancy Captions For Instagram 2022
Being labelled a cheater is the worst ever.
Being single is better than being lied to, cheated on and disrespected.
Cheating is a choice not a mistake.
Cheating is the most selfish thing a person can do in a relationship! If you're not happy with the person you're with, then end it. It's that simple.
Cheating isn't always kissing, touching or flirting. If you gotta delete your text messages so your partner won't see them, you're already there.
Do not expect for a yellow card when you cheat someone, because there is always a red card.
Don't cheat in a relationship. If you're not happy then just leave.
Don't cheat on your girl for the ******es. You are a man, not a dog.
Even people with innocent faces cheat because every shining piece is not a diamond.
Even the terrorists are better than you. At least, they are faithful to their chosen group.
Having a mustache and a muscular body doesn't make you a man. Being faithful and respecting women makes you a real man. If you are often cheated, you are wrong somewhere.
He is playing you because you're the only one who doesn't know.
Her love cheated on her. Still, she chose to smile just to see him happy.
I don't understand why people cheat, if you're not happy, just leave.
I got a new life when I saw you on a beach with your friend. And I died when I saw you on a bed with my friend.
I just found out that you cheated on me. I suggest you go to a Dog Training School. Hope you will learn there the true value of faithfulness.
I just want an honest relationship. No lies. No mind games. No cheating.
Instagram Captions for cheating boyfriend
I tried to keep us together; you were busy keeping secrets.
If I had to choose between betraying my country and betraying my friend, I hope I should have the guts to betray my country.
If a person doubts on literally everything, it's not his fault. He might have been cheated by someone special.
If he loves you, he will not screw up what you have by cheating.
Related: 40+ Best Naruto Captions For Instagram 2022
If she's cheating tweet her goodbye.
If you are in a relationship, flirting is cheating.
If your boyfriend or girlfriend has no texts in their phone's history, chances are you are being cheated on.
Leave my sight right away, for you are a cheat and have chosen your way.
Love has become a game of betrayal. The sooner you learn, the better it is for you.
My crime was to trust her. My punishment is her betrayal.
My husband cheated on me. I taught him a lesson by cheating on him.
Never cheat a girl. You never know what she has sacrificed to be with you.
Once a cheater, always a repeater.
People always cheated me,because I loved them like mad…
People don't cheat by chance, they cheat by choice.
She told me she cheated on me, and I couldn't quite put together which hurt worse. The knife.
The animals are setting example for faithfulness while humans are setting examples for betrayal.
The flowers that I gave you, the nights that we spent. The rides that we took, the hugs that we exchanged, everything remind me of your love. But then I realized they were all not true.
Savage Quotes for cheating girlfriend
The moment that you start to wonder if you deserve better, you do.
The more you cheat your loved ones, the lonelier your life will be.
There's no pass or fail in relationships, so there's no need for cheating.
Related: 160+ Best Dance Captions For Instagram 2022
When a boy cheated, he can be forgiven. But when a girl cheated, the whole world condemns.
You can betray your life, but never betray your love.
You can cheat me. You can cheat your parents. You can cheat your family. You can cheat your neighbors. You can cheat the entire world. You can even cheat yourself. But you can't cheat HIM.
You cheated me; I almost killed myself I then realized not every person is a faithful lover.
You know you're doing something wrong when you have to double check who you're sending that text to.