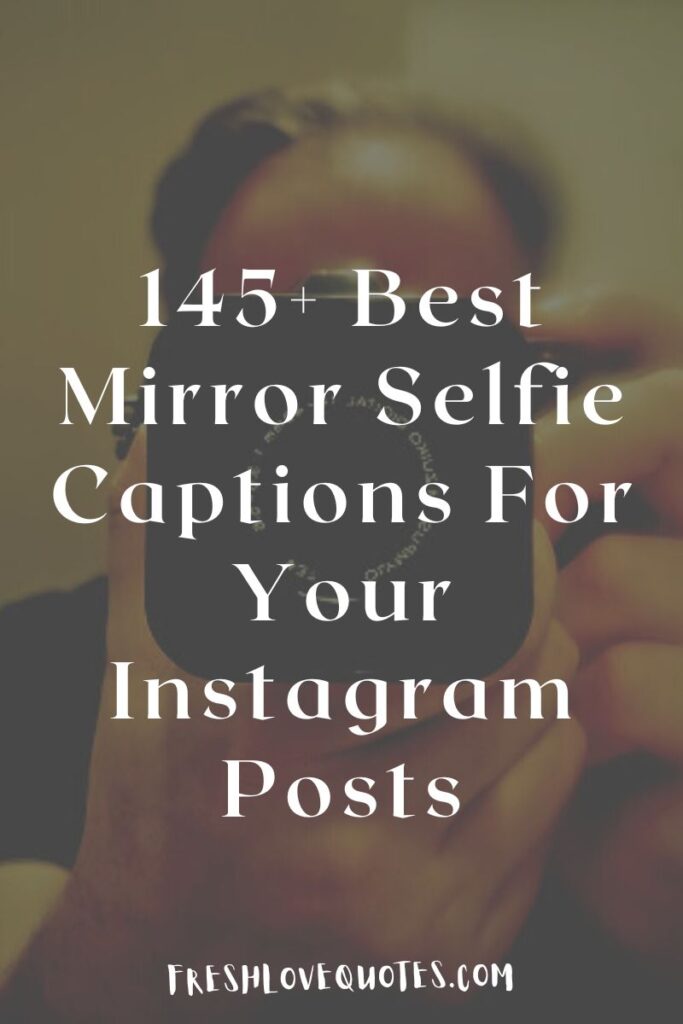 Best Instagram Mirror Selfie Captions
Selfies are like the new autograph, aren't they? Everybody from Justin Bieber to your grandma's cat has at least one selfie on Instagram or Twitter, and people can't seem to get enough of their own images. If you're posting mirror selfies, you have to have good captions to go with them, right? Here are 145+ best mirror selfie captions for Instagram you could use on Instagram or any other social media platform of your choice.
A mirror is a powerful tool because it forces you to deal with yourself on a deeper level.
A selfie a day keeps insecurities away!
Always clear your heart like a mirror.
And you? When will you begin that long journey in itself?
Attitude is a small thing that makes a big difference.
Be bold, be brave, be you.
Be in love with the person in the mirror who has been through so much but is still glowing.
Beauty attracts the eye, but personality captures the heart.
Beauty is eternity gazing at itself in a mirror.
Beauty is truth's smile when she beholds her own face in a perfect mirror.
Before you love what you see on the outside, You have to love what are you in inside.
Being happy with yourself never goes out of style.
Believe in your #mirrorselfie.
Related: 125+ Volleyball Captions For Instagram That Will Make You Stand Out
But first, let me take a selfie.
Courage is one step ahead of fear. – Coleman Young
****** you, mirror! That's not what I look like in my head.
Definitely sent five options of this pic to my bestie before I posted.
Do something today that your future self will thank you for.
Does this selfie make me look fat?
Don't ever be afraid to shine.
Don't let the mirror discourage you, let it motivate you.
Don't need captions.
Don't take a mirror to seriously. Your true reflection is in your heart.
Don't teach daddy how to take Selfie.
Dream it. Believe it. Build it.
Dream it. Wish it. Do it.
Elegance is the only beauty that never fades. -Audrey Hepburn
Enjoy life, it comes with the expiry date.
Every time you look in the mirror, remember that God created you and everything He creates is beautiful and good.
Expect for respect only when you give it to others.
Eyes are never silent.
Find a friend like mirror… Crystle clear.
Focus on the good stuff.
Grateful for where I'm at, excited about where I am going.
Haha! So we meet again, my fabulous mirror image!
Hello, it's me. — Adele, Hello
Hey, check out this cool mirror!
How do you find self-love?
Funny Mirror selfie Captions
Humble, with just a little bit of Kanye.
I am just a mirror for you. If you are good I am best, If you are bad I am worst.
I can't help but stare at my beautiful friend in the mirror world.
I don't always take selfies.
I don't know if the camera likes me but I do like the camera.
I don't need any filter for my Selfie.
I don't take selfies all the time, just every day.
I finally found that one person who can change my life.
I just happened to be passing a mirror so…
I learned when I look in the m!rror and tell my story, that I should be myself and not ****p at whatever everybody is doing.
I look the way I look the way I think.
I love looking in the mirror and feeling good about what I see. -Heather Morris
I love mirrors because they love me.
I love my attitude more than a selfie.
I love your mirror selfie! -Said no one ever
I will never let you down.
I wish we could live or stay together.
I woke up like this.
If you can't see anything beautiful in yourself, get a better mirror.
If you don't fight for what you want, Don't cry for what you lost.
It saw me laugh.
It's a beautiful day for a selfie.
It's like your my mirror, my mirror staring back at me. – Justin Timberlake, Mirrors
It's not about perfect. It's about effort. – Jillian Michaels
It's your choice to be mine or somebody else.
I'm always ready to take a Selfie.
Life is a constant exchange of beauty and wisdom.
Life is an open book like a mirror.
Life is like a mirr0r, Smile at it and it smiles back at you.
Life is like a mirror, we get the best results when we smile.
Life is short, make every hair flip count.
Life is short. Have a bit of patience…
Life is too short to not take a selfie.
Life isn't perfect, but your outfit can be.
Little things make big days.
Look and do you like what you see? Are you where you want to be? If not make a change.
Look at what I have become!
Love you more.
Love your selfie.
Best Short Mirror selfie Instagram captions
Make them stop and stare.
Maybe she's born with it. Maybe it's an Instagram filter.
Mirror on the wall, I will always get up after I fall. Whether I run walk or have to crawl. I set the goals and
Mirror should think longer before they reflect.
Mirror, mirror on the wall, who's the fairest of them all?
Related: 185+ Best FLR Captions for Instagram to Make Your Feed Pop
Mirror, mirror, here I stand. Who is the fairest in the land?
Mirror, mirror, on the wall, you're not playing fair at all!
Mirrors can't talk. Lucky for me, they can't laugh either.
Mirrors show us what we look like, not who we are.
Mirrors tell you the truth.
Morning time is selfie time!
Move the body, still the mind.
My selfie is witty like me.
Needed some new positivity.
Never get satisfied, if you deserve more.
No filter, all the filters, or just a dirty mirror?
No one is better than you.
No selfie should go untaken when you're in an outfit as fire as this one.
Objects in mirror are closer than they appear.
Omg. Look at me. Instagram Selfie.
Only see the truth when I'm staring in the mirror. – Drake, Used To
People don't pressure and pressure on me to look perfect.
People will come and go in life, but the person in the mirr*r will be there forever. So be good for yourself.
Please believe there is still time for you to be all that you want to be there is time.
Proof that I can do selfies better than you.
Reflecting on what's important.
Reflections in this mirror may be distorted by socially constructed ideas of beauty.
Related: 150+ Best Shady Captions Instagram Captions and Quotes
Respect is like a mirror the more you saw it to others, the more they reflect it back.
Sending my selfie to NASA, because I am a star!
Smile and let the world, wonder why?
Smile, it is the key that fits the lock of everybody's hearts.
Some call it arrogance, I call it confidence.
Success doesn't just find you. You have to go out and get it.
Taking a mirror pic, just 'cause.
That change a lot of things.
That person in the mirror is your only competition.
The key to success is to focus on goals, not obstacles.
The lighting was just too good to pass up a chance to take a selfie.
The mirror reflects all objects without being sullied. -Confucius
The mirrors see nothing. It only reflects
The selfies you don't post, are the ones that you really look like.
The world is a great mirror. It reflects back to you what you are.
There are so many beautiful reasons to be happy.
There is no perfection, only beautiful versions of brokenness.
There is two way of spreading light: to be the candle or the mirror that reflects it.
Quarantine mirror selfie quotes
There's no room for demons when you're self-possessed.
This is NOT a phase.
Today's definitely not one of those days where I try to avoid the mirror.
Tough times don't last. Tough people do. – Robert H. Schuller
Trust is just like a mirror once it gets broken will always show broken lines.
We grow small trying to be great.
What matters most is how you see yourself.
What you do, the way you think, makes you beautiful. – Scott Westerfeld
When I look into your eyes I know I found the mirror of my soul.
Why so careless?
Why so serious?
Work on being in love with the person in the mirror who has been through so much but is still standing.
You & I perfect together.
You are boo-toful!
You are my beer let's take selfies in the mirror.
You are strong, You are beautiful, you have got heart, you are valuable.
You are the only book I love to read.
You can remember it.
You don't know me.
You have to be at your strongest when you're feeling at your weakest.
You use a glass mirror to see your face, you use works of art to see your soul – George Bernard Shaw.
You, me & Selfie.
Your limitation—it's only your imagination.
Your smile is so beautiful.
You're gonna regret not texting me back when I drop this selfie.
achieve them all.
on the wall, who is the biggest fool of all?
'Cause darling, I'm a nightmare dressed like a daydream. — Taylor Swift, Blank Space