Romantic Night Time Quotes
Related: 110 Best Flirty Questions to Ask A Girl
Looking for some s**** night time quotes to send him before bed? Capture your partner's attention and leave them seeking more with a selection of goodnight dirty text messages before they go to bed.
If you were with me right now, I know you would not close the night's eye. Enjoy these few days of rest before our reunion because I intend to exhaust you.
A very original good night wish only for you: beware of cheap duplicates, I'm the only authorized dealer for good night wishes. Good night, sweet dreams!
Are you going to think about me before you fall asleep tonight? I hope so…
Are you too tired to text? Because I'm ready to play.
Be ready to get hooked to your phone because my goodnight texts are about to get dirty.
Can't go to sleep without wearing your tee.
Can't sleep for some reason. I have all this energy & no one to do with it. I mean …
nothing to do with it.
Close your eyes, imagine a wonderful garden, where roses are blooming, and the air is
filled with their scent. It is our refuge, and each night I wait for you there. Sweet
dreams.
Go to bed and dream about all the naughty things you're going to do to me when we see each other next.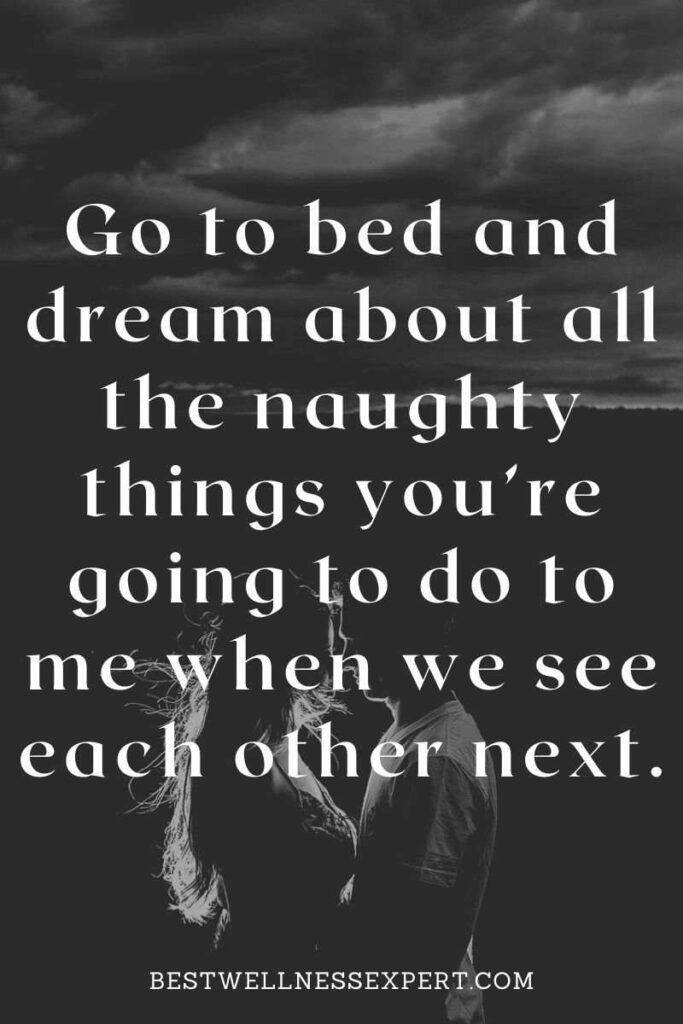 Did I ever tell you that I sleep *****? Too bad you're not here! Sweet dreams 🙂
Doing some last-minute "date night" planning for tomorrow before bed [insert photos of s*x toys/lingerie/restraints/lube/condoms/etc. laid out on the bed]
Dream big, handsome. Sleep tight and dream big.
Every Day Before Sleeping I Think Of Ways To Make You Smile The Next Day. Your Smile
Makes My Days And Nights Perfect.
Every Day You Give Me More Reasons To Fall In Love With You.
Good night, my love. I hope you sleep well and have the best dreams. I love you so much.
I cannot wait to see you in the morning.
Goodnight handsome. I wish I could feel your body pressed up to mine tonight.
Goodnight sweetheart, I hope you have s**** dreams of me.
Goodnight, my Angel, you will be in my dreams. A simple but sweet way of saying
goodnight that they are sure to love.
Goodnight, my darling, my love, my Angel! Today has been special for you, and I hope
that you wake up in the morning knowing that you are as loved as ever. Please, sleep
well, and we'll talk in the morning.
Goodnight, my love, pleasant dreams, sleep tight, my love, may tomorrow be sunny and
bright and bring you closer to me.
Related: 110 Best Hockey Pick Up Lines 2022
Have I ever mentioned that I sleep *****? Well, good night s****!
Help me have dirty dreams tonight and tell me a *****ty goodnight story 😉
Hey babe, by the way, next time I see you, I want to do [fill in the blank] to me… kay…
g' nite. 😉
Hey gorgeous, say goodnight to your [preferred s**** body part] for me 😉
Hey gorgeous. I want to hear your goodnight fantasy. If you're lucky, maybe I'll make it
come true tomorrow.
Even if the size of your bed isn't as big as you, don't stop yourself from dreaming king size. Sweet dreams.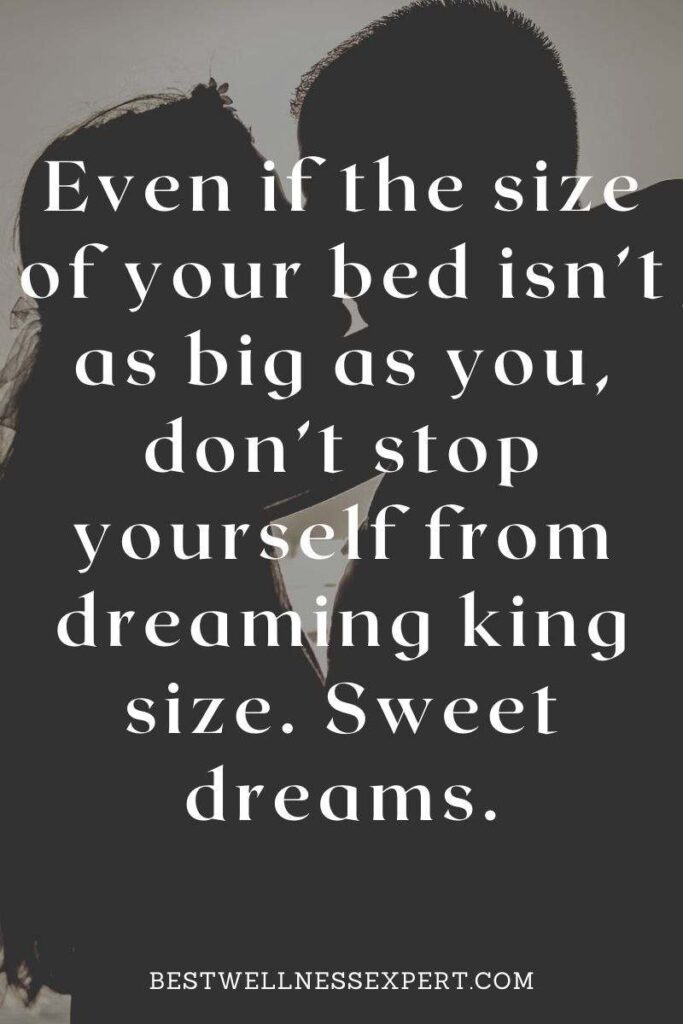 Hey s****, just thought I'd give you a little inspiration to dream about me tonight

Hey you, I couldn't sleep until I told you how badly I want you right now… good night. 😉
Hey, lovely. I hope today was kind to you, and I know that I had a good day thinking of
you. May you have a good night, and I will be here for you in the morning when you wake
up.
Hey, s****, just wanted to say goodnight, sweet dreams, and that I can't stop thinking
about you.
I bet you look so s**** cuddled in your blankets. But not as s**** as you'd look cuddled
next to me.
I can feel in my heart that you are my one true love. Tell this to your significant
other before going to bed, and they will swoon.
I can keep myself busy during the day… but at night I can't stop thinking of you…
I can't sleep thinking about everything I want to do next time you're with me in this bed.
I can't sleep. I can't stop thinking about how amazing last night was.
I can't sleep. I keep thinking about that time that we… [insert a s**** memory]
I can't sleep… can you? If you can't, let's can't sleep together.
I can't stop thinking about [s****/explicit thing you did together one time] I look
forward to duplicating that memory the next time I'm in your bed.
I hope you didn't have a shower before bed, because these texts are about to get dirty.
Do you ever have s*x dreams about me Tonight might be your lucky night.
I hope you get a good night's rest because I have big, naughty plans for you tomorrow 😉
I hope you have sweet delicious dreams.
I hope your dreams are filled with visits from the prettiest & loveliest angels. But
don't make it a habit because I'm not free every night.
I hope you're ready to tilt your phone away from anyone you're standing next to because
my good night texts are about to get naughty.
I just noticed that my bed is a lot more comfortable with you in it.
I just wanted to send you the naughtiest goodnight emoji party ever [insert silly but
suggestive emoji pairings]
I love you like roses love rain, like walking together down memory lane. Sleep tight, my
love.
I may run out of messages to text you. I may run out of jokes, too. I may also run out
of battery, but my heart won't run out of space for you!
I miss the way everything feels next to you. I just miss the whole of you. Have a good
night.
I really wish you were here next to me in bed… *****.
Related: 80 Smile Pick Up Lines for Her
I want to fall asleep faster so that we can be together sooner.
I want you so bad right now; I can hardly sleep.
I wanted to send you something hot and really s**** to make your night, but the postman
told me to take the stamps off my ***** and get outta the mailbox.
I wish I could be the moon. I would give anything to watch you sleep. Your beauty is
unparalleled and makes the North Star seem dim. May your dreams are wonderful, and your
rest be plentiful.
I wish I could kiss you good night right now…. and not on your lips. 😉
I wish I was there to tuck you in. I would be doing all sorts of dirty things to you.
I wish you were here [insert a selfie of you in your pajamas/boxers/lingerie while in
bed].
I wish you were here with me so we could stay up all night (hint: we wouldn't be pillow
fighting!)
I would sleep so much better if you were here doing naughty things to me. Goodnight babe.
If I close my eyes tight enough, I can feel your gentle touch all over me. You make me
feel alive. But for now, goodnight and sleep tight.
If I were in your bed tonight, I would be rocking your world 😉
If you feel a little bored, little sick, little lost, little sad, you know what's wrong?
You're suffering from a lack of Vitamin Me! Good night!
Babe, if you were here with me right now, I would rip off your clothes and do insane things to your body. But you're not, so… sleep tight!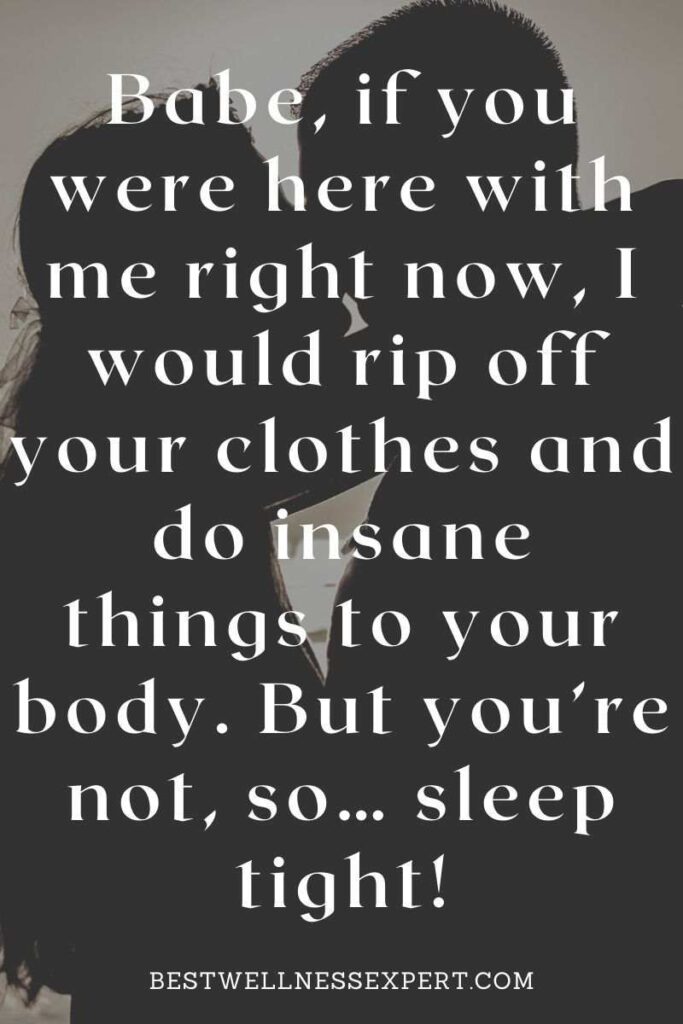 If you want to show your Partner your true romantic side, then these romantic s**** good
night messages for him and good night s*xting messages for her are the perfect way to
unleash the romance.
If you were here right now, what oh what could we do to tuck ourselves out before bed?
If you were here right now, your clothes wouldn't stand a chance.
Imagining what would be happening if you were here right now. Spoiler alert: neither of
us would be sleeping. Goodnight!
Is it too late to be this turned on? I wish you were here right now. Goodnight babe.
It's Cold Here, I Wish We Could Be Together To Warm Up…
It's a shame you're not here right now … I should stop thinking about it, or else I'll
never fall asleep.
I'm about to tell you a bedtime story you will never forget.
I'm alone in my bed, I'm cold without my human radiator. I dream of snuggling up against
your chest and falling asleep peacefully.
I'm cold all alone in my bed. I would like to feel your breath in my neck, and your arms
embrace me. Good night.
I'm feeling really adventurous tonight 😉 Wish you were here! Goodnight s****.
I'm half asleep, but I just wanted to say, hey & that you mean a lot to me. That's all.
Night!
I'm in bed over here; you're in bed over there… One of us is in the wrong place.
I'm just over here playing with my toys before bed, wishing they were you. Jealous?
😉Romantic cuddling in your blankets can work the best.
I'm so sad that I can't be in your bed right now. Only [X] days left until I get to do
whatever I want with you.
I'm so turned on right now, I wish you were here. You have no idea the things I would
let you do to me.
I've Got You And Only You In My Heart.
Just a reminder that if you dream about me tonight, I like… [insert s*xual kink here]
Just thought I'd send you a s**** goodnight text reminding you how I'm going to blow
your… world 😉 tomorrow. Goodnight!
Just thought you should know, you are my favorite dirty thought… nite nite!
Just wanted to let you know that I'm thinking of you looking at the stars. Sweet dreams,
my love.
Just wanted to let you know that you're my favorite dirty thought … night!
Laying in the bed never felt so cold before, and the thing is, your strong, loving arms
are not here to keep me warm. I can't wait to see you tomorrow. Goodnight.
Let's make a deal. If either of us has a crazy s*x dream tonight, we have to act it out
together tomorrow 😉
My Daily Routine After Coming Home From Work Is To Jump In The Shower, Brush My Teeth,
And Think About You Before Sleeping. It's Just Perfect!
My bed feels empty without you in it… so do I.
My bed just feels cozier with you by my side.
My dreams will be filled with you all night long. This text will express to them that
you love and care about them in a big way.
My favorite bedtime story involves you, me, and no clothes.
No matter how many times I try to fall asleep, the absence of your scent, your warmth, your aura is evident because the room feels empty without you. So let this night go by fast, so I can see you again. Goodnight.
Nothing could be better right now than falling asleep next to you.
On a cold night such as tonight, I want something big, warm, and fuzzy. Don't get any
strange ideas. I just want a big hug from you. Goodnight, love.
Really wishing that this pillow was your chest to rest my head-on. Goodnight babe
Related Reading: Romantic Texts for Her to Drive Her Wild
Sending out my goodnight wishes to the s*xiest [guy/girl] I've ever laid eyes on.
Snuggling a pillow just isn't the same as snuggling you. It's missing all the fun parts 😉
Take a look at the moon outside. It's beautiful. Wish I could be looking at it with you
The one thing I hate about having to go to bed is that I can't talk to you or see you at
all. Let them know just how much you love spending time talking to and being with them.
The only thing I hate about falling asleep is that it's time I don't get to spend with
you!
These are the 3 things I would do to you if I was in bed next to you. Imagine them all while you're falling asleep.
These goodnight texts will surely win over her heart.
Thinking about you always gives me such a strong sense of peace. This is a great way of
letting them know they have made such a positive impact on you overall.
Thousands of stars separate us, but soon we will be together; we will meet tonight in
our dreams. Good night, Darling.
Tonight dream about all the dirty things we can do together when we meet next.
Too bad you're not here right now… Oh, wow, I better stop thinking about this or I'll
never get to sleep.
Wanna show me what you're wearing before bed?
Want to play 'Simon Says' before bed? I'll go first.
Welcome to Sweet Dreams Airlines. We'll be arriving shortly in Dreamland. Fasten
blankets, puff the pillow, close your eyes, and get ready to doze off! Good night!
What did you get up to before bed tonight? I'd tell you mine, but it's pretty X-rated 😉
Will I be in your dreams? What will we be doing together, I wonder…
Wish I could give you a goodnight kiss right now…not on the lips 🙂
Wrapping my body around this pillow really just isn't doing it for me. It's missing the
best part.
You are definitely worth losing sleep for… good night.
You are the one and only person for me, and I love you so much. This is a great text to
send your boyfriend or girlfriend before you go to bed.
You better be dreaming of me tonight, because I'll definitely be dreaming of you 😉
Your Partner will be in awe of you after reading these cute good night quotes. If you
want her to adore you, bookmark these cute good night texts and share them with her as
soon as possible.
Your handsome face is in my head before I fall asleep… again…
Your husky voice is the sweetest lullaby that puts me to sleep. Your touch soothes my
soul, and forever will I long for it. Good night, my darling man.
We hope you try all these s**** night time quotes with your partner. Thanks for reading.