Best Romantic Love Captions for Wife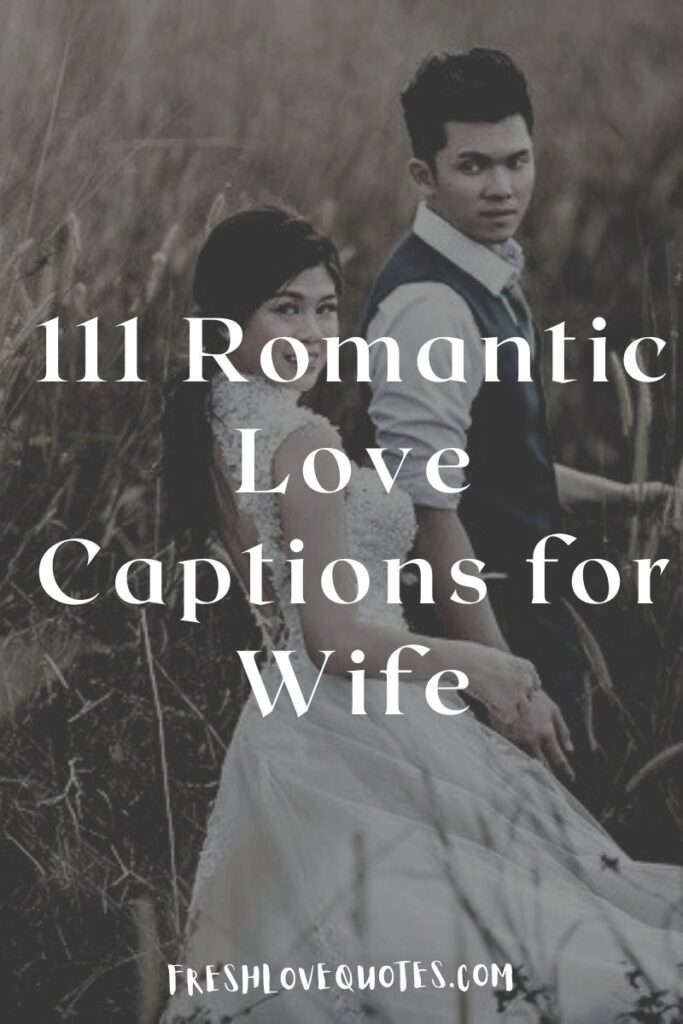 There's no doubt that you love your wife and want to show her how much you care, but finding the right romantic love captions can be difficult, especially if you're not so great with words yourself. However, there are still several really good ways to say I love you without actually saying the three words. The trick is to focus on the more important things, like not just the way she looks but also the things that she does and means to you personally. Here are 111 best romantic love captions for wife.
A beautiful rose for a beautiful woman who has given me a beautiful life. Happy anniversary!
A man is only going to act right with a woman he wants to be with.
A man should not compete with his wife in talk but in silence.
All my life I have always done what my heart told me to. I wouldn't have it any other way because it led me to you. I love you.
All that you are, is all that I'll ever need.
An excellent wife is the crown of her husband.
Any day spent with you is my favorite day. So, today is my new favorite day.
Even if I had a thousand wives, none of them would be as beautiful as you.
Ever since I've I met you, I find myself smiling for no reason when simply looking at you. Your beauty, strength, and love fill me with happiness.
Every minute spent away from you is the waste of my day.
Every single day, I choose love.
Flowers are not as beautiful as you, stars are not as bright as you, life would not be as perfect without you.
Happy 1st year anniversary my bride, my love, my best friend, my greatest adviser!
How lucky I am to find a treasure like you, you are one in a million, you are my dream come true.
Husband and wife are the perfect examples of a pair of living dead.
Husband and wife share the truest form of love, the kind of love that is not driven by blood.
Husbands and wives have a relationship that even the closest of friends can never obtain.
I am lucky to have been the husband of my wife.
Related: 100+ Best 30th Birthday Instagram Captions
I am not a doctor but one thing I definitely know is that the only one-way street into your heart starts from mine. I love you.
I can never get enough of you, even if I spent every single second with you.
I can't describe my feelings for you. I love you, but how can I prove my heart's feelings? My feelings will never diminish and will keep growing stronger every day.
I can't say it enough – I love you more than anything.
Deep Love Quotes Captions for Wife
I don't do a girlfriend. I do wife.
I don't know about the future but you made my present memorable.
I don't know how long my life will be, but I know that every second will be worth a lifetime because it will be spent with you.
I look forward to growing old with you so that one day when we are both weak and fragile, we can sit on our rocking chairs, look at each other and say – we lived a perfect and the most beautiful life. I love you.
I love her in every way there is to love a person.
I love how I feel when I see you sleeping next to me. I love you, sweetheart.
I love my life, because you're it. xoxo
I love you every day because you are the one for me. My love continues to grow stronger each day and my happiness is inexplicable. Tell me what you did to my heart to create this passion?
I may be old, I may be stubborn, but this stubbornness is what has allowed me to love you so uncontrollably throughout the years.
I promise to always be at your side, or on top of you or under you!
I really don't know what is ENOUGH when it comes to my love for you. But this is one confusion I am happy to live with. I love you tons.
I see myself in your eyes and feel your presence deep in my heart. Please remain there, my cherished wife, because you are the only one who fits there perfectly.
I still fall in love with you every day.
I treasure every moment we share together.
I will be by your side forever, my love. Happy first year anniversary!
I wish I had the wings like a bird, then at lunchtime, I would visit you. Feeling very excited, within a few hours gonna meeting you. but, still, I miss you.
I would be a philosopher if a married a bad wife, but since I married you, I am simply a lover.
If God wasn't kind, I wouldn't have you as my wife.
If you think I'm cute, you should see my wife.
In a husband there is only a man; in a married woman there is a man, a father, and mother, and a woman.
In her smile, I see something more beautiful than stars.
It doesn't matter whether we always agree or not. What matters is that I love you and you love me. Happy anniversary, my beautiful wife!
It's not my mistake I love you very much! It happens to be yours!
I'd be a philosopher if I married a bad wife, but since I married you, I'm simply a lover.
Related: 100 Best Daisy Flower Captions For Instagram
I'll never apologize for loving her.
I'm a lover not a fighter, but I'll fight for what I love.
I'm grateful you are thoughtful, I'm grateful you are understanding, I'm grateful you are so much fun to be around, but most of all I'm grateful you are my wife. I love you!
I'm not perfect, but I'll always love you better than anyone else.
Short Love Quotes Captions for Wife
I'm still wearing that smile she gave me
Just keep loving me, and I'll keep loving you. The rest will fall into place.
Like a lock without its key, my life would be useless without you in it. Happy anniversary, my beautiful wife!
Love is ever-growing, ever-changing, but the one thing that will always remain true is that my love for my wife grows as the sky is blue.
Marriage is an organization where the wife is the boss and husband is the employee.
Marriage is like vitamins; we supplement each other's minimum daily requirements.
Marrying her was the smartest thing I ever did.
Meeting you and marrying you is the highlight of my life. Happy first anniversary my wife!
My dear beauty, if you leave me and go, I will just wait for my death. Please cool down and come back to me. Your soul mate hubby is missing you badly.
My love, you are the angel of my fairy tale. Please never keep a distance from me. Keep me in your mind, where else I could go if you leave me! I'm missing you so much.
My most spectacular achievement in my life was persuading my wife to marry me.
My spouse is my shield, my spouse is my strength.
My sweetheart, it's your hubby who is missing you badly. I can't take anymore the distance and the absence of your precious company. I need you, now. Miss you, my love.
My sweetheart, you have no idea how much I love you! Without you, I can't think a single moment. Miss you so much.
My wife, I don't know how inspired me to progress step by step in my life.
My wife, my love, my everything, my destiny, my world. Happy first wedding anniversary!
My wife, the only thing I love and adore more than you are our children – and bacon.
Never above you. Never below you. Always beside you.
Never ever change because I love you just the way you are.
Never laugh at your wife's choices. You are one of them.
No man finds success in life without having a good woman behind him along the way.
Related: 35 Best Dog Christmas Captions For Instagram
No matter how much time we spend together, you will never understand what you mean to me. I love you.
Nobody can believe that I love you the way that I do because it's hard to imagine that a love like ours can exist. I am honored to share my life with you forever.
Out of sight, but always on my mind.
Real men may not know how to show their feelings to their wife, but they always tell her that she is the one and only woman for them.
Right here, right now, everything is perfect.
She's my bride with pride.
Stop creating problems for the world. Get married and create problems for each other.
The best feeling in the world is knowing your smile is for me.
The better you know yourself, the better your relationship with your spouse.
The first time I saw her, my heart whispered, "She's the one."
The husband who doesn't tell his wife everything probably reasons that what she doesn't know won't hurt him.
Romantic Words for Your Wife
The impact of your love is undeniable. It has made me realize how much I adore you. My life with you has transformed my dreams into realities.
The love of husband and wife is the force that welds society together.
The one thing I love more than my wife is being my wife's husband.
The woman of my life, the mother of our children, there is no love that compares to the love I have for my wife.
There are a million remedies in the world, and nothing cures my ills quite like my wife.
There is an ocean in your eyes, and I can see myself inside of it. It's impossible to measure the depths of the love that I feel for you.
There is no story more beautiful in life than finding your wife.
This distance is temporary, do not be sad. I am grateful that you chose me to grow old with. Love you to the moon and back dear wife.
This long-distance marriage relationship is unbearable. But you make it possible with all the beautiful memories you help me to make with you. Want to hug you soon. Love ya!
This world wouldn't be so colorful without you.
Related: 75+ Best Bridge Captions For Instagram 2022
Three kids, two lovebirds, and one mortgage — We're in this together. Love Ya!
Time is my biggest enemy because one life is too short to love you. xoxo
To hold a husband, the wife should have understanding instead of beauty.
To me, you are the most beautiful woman on this earth.
Today we celebrate our first wedding anniversary. May we continue to be blessed with love, abundance, and loyalty for the rest of our lives. I love you, my wife.
When I close my eyes; I see you. When I open my eyes; I miss you.
When a husband brings his wife flowers for no reason, there's a reason.
Romantic Love Messages for Your Wife
When a wife has a good husband, it is easily seen on her face.
When it comes to you, my heart can feel what my mind can't put into words. I love you.
When it's cold, your love keeps my heart warm. When it's hot, your love melts my soul and keeps me secure. I can't help but love you forever.
When the same devil dwells in two different bodies, they are called husband and wife.
When we got married I told my wife 'If you leave me, I'm going with you.' And she never did.
Wife of the party.
Without your presence, the world is totally worthless to me. I can't think a single day more without you. Your husband miss you badly.
Years come and go like the seasons, but every year, I love you more than I ever thought was possible.
You always leave me breathless.
You are breathtakingly beautiful inside and out. I love you, my angel!
Related: 80+ Best Bird Captions For Instagram
You are my today and all of my tomorrows.
You know my Queen? Office time is the worst chapter of my life! Because every moment seems like a year to me without you. And, so now I am waiting for the time while meeting you again. Missing you.
You know my love? In my kingdom, you are the only queen. My soul mate, my queen, I can't take anymore the distance between us. Miss you crazily.
You make my heart happy.