Tennis Captions For Instagram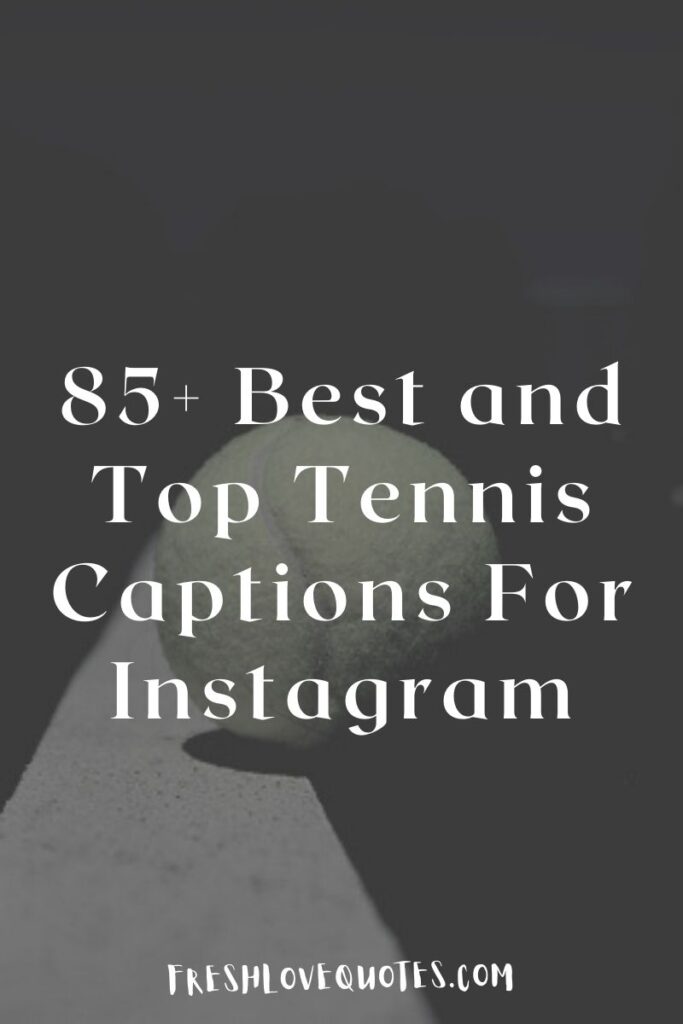 What's the point of playing tennis if you can't share your best shots with the world? Captions for Instagram make it easier to show off your best tennis photos by providing an easy way to add context and make your shots more interesting to look at. To help you come up with ideas, we've assembled our list of the 85+ best tennis captions for Instagram. So get ready to take your game up another notch!
A perfect combination of violent action taking place in an atmosphere of total tranquility. – Billie Jean King
A team above all. Above all a team.
Always try to look like a winner
Champions keep playing until they get it right. – Billie Jean King
Championships are won at practice
Dating a tennis player is risky – love means nothing to us
Demand respect or expect defeat
Education is important, Tennis is importanter
Experience is a great advantage. The problem is that when you get the experience, you're too ******ed old to do anything about it.
From what we get, we can make a living; what we give, however, makes a life.
Hard work beats talent when talent don't work hard
Related: 400+ Best And Cute Finsta Captions For Instagram
Hustle and heart set us apart.
Hustle, hit and never quit.
I am the only player who can beat me.
I don't always play Tennis, OH wait, Yes I Do!
I don't need Therapy, I just need to play Tennis
I hate to lose more than I love to win. – Jimmy Connors
I just try to play tennis and don't find excuses. You know, I just lost because I lost, not because my arm was sore.
I love the winning, I can take the losing, but most of all I love to play.
I never knew I was grunting, it was just part of my strokes.
I never look back, I look forward
I play Tennis, Love means nothing to me
I play Tennis, What's your superpower
I play each point like my life depends on it.
I want my tennis to speak for everything.
I want to reach absolute perfection. And I think I can reach it
If its gotta be, it starts with me.
If you can keep playing tennis when somebody is shooting a gun down the street, that's concentration.
If you're a champion, you have to have it in your heart.
Intensity is not a perfume
Intensity is not a perfume!
It is very important not to think about losing
I'll let the racket do the talking.
I'm not afraid of anyone, but sometimes I'm afraid of myself.
Just go out there and do what you have to do.
Keep calm & Tennis on
Funny tennis captions for Instagram
Keep calm & play Tennis
Keep calm & smash hard
Less work – More Tennis
Life is like a game of tennis; the player who serves well seldom loses
Losing is not my enemy, fear of losing is my enemy.
Love means tennis
My motto is: I'm alive, so that means I can do anything.
Never let good enough BE enough!
Play each point like your life depends on it.
Play like a Champion Today.
Play with respect, win with grace.
Playing like a Champion
Practice winning every day.
Related: 55+ Best Hat Captions For Instagram Pictures
Regardless of how you feel inside, always try to look like a winner.
Serve it, Smash it, Win it, Love it.
Spectacular performances are preceded by spectacular preparation.
Success is a journey not a destination. The doing is usually more important than the outcome.
Talk with your raquet, play with your heart
Teamwork Makes The Dream Work.
Related: 150+ Best Las Vegas Captions For Instagram
Tennis Anyone?
Tennis and golf are best played, not watched. – Roger Kahn
Tennis court is calling me, And I must GO
Tennis has given me soul.
Tennis is a perfect combination of violent action taking place in an atmosphere of total tranquility.
Tennis is a psychological sport, you have to keep a clear head
Tennis is downright smashing!
Tennis is life, the rest is just details
Tennis is mostly mental. You win or lose the match before you even go out there.
Tennis is my Therapy
Tennis is the only game, Love means nothing
Tennis uses the language of life
Table tennis Captions for Instagram
Tennis without borders
Tennis, the best you can get!
Tennis: It's all about LOVE!
The depressing thing about tennis is that no matter how good I get, I'll never be as good as a wall.
The fifth set is not about tennis, it's about nerves.
The mark of great sportsmen is not how good they are at their best, but how good they are at their worst.
The serve was invented so the net could play
True heroism is remarkably sober, very undramatic. It is not the urge to surpass all others at whatever cost, but the urge to serve others at whatever cost.
United we play, United we win
We play Cinderella Tennis: Sometimes we don't make it to the ball.
Related: 80+ Best And Inspiring 21st Birthday Captions For Instagram
What makes something special is not just what you have to gain, but what you feel there is to lose.
When life gets complicated, I play Tennis
Winning is a way of expressing yourself.
Work Makes The Dream Work
You need balls to play Tennis
You only live once, but you get to serve twice.
dedication + motivation = success.
he serve was invented so the net could play