If you're looking to draw attention to your Instagram posts and make your content stand out from the crowd, consider adding some puns about art or paintings to your captions. Here are 75 of the best funny and amazing art puns for Instagram.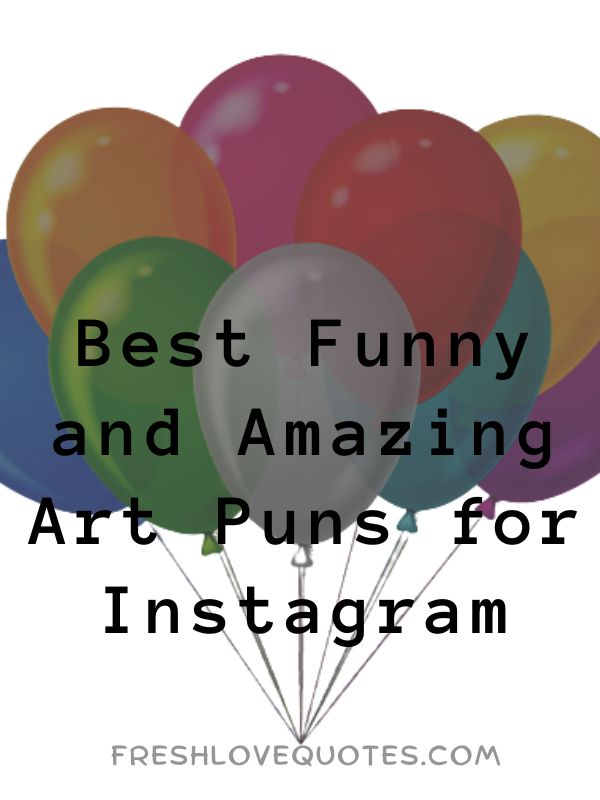 Best Funny and Amazing Art Puns for Instagram
A clay in the life.
A good beginning makes a good blending.
A move in the light direction.
A pigment of your imagination.
A rolling tone gathers no moss.
Absence makes the art grow fonder.
After all is said and tone.
Related: 55+ Best Clever Pick Up Lines For Your Crush 2022
All that and pen some.
Always look on the light side of life.
And clay lived happily ever after.
At the crack of drawn.
Between a chalk and a hard place.
Bits and masterpieces.
Blend the rules.
Blended by the light.
Art puns one liners for Instagram Captions
By no etch of the imagination.
Carved in tone.
Chalk a block.
Chalk full of problems.
Comfort tone.
Count to pen.
Crosshatch to the other side.
Crosshatch your fingers.
Don't chalk it till you've tried it.
Don't chalk the boat.
Don't get me arted.
Related: 70+ Best Vampire Quotes Captions For Instagram 2022
Draw a line in the sand.
Draw to a close.
Drawn with the wind.
Easel up.
Eco-blendly.
Etched in tone.
Get off to a bad art.
Going, going, drawn!
Famous art and artist puns for Instagram
Have the final clay.
I'm etching to go.
If it paint broke, don't fix it.
In print condition.
In the lion's pen.
It's hard to pen down.
Keep chalking.
Kick-art your day.
Knock your chalks off.
Let's clay in touch.
Like mosaic to my ears.
Related: 99 Best Red Lipstick Captions For Instagram 2022
Luck of the draw.
Not for the paint of heart.
Nothing to light home about.
Off to a flying art.
On the home sketch.
Paint no mountain high enough.
Paintbrush it off.
Pen and there.
Pop goes the easel.
Short and Cute Art Puns for Instagram Captions
Quick on the draw.
Ready pen you are.
Round the blend.
Set your mind at easel.
Related: 65+ Best Snapchat Captions For Girlfriend 2022
Smack daub in the middle.
That was draw-dropping.
That's not how you portrait it.
That's the clay it is.
The mural high ground.
This is the last draw.
Till the break of drawn.
Time to face the mosaic!
Tomorrow is another clay.
Under chalk and key.
Working around the chalk.
You are one art cookie.
You could've heard a pen drop.
Related: 60+ Best Bikini Captions For Instagram 2022
You sure do look the art.
You're doing a great daub.
You're sketching the truth.
as pigment to be.