Best Skiing Captions for Instagram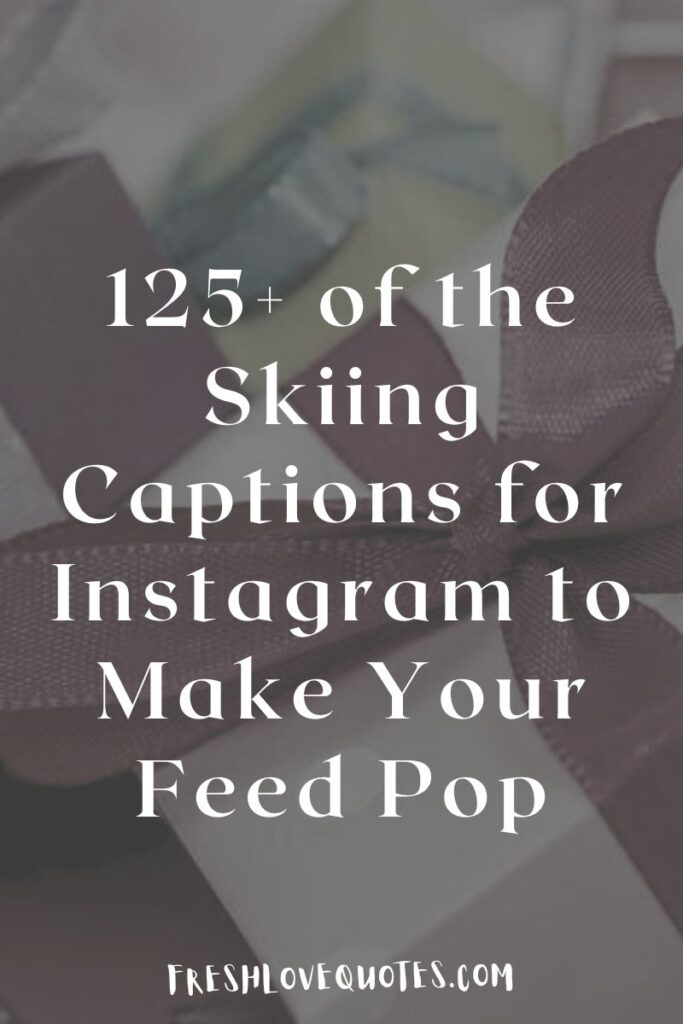 Skiing is so much more than just getting to the top of the mountain, it's about documenting your experience and sharing it with the world. Instagram, in particular, can be an excellent medium for showing off how beautiful and unique your experience was on the slopes — if you have the right caption go with it! That's why we've compiled some of our favorite skiing captions for Instagram, along with some tips on how to get that perfect shot! Take a look!
Related: 85+ Best 21st Birthday Captions For Your Instagram Photos!
5 hours on the ice. 4 new injuries. 3 new blisters. 2 falls. 1 better skater.
A Snowboarder Flew Off A Jump And Got Stuck In The Scenery. He Was Trying A Frontside Tree.
A bad day on the slopes beats a good day at work.
A pair of skis are the ultimate transportation to freedom. — Warren Miller
A snowball in the face is surely the perfect beginning to a lasting friendship. – Markus Zusak
Adjust your altitude.
After so much speed and hitting so much water, you actually become calmer than ever.
After this ski trip, we're moving to the mountains.
Always in season.
Any day that you can stay in pajamas all day is a good day.
Be around people that make you want to be a better person, who make you feel good, make you laugh, and remind you what's important in life. — Germany Kent
Catch this couple in the Olympics.
Close to heaven. Down to earth. — Unknown
Instagram Ski Captions for Couples
Dashing is just completely out of the question.
Do you even lift, bro?
Does white make me look fat?
Don't hate me because I got a snow day.
Dream big and dare to fall.
Eat our powder.
Every day is a special day if you go skiing.
Every skier is a morning person on powder day.
Everything is bigger in Texas, except the snow men.
Falling all over the mountain for you.
Follow my tracks.
Frosty was pretty cool.
Getting out there, riding with your friends, and having a good time is what it's all about.
Go skiing and make people surprised all the thing you made.
Go skiing on every Monday is what we all wishing for in this life.
Going on a ski trip and it's all downhill from here.
Gone skiing with my love.
Happiness is not having to set the alarm for the next day.
Happiness is the view from a ski lift.
Have a snowball fight with someone you love.
Hot chocolate, waffles, and cuddles.
I Am Getting Snow Board Of All These Skiers.
I can't walk on two feet, but I can balance on thin blades.
I followed my heart and it leads me to the rink.
Related: 145+ Hair Quotes Captions For Instagram That Will Make You Stop & Stare
I glove you.
I have a great boat, hot tub, and skier I can't keep up with. See you at the dock baby!
I like it when you ski. It's super cute.
I think we've peaked.
I wasn't made for winter.
If it wasn't hard, everyone would do it. It's the hard that makes it great. — Tom Hanks
If only my teeth were as white as my legs in the winter…
If you listen carefully, the silence of snow falling is beautiful.
Is it just me or does it feel like we're trapped in a snow globe and some jerk keeps giving it a shake?
It was love at frost sight.
It's a powder party. 🙂
It's all downhill from here.
It's not a water ski, it's an O'Brien. And this is how you do it.
I'd always rather be skiing with you.
I'll be dead soon.
I'm Tired Of Slalom Skiing. Alpine Over Another Discipline Now
I'm snowboard of all the skiers on this mountain…
Jet skiing does change your character for the better.
Keep calm and ski on.
Keep calm and winter on!
Kick some wax!
Kindness is like snow – it beautifies everything it covers. – Kahlil Gibran
King of the hill.
Know your limits. Ski beyond them.
Let it snow, let it snow, let it snow…somewhere else
Life is like a sea with its ups and downs, but if you love water skiing, it's all good.
Margaret Was Pretty Hungover… Until She Reached The Top Of The Ski Run. It Was Just The Lift She Needed
My favorite winter sport is watching people fall while ice skating.
Never board.
Instagram captions for skiing with friends
Never stop short of achieving your goals. Each moment takes you closer to being successful.
No time for bunnies, honey.
Oh, what fun.
Paradise doesn't have to be tropical.
Powder to the people.
Powder to the people.
Ready, set, go! It's our favourite time of year, 😎 when the weather starts to warm and we can put on our favourite sunglasses and water ski by the lake with friends.
Related: 50+ Weird Captions For Instagram: How To Stand Out In A Crowded Feed
Rise & glide.
Rise and glide, my friends.
Say snow ONE MORE TIME!
See you on the mountain.
See you on the slopes.
Shreddin' the gnar since [insert year].
Shreddin' the gnar since day one.
Skate like nobody's watching.
Skiing is a dance, and the mountain always leads.
Skiing is more than a sport, it is a way of life
Snow angel squad.
Some people attach snowboards to their feet, very few attach them to their souls." — Shaun White
Some things you can only lean into. We're already wishing we were on water skiing.
Sometimes you wake up and decide to go skiing.
Squad's ready for the slopes.
Stealing a pizza my heart and my skiing moves.
Thanks for always lifting me up.
The best water sport is jet skiing. Try it and see for yourself.
The mittens are coming off!
The mountains are calling and I must go
The slopes are calling.
The snow must go on.
The snuggle is real.
The warm sun and the cool waters make it a fantastic environment to Jet Ski in.
The winter vibes are in full force.
There are no rules in snowboarding. — Amy Purdy
There's no blueprint to snowboarding, you know? You can really make your own mark. — Sage Kotsenburg
There's no party like a snow party.
Funny ski Instagram captions
This girl likes black diamonds.
This might be our snowiest adventure yet.
Time to shred.
Tis the season to be freezing.
To ski or not to ski? That isn't a question.
To ski or not to ski…duh.
Turn right. Turn left. Repeat as necessary.
Up to snow good on this mountain.
Up to snow good with these humans.
Wake me up when it's summer.
Watch out for trees.
We Need To Prevent A Massive Snow Landslide From Hitting The Mountain, But I'm Too Hungry Just Now. Let's Avalanche First.
We deliver a smooth water-skiing experience for the whole family with our awesome instructors.
We do it on the slopes.
What do you get when you cross a vampire with a snowman? FROSTBITE!
What happens on the slopes stays on the slopes. 🙂
When I die, bury me with my ice skates on.
When it comes down to it, it's pretty simple. Adventure is what you make it. And whether it's the travel, the discovery or just the feeling of letting go, the only way we'll ever find out is to get out there and do it. Enjoy the ride. — Travis Rice
When it comes to skiing, the question isn't if, but when.
When life gets complicated, I go skiing.
When life gives you snow, make snow men.
When someone you don't like falls: "OMG is the ice OK?"
When you think about it, we're strapping strange planks of wood to our feet and launching off of giant snow walls. It's pretty intense. — Shaun White
Related: 100+ Best Beach Captions For Your Instagram Photo
White powder specialists.
Who need wings when you have skis?
You can't buy happiness, but you can buy a lift pass. — Unknown
You know you have jet skied when you feel frustrated at times not being able to master a move.